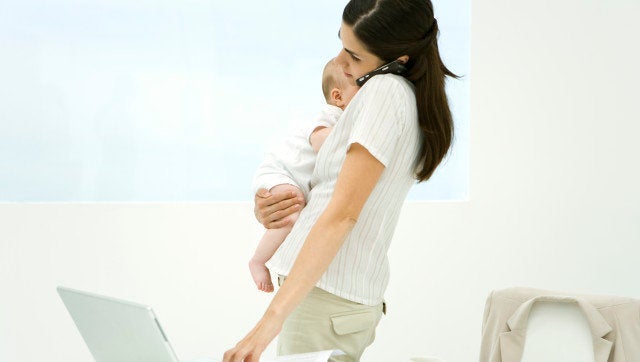 Sir Richard Branson is my new favorite CEO. He just announced that he is offering both new moms and dads a year of paid leave. "As a father and now a granddad to three wonderful grandchildren, I know how magical the first year of a child's life is, but also how much hard work it takes," Branson said in a statement. If only Branson was involved in American politics. The American landscape would be so much richer if this type of a policy existed here. But it does not, and too many Americans suffer during a time which should be their happiest.
A year ago, just ahead of Mother's Day, I shared about my miscarriages and wrote about my desire to be a mother. With deep thanks to God, my daughter was born in February of this year. She has quickly become the center of my life. I am grateful to work in a family-centered environment that offered me full maternity leave for two months, followed by four weeks when I worked much less than part-time, receiving full benefits for all three months.
There was one night last week when my husband and I both needed to be out of the house at the same time. My meeting was with representatives of the senior leadership of the congregation. I ended up bringing my now 3 1/2-month-old daughter with me. At the meeting, I apologized for her presence. The response I received was, "you never need to apologize for bringing your daughter with you to the synagogue."
I do not take any of this for granted. I am fortunate. And it frustrates me to the core that I need to feel fortunate that included in my contract was a clause for a paid maternity leave, as it is so rare in this country. After spending these last few months bonding with my child, my heart aches for working mothers who are not able to stay home with their newborns after staying up all night with them. I cannot imagine how these women are able to leave for the day when their children are so young. The United States is so forward-thinking on so many social issues; I don't understand why it is so backwards when it comes to family leave.
Now that I am back at work, I feel refreshed, more motivated and eager to be focused on work during the day, so that when I am home, I can be engaged in the holy task of loving and raising my daughter.
If only Sir Richard Branson could call up President Obama or members of Congress and share with them his experience. There is no doubt in my mind that paid family leave is an absolute necessity. After just experiencing the first few blurry months of motherhood, I am completely convinced that Congress must pass the Family and Medical Insurance Leave Act immediately. The fact that such legislation does not yet exist is an embarrassment for this country.
Unfortunately, we all know that legislation does not get passed overnight. To that end, in the meantime, I call upon individual corporations to follow Virgin's lead. If a full year of paid leave is too extravagant, I suggest that companies and not-for-profits should familiarize themselves with Advancing Women Professionals' Better Work Better Life campaign, which aims to improve parental leave and flexible work arrangements in Jewish organizations. To date, nearly 100 organizations have signed on to it.
The bare minimum of this campaign advocates four weeks of paid leave, which can be linked to a minimum tenure of two years. This does not include accrued vacation or sick days; however employees can apply short-term disability insurance to cover a percentage of salary. This is a far cry from what Branson is offering, but it is a start and it is a better option than what exists for most women.
When employees are offering paid leave, it is as if they are being told, I value you as a person. I understand that the first few weeks and months following the birth or adoption of a child are difficult as it is, and I am taking away the burden of thinking about work for a few months.
As a very new mother, I salute and honor every American who is campaigning for both the Family and Medical Insurance Leave Act as well as the Jewish organizations who have already joined the Better Work Better Life campaign. And to Sir Branson: next time I need to fly somewhere, you can be sure I will try to book a Virgin flight first.

Rabbi Robyn Fryer Bodzin is the spiritual leader of the Israel Center of Conservative Judaism in Queens, New York and a Rabbis Without Borders.
Calling all HuffPost superfans!
Sign up for membership to become a founding member and help shape HuffPost's next chapter