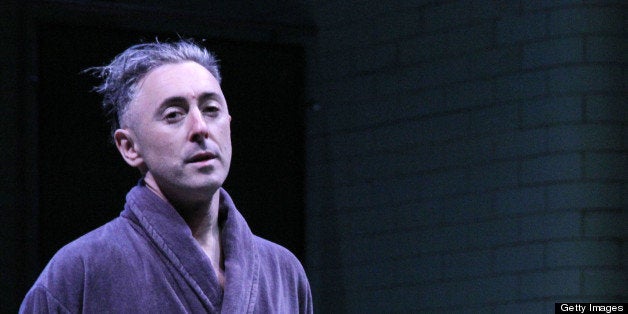 The Testament of Mary was quite excellent, wasn't it? I think the engine or raison d'etre of that play was to make the familiar new. How do you tell the crucifixion story so that it can hit an audience with new significance and avoid all the Sunday school and Bible tales familiarity? You tell it through a new person, Mary. Make this person a woman who will talk about Christ as a human and a son and not about him as if he were already considered the Son of God. Make the account embodied and human. There may have been some criticism about the production design, but it too was in place to make the story new. The moment where she drops into the portal filled with water and stays under... simply amazing.
Macbeth with Alan Cumming: another dazzling and brilliant one-person show. Yes, Macbeth as a one-man show. I am so jealous; they did it so right. Johnson said that Shakespeare held the mirror up to nature; well, yes, if we say that the mirror is reflecting the essence of nature but not a realistic view of nature. Here is a way to do Shakespeare as realism; you have a single madman in a hospital reciting all the parts. In that way the Elizabethan dialogue is no longer high Shakespearian; it is the expression of a mad character. His portrayals of the familiar Scottish murderers can't be over the top because the characters are being played by an insane character. Macbeth is not Macbeth; it is a portrayal of Macbeth by a man losing his mind in an institution. Cumming is superb.
I wonder how much these two shows that deliver old stories in new ways depend on the audience's prior knowledge. But I guess everyone knows Macbeth and the Jesus story nowadays, right?
Orphans. Good. I saw this a while ago, in previews and forgot to write about it. I heard, as everyone did, that Ben Foster replaced Shia Labouf in the role of Treat. Ben is very good. Reminded me of a young Sean Penn for some reason, a combination of being tough and vulnerable. But also a bit awkward, in a good way. All three actors are very watchable.
Nikolai and the Others at Lincoln Center is the collaboration of Balanchine and Stravinsky; it's directed by the great David Cromer. Everyone is good -- Michael Cerveris as Balanchine is perfect mix of detached passion. The play is designed to feel like observed behavior; it's not structured in a tight way, but more like a Michael Cimino movie where all the characters come together for a big event and, amidst the unfolding of the group action, individual motivations are revealed and tension is created.
Assembled Parties is a fun time. A troubled family in the order of Salinger or Franzen. Actually, more likeable than Franzen and less into the idea of young geniuses than Salinger. A kind of happy Long Day's Journey Into Night. Ha. Not really.
Here Lies Love at the Public is great. A video/musical/dance/nightclub extravaganza conceived by the inimitable David Byrne. You stand the whole time and even dance yourself as the performers and images swirl around telling the recent history of the Philippines. Palm trees, music, news footage, death, prison, love, violence, dancing.
Heaven's Gate on Criterion is my new favorite film. It is incredible. I can't believe it has such a bad reputation. Watch the Criterion version. Truly amazing.
The American Friend -- Wenders' take on Ripley. Crazy Dennis Hopper and great Bruno Ganz.
The Talented Mr. Ripley -- Jude Law is unstoppable in this film. The movie is a love song to Italy, the locations are dazzling. Matt Damon is great, and a Ripley who is filled with longing to belong, much more than he is in the book.
Let's Get Lost -- Bruce Webber on Chet Baker. Sad, moving, beautiful.
To the Wonder - Malick takes The Tree of Life and sucks out most of the voice-over. A movie that truly uses images to speak about the subtleties of love.
Popular in the Community