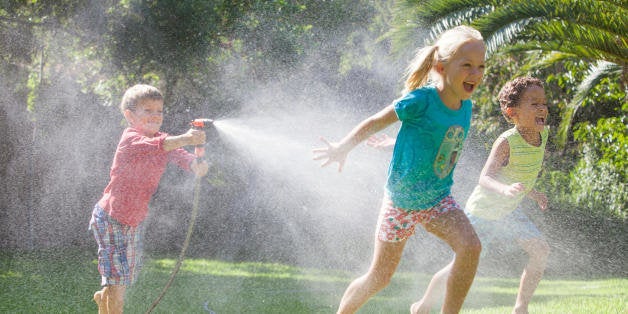 I am done. I know I have been saying this since May 1, but really, this time I mean it. Done. WELL. DONE. Think hamburger patty left on the grill for three days DONE. I am seriously considering just telling the kids tomorrow morning they don't have to go anymore, and Friday is now today. Mazel Tov!
To all the lovely moms I see at PTA meetings, games, carpool lines and school events, listen, you are all great and all, but I don't want to see and of you until mid-August. Nothing personal. It's not you, it's me. I'm just not that into you anymore. As a matter of fact, I am not into ANYTHING anymore. I have no more cheery small talk in me, and I'm truly afraid if I open my mouth all that will come out is F words. Big ones. Loud ones. At the beginning, middle and end of every sentence. So ,here is my hand waving at you from the safety of my car. See ya in a few....
Teachers, a.k.a. saints in my book, thank you. Thank you for taking care of my kids for nine months. I know you don't want to see me anymore either, and I won't try and talk to you on the last day because I know you are one noun away from dropping several "F bombs" yourself. Hang in there. I bought you beer. It will be in a big gift bag with an apple on it.
Yesterday, my kid's school sent home next year's school supply list. Uhhh... I'm gonna need another copy of that. When I saw it I had a... well, let's just call it 'an episode,' and it may or may not have ended up accidentally on top of a burning stress relief aromatherapy candle. Glue stick shopping in June? HELL. NO.
I'm fully aware that six weeks from now, I will be begging for a routine and just a few hours alone, but right now, I just want to enjoy several days with my kids with no "to-do list What. So. Ever.
Moms, we did it. We made all those spelling word lists, math fact sheets, reading logs, science projects, geography bees, holiday plays and class parties our BITCH. Cheers to us. Now pass the suntan lotion...
Melissa Fenton is a humor writer. Find her in the laundry room, kitchen, or running through a pasture, and also writing about her four sons at 4boysmother and also on Facebook