It's approximately 24 hours since the Tony Awards ended -- and, while most of the community is at a Bombshell party, I feel like it's about time to reflect on the night that was. Because it was Broadway's biggest night, I can't contain it in one column, and it will take up two. (Read the other one, on the after-party at the Carlyle, here.)
First, it wasn't a great telecast. Sorry, Alan Cumming and Kristin Chenoweth fans. I thought when they were chosen we'd have at least a ton of big glorious musical moments. Instead, they did a musical banter medley for the opening, opting to leave the pizzazz to Something Rotten! (with a number, that, granted, is absolutely fantastic and might as well have been written for the Tony telecast it so perfectly fits). And throughout the show--while there was a lot of singing, and the hosts relaxed into their roles--their material didn't really land. They were both trying very hard and not accomplishing very much. A few moments caused a smile or even a laugh, but there weren't enough of those. The Tommy Tune tribute needed a better introduction to make any sense whatsoever to people who aren't Tommy Tune fans (and, you know, those people make up the majority of the US).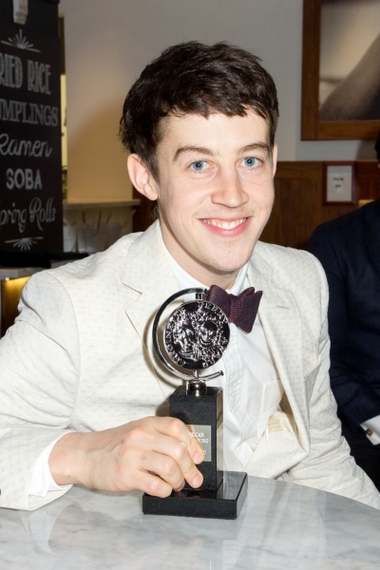 And the idea to have Broadway cast members surround them as they sang to commercial was one that may have seemed good on paper, but for some reason didn't work well in execution. (I've written so many times about honoring a show's behind-the-scenes creatives during the broadcast that I'll skip it this year.)
Second, there are always deserving shows that go home empty-handed. That is the nature of award shows. But I wanted to single out one show, the revival of On The Town. Out of the nominated revivals, it is the only one that is a commercial production. Producers Howard & Janet Kagan took a big risk mounting this musical that, while an American classic, has not had a successful revival. The show got rave reviews, as did its star Tony Yazbeck. It stayed open through a harsh winter at the box office (unlike the other nominated revivals, which had spring berths). It was one of the shows that unfortunately did not receive a Tony Award. However I'm hoping that the number alone encouraged people to go and support it. The audience got to see how great Yazbeck is and how wonderful the choreography is. If you missed the press blitz saying same - and a shout-out to newbie PR firm Matt Ross Public Relations (in particular Mr. Ross and Nicole Capatasto there) who have kept the show out there - you got to see a taste of it for yourself. I urge readers who have not seen it to go support the team at the Lyric. You won't be sorry.
And speaking of risks -- there is perhaps no riskier musical on Broadway, material-wise, than The Visit. Yes, it is based on a play, so it is not 100% original. I get that. But the musical itself is a different beast. The Visit is a type of large-scale chamber musical (making it more expensive than Fun Home, a traditional chamber musical) with eunuchs in yellow shoes and a disturbing plot line that is hard to describe without giving it all away. (There are still many that haven't seen or read prior versions.) It didn't get any awards and it quickly announced a closing date. But I'm happy that a small segment of Chita Rivera's performance was able to be seen by over 6 million homes.
Moving on to the winners, it was the Tony Awards, and there was much to celebrate during the award show itself and during the many after-parties. I'm going to say a few words about my favorite winners. Ruthie Ann Miles - my choice all the way. I didn't think it would happen, but wrote that whole column about why it should, and I was so happy it did. I was shocked that she had a speech prepared, and then it of course turned out it was too long of one, and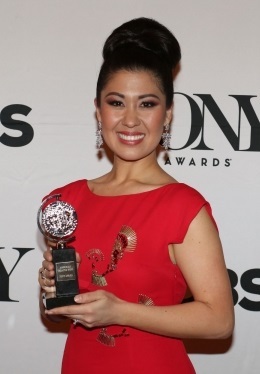 the mysterious tapping that Cumming and Chenoweth threatened would play people off started. As I was listening, I realized she didn't thank her agent, who she was so kind to during our interview. So I'm going to give her a chance to rectify that below. (Yeah, I know, other people would have loved to say more during their speeches, but I'm not equal opportunity. Sorry.)
The Curious Incident of the Dog in the Night-Time won 5 awards, including for director, actor and play. I cannot even explain how much I love this play. I like Hand to God, but no part of me ever thought it "should win" any of the relevant categories. I couldn't figure out why journalists kept saying that. I too want to support American playwrights, but The Curious Incident of the Dog in the Night-Time is simply a better theatrical experience. As a play, stripped from their productions, neither is perfect. So Curious wins. Marianne Elliott's direction is pitch-perfect. It's something that appeals to so many people - I've sent dozens and dozens of folks, from all different backgrounds and of all different ages, and all have left raving about it. While I feel sort of bad for Hand to God's Steven Boyer (even despite his less-than-gracious on camera expression when he lost), who is really great, it was also always clearly Alex Sharp's year to me. I give a lot of credit to the show's press representative, Boneau/Bryan-Brown (in particular Adrian Bryan-Brown, Susanne Tighe, Christine Olver and Kelly Guiod there), for perfectly marketing his "Star is Born" story. He's astounding and deserves all the acclaim.
As for Fun Home, I was not Team Fun Home. I am one of very few New York theater journalists who didn't think it should win Best Musical. (We had New York Times critic Charles Isherwood on our side.) I was not completely surprised it did win - in the fall, I told the show's press agents at O&M it was theirs to lose. That said, in recent months, I, like others, thought An American in Paris might win. It was leading in my polls. However, like Beautiful last year, it is the one that doesn't need the Tony Award to survive. An American in Paris is packing them in and will continue to do so. It's beautiful. The word of mouth is great. It's got classic songs and a story we all know.
And part of me was happy that voters did reward a less commercial piece. I don't harbor any ill-will to Fun Home; I like it well enough and I'm happy it is touching so many people. But I want to make something very clear - the sentiment that Fun Home is the first revolutionary musical ever continues to irk me. I was Team Lisa Kron. I thought she should win. Hands down. But listening to her speech today (it was given during the commercial break last night), I became bothered. A musical theater novice, but a well-known writer of straight plays, Kron said, in tribute to the season: "We've all been sitting in the same one or two main rooms and thinking this was the whole house - and this season some lights got turned on in some other rooms." This idea that theater is where it was in the 1930s and we needed Fun Home or Hand to God to wake us up is so condescending. The art form is continually evolving and changing. People take risks every year - and maybe it's not a risk on a show about coming out and suicide, maybe it's a risk on a silly show about a guy who kills his kin, but that does not make it any less valid. There are artists out there constantly entering "other rooms." It didn't start in the 2014-2015 season.
And now onto a less controversial speech, as I turn the column over to Miles to finish out her abbreviated (if lengthy) acceptance speech:
I have been so proud to be part of The Mine talent agency since 2009 - at the same time I received my AEA actor's union card as well as my first NY job off-Broadway in Avenue Q. I especially needed to thank my agent, Dustin Flores, for his patience, advocacy, encouragement and fierce loyalty for so many years. I am a proud MINER and I wish so much I could have told the entire world that the incredible, special man sitting next to my husband at the Tonys, was my wonderful agent.

I also wanted to thank KCD and the Vogue initiative for making me look and feel amazing last night, especially Jeanann and her team for giving me confidence to wear RED! I felt glamorous and it was all thanks to them.

I needed to publicly shout out two people at LCT. Ira Weitzman, one of our producers and Biggest cheerleaders, as well as the incomparable press team at Lincoln Center Theatre, especially Amanda Kaus, who helped me feel confident, proud, important, and beautiful. Amanda took me under her wing and held my hand when I often had no clue what to expect from or how to maneuver within this awards season. Her patience and guidance have been invaluable.
Photo of Alex Sharp at the Tony Awards Gala by Jennifer Broski, courtesy of BroadwayWorld. Photo of Ruthie Ann Miles in the press room by Walter McBride, also courtesy of BroadwayWorld. Special thanks to Robert Diamond for allowing use of the photos.
REAL LIFE. REAL NEWS. REAL VOICES.
Help us tell more of the stories that matter from voices that too often remain unheard.