After The Washington Post published its explosive report that President Donald Trump recently disclosed "highly classified" information to the Russian foreign minister and ambassador, politicians in Washington did what they usually do in reacting to serious matters: They said they were troubled and concerned and then went about their way.
Rep. Frank LoBiondo (R-N.J.) said the news was "deeply concerning," and he will raise it when the House Intelligence Committee meets.
"I would be concerned anytime we're discussing sensitive subjects with the Russians," said Sen. John Thune (R-S.D.).
Sen. John McCain (R-Ariz.) similarly said the revelations were "deeply disturbing," while Sen. Bob Corker (R-Tenn.) told the White House to get its act together: "The White House has got to do something soon to bring itself under control and in order. It's got to happen."
House Speaker Paul Ryan (R-Wis.) said he wants a "full explanation" from the administration of what Trump disclosed, while Senate Majority Leader Mitch McConnell (R-Ky.) would simply like "a little less drama from the White House on a lot of things so that we can focus on our agenda."
None of them offered ways in which they'll be a check and balance against Trump.
Lawmakers in Trump's party largely reacted the same way when Trump fired FBI Director James Comey.
Sen. Richard Burr (R-N.C.) said he was "troubled" by the timing of the firing, which came as the FBI is investigating Russia's meddling in the 2016 elections ― and whether there was any collusion with Trump's campaign. Sen. Ben Sasse (R-Neb.) went a step further and called Comey's dismissal "very troubling." Rep. Carlos Curbelo (R-Fla.) called for "a transparent explanation as to how this decision was reached and why it was executed at this time."
Those lawmakers were some of the most critical of what Trump did; others defended his decision. Most Republican lawmakers ― even those who don't like that Comey was fired ― still don't think it's necessary to appoint a special prosecutor to investigate Russia and the 2016 election.
On Tuesday, when The New York Times reported that Trump pressed Comey to end the FBI's investigation into former national security adviser Michael Flynn and his contacts with Russian officials, Burr ― who is chair of the Intelligence Committee and has subpoena power ― threw his hands up in the air and said it was the media's job to hold Trump accountable.
Members of Congress have always been great at putting out strongly worded statements. They're also quick to issue thoughts and prayers after a national tragedy. But they've never been as good at actually using their power to take action, especially when it means punitive action against a member of their own party.
The proper handling of classified information is something the Republicans have been deeply concerned about for quite some time. Some were, after all, willing to go so far as to say Hillary Clinton should be impeached if she became president because of the way she handled classified information by setting up a private email server as secretary of state. (The FBI cleared her of wrongdoing.)
In October 2015, Rep. Mo Brooks (R-Ala.) said Clinton ― who had not yet even won the Democratic nomination ― would be a "unique president...because the day she's sworn in is the day that she's subject to impeachment because she has committed high crimes and misdemeanors." He questioned "how many lives she put at risk by violating all rules of law that are designed to protect America's top-secret and classified information from falling into the hands of our geopolitical foes."
Brooks, however, was less gung-ho about going after Trump Tuesday, saying that it didn't appear the president violated any laws.
"That's a distinction" between the Clinton and Trump situations, he told HuffPost. "If that changes, then let me see what the change is."
He eventually acknowledged it could be "worrisome" if Trump shared highly classified information with the Russians that could reveal sensitive sources critical in the fight against terrorists.
"If it's true [it's worrisome]. If it's not true, it's not worrisome," he said. "I don't know if it's true or not."
And in the end, if nothing else works, there are always thoughts and prayers.
"I have put more time in prayer than perhaps I had before," Sen. Chris Coons (D-Del.) said Monday. "There is nothing about how [Trump] conducted the campaign or his actions in the first few months that would give me hope, but that is what faith after all is, is the triumph of hope over experience."
This story has been updated with The New York Times' report on Trump's interactions with James Comey concerning Michael Flynn.
Want more updates from Amanda Terkel? Sign up for her newsletter, Piping Hot Truth, here.
Before You Go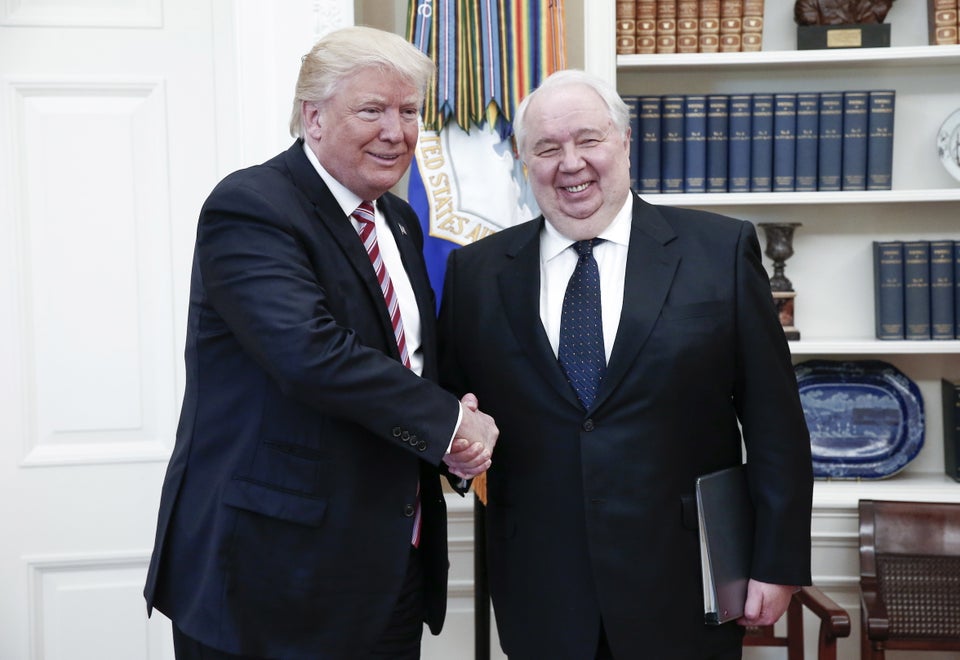 Donald Trump Meets With Russian Officials
Popular in the Community