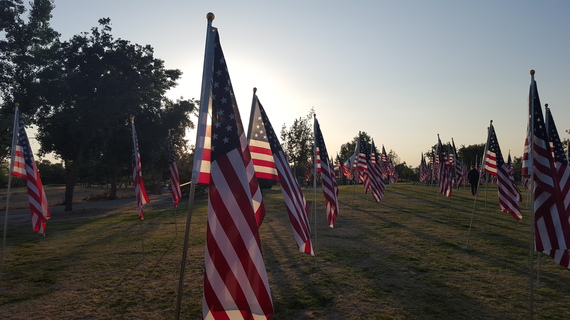 As the sun rises on Memorial Day weekend in Bakersfield, CA, more than 100 volunteers will converge on a popular local park to transform the lush green landscape into a sea of red, white, and blue. Crews will spend their Saturday morning attaching 1,000 American flags to metal poles, then strategically placing them across the park's hills and around the lake. The result is a spectacle that has become the city's newest, yet most visible Memorial Day tradition.
Flags are flown in tribute to American heroes who have fallen (consistent with Memorial Day's traditional purpose), but Thousand Flags also honors surviving military veterans, plus first-responders like fire fighters, law enforcement, and emergency medical personnel. This marks the third year Bakersfield Breakfast Rotary Club has presented the event.
Working in small teams, people of all ages and backgrounds move quickly to complete the massive project in time for an 11:30 a.m. opening. Honor students, veterans, boy scout troops -- and even an occasional passerby -- come together in a labor of love.
Conversations of all kinds unfold when such a varied group gathers. They talk about yesterday's weather, the last day of school, college plans, and "how many people are in a Marine platoon, anyway?" (asked by one Coast Guard veteran to a Marine vet at last year's event). In just a couple of hours, the park is transformed into a sea of red, white and blue.
When Rotarian Becky Brooks approached Bakersfield Breakfast Rotary about the possibility of creating the project, club members were intrigued. But they knew an undertaking of this magnitude would require a lot of planning and many volunteers. Brooks knew it was possible, especially considering this community's commitment to honoring those who serve. She was right.
"The popularity of Thousand Flags surpassed all our expectations," said Jackie Maxwell, president of Breakfast Rotary. "The number of visitors is incredible. I've seen individuals come out in the early morning to just reflect on their own; but the event attracts a lot of families, too," she said. The playing of Taps at dusk on Saturday and Sunday always draws a crowd, she added. "The entire weekend is meaningful, but when the main flag is lowered to Taps...it's a very emotional experience."
Many attendees sponsor a flag for $50 in the name of a friend or loved one, or simply to support the project. At the end of the ceremony on Memorial Day, flag sponsors are given their flag, plus a commemorative certificate with the name of the person they choose to honor. More information is available at www.thousandflags.org.