Saturday marks the 47th Earth Day, and thousands of scientists and non-scientists alike are marching in solidarity around the country and beyond to send a clear message to Trump: Science isn't going anywhere.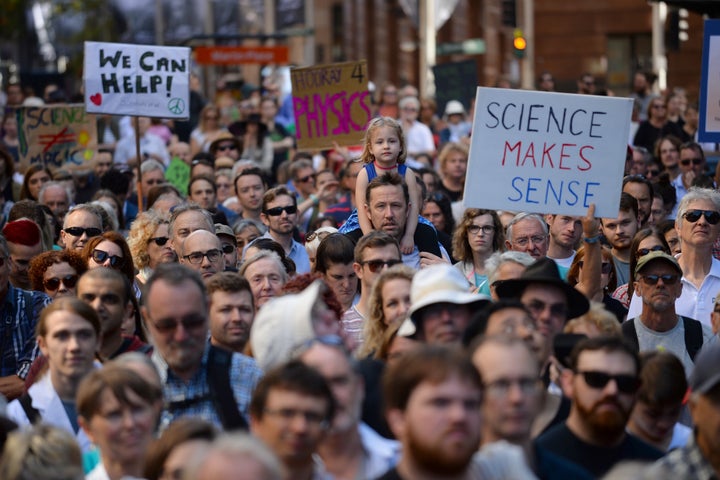 Scientists organized the March for Science, and encouraged other "scientists, educators, and advocates, as well as social service workers, artists, trade workers, business people, our elderly population, and families to come together for science."
In a statement, Trump said "rigorous science" goes into his administration's decision making.
"We can and must protect our environment without harming America's working families," part of the statement reads. "That is why my Administration is reducing unnecessary burdens on American workers and American companies, while being mindful that our actions must also protect the environment."
Those "unnecessary burdens" have included nixing an Obama-era regulation to protect U.S. waterways from coal mining operations. Trump has also scrapped information on methane emissions, removed the word "science" from the EPA's Office of Science and Technology mission statement, and rolled back standards on car pollution.
Some of the biggest marches in the U.S. were taking place in New York City, Chicago and Washington, D.C, among other cities all around the country.
Jamie Rappaport Clark, president and CEO of Defenders of Wildlife, called the Trump administration's proposed cuts to science "irresponsible," "selfish," "shortsighted" and "bordering on chaos."
"Science matters and without science wildlife have no chance for survival," she told HuffPost ahead of the march in D.C. "So goes wildlife, so goes us. We're all connected on this planet, and it's absolutely essential that we respect and take care of the finite resources that we have."
"Environmental security is economic security," she added. "And without a strong environment, without a healthy environment, we are all in trouble."
Leland Melvin, a NASA astronaut who attended the march in D.C., recalled looking down on Earth from space in 2009.
"I'm a scientist, I'm an engineer, I've seen the planet from the vantage point of space," Melvin said. "And it's a beautiful planet, but there are a lot of things going on and without the data and without the science, we are going to decimate our planet and eradicate our civilization. So we have to have science."
Teddy Shipman, an 8-year-old New Yorker in D.C. for the march, stressed the importance of a healthy environment.
"Trees make oxygen," Shipman said. "It helps us breathe. Who doesn't like that?"
In New York City, rain did not stop the throngs of demonstrators from making their voices heard. April Castoldi, a speech pathologist, said that too often, people mistake pseudoscience for hard facts.
"I'm really concerned that Trump wants to cut the budget for the EPA," Castoldi said. "My mom was an employee of the EPA for most of her career. The fact that he's telling people not to consider climate change in their research is terrifying."
Justina Simon traveled to the NYC march from Huntsville, Alabama, a place that she noted has deep ties to science, as NASA has a facility there.
"Science, I think, is very important to everyone, not just liberals or Republicans," Simon said. "It's not a partisan issue."
Tens of thousands of other people were also taking part in rallies, with 600 other marches happening around the world. Historians are calling the events "unprecedented in terms of the scale and breadth of the scientific community that's involved," Robert Proctor, a professor of the history of science at Stanford University, told The Washington Post.
"Hell has no fury like a scientist whose integrity is questioned," Kathleen Rogers, president of the Earth Day Network, told NPR. Her nonprofit helped organize the march in response to the Trump administration. "These folks aren't making hundreds of millions of dollars. They're not billionaires. They're working at government rates so to speak. They are giving their lives to their work and have one thing to hang on to — the truth and their integrity."
"It's not just lab people, but everyone from computer programmers to people working on cancer," she added. "All these people, they're not happy being called liars."
Castoldi said it felt good to be around likeminded people. New York demonstrator Anne DeAcetis felt the same way.
"There's a great sense of unity that you feel and you are heartened by seeing and being with people that agree with you, that you can talk to," DeAcetis said. "It's very energizing and I think that it gives you motivation for when you're back alone in front of social media on your computer by yourself, to not forget that you are part of a community."
Alex Kaufman and Chris D'Angelo reported from Washington, D.C. Sam Levine reported from New York City.
This article has been updated throughout with comments and more information on the marches.
CORRECTION: An earlier version of this article misrepresented the number of countries participating in the march.
Before You Go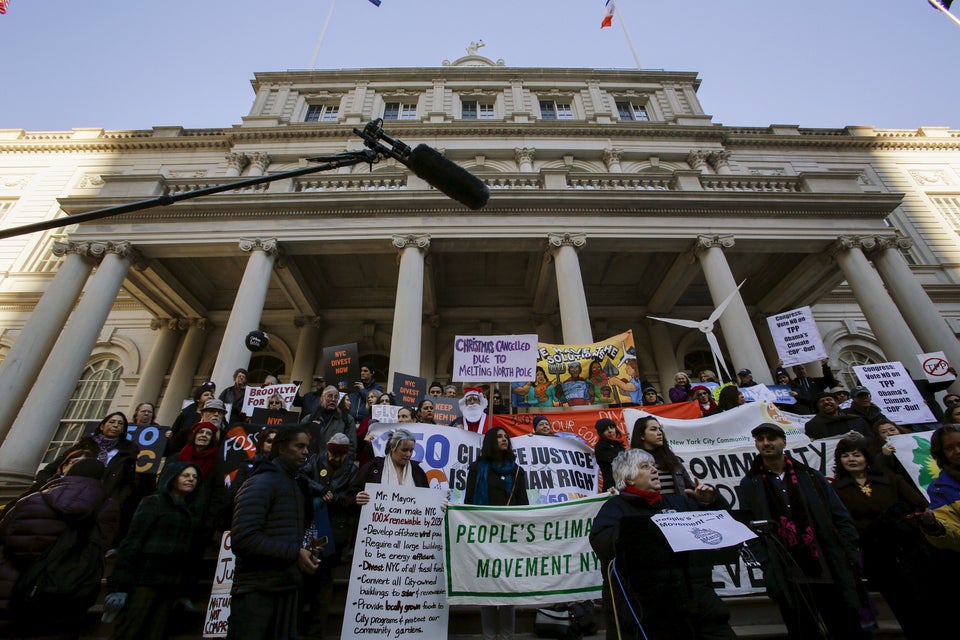 What You Can Do Right Now To Stop Donald Trump's Dangerous Climate Agenda
Popular in the Community