Festive, fun, life-affirming, inclusive and resolute. The thousands who gathered at the Hawai'i State Capitol and marched through the streets of Honolulu sent a message to Washington, D.C. that surely must have been heard, amplified as it was by similar messages sent from major cities across the United States and the globe.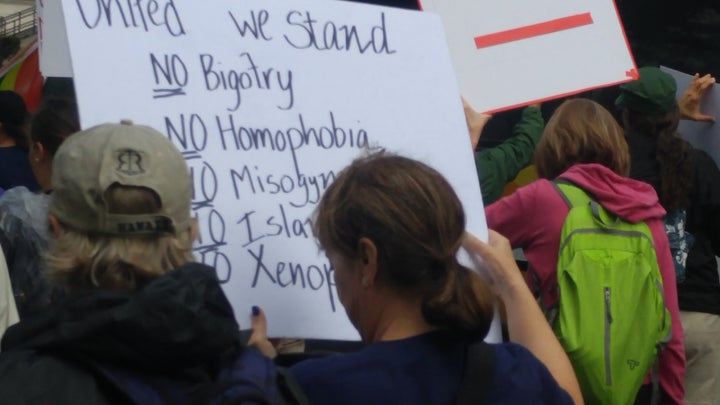 Seven-year-old Chase Hacker's sign announced that he was there to support his mom and women like her everywhere. His father serves in the military and the family is now resident in Kailua. "I simply cannot understand how people, especially women from my home state of Pennsylvania who have experienced rape, abuse, and other forms of violence against women, chose to cast their vote," said his mother.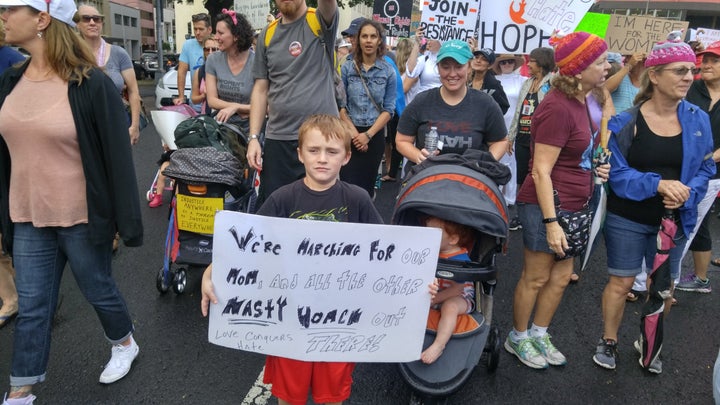 It was easy to understand where Kelli-Rose Hooser Simmons, and her mother, Claudette Hooser stand on the subject of violence of any kind. And what they—and the thousands who gathered today—believe each of us must do in response to violence.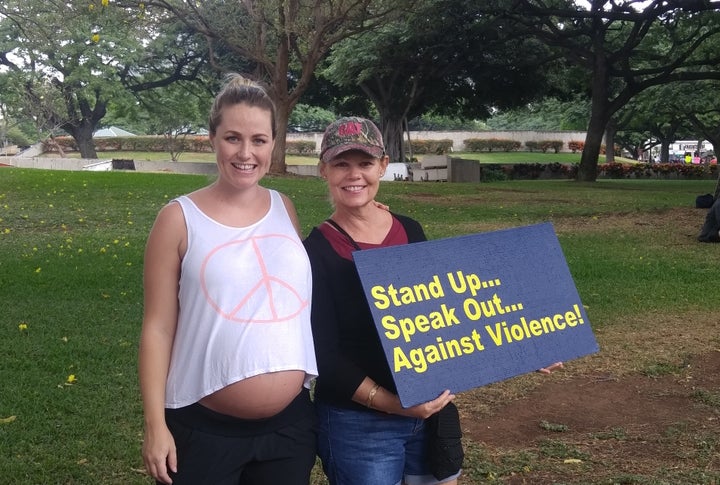 This contingent of women from the YWCA made their mission very clear: to end racism.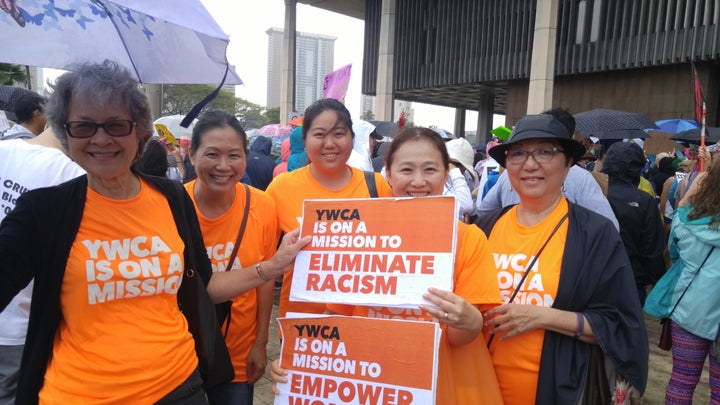 That mission, said this group, would be helped by the reminder that America's greatness rests on the contributions of immigrants. Then. And now.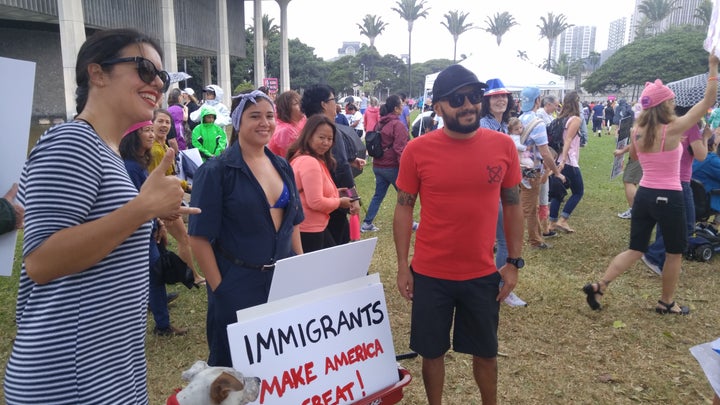 Signs like these were a reminder of past heroes who have, at great cost to their life and liberty, paved the way for justice for all.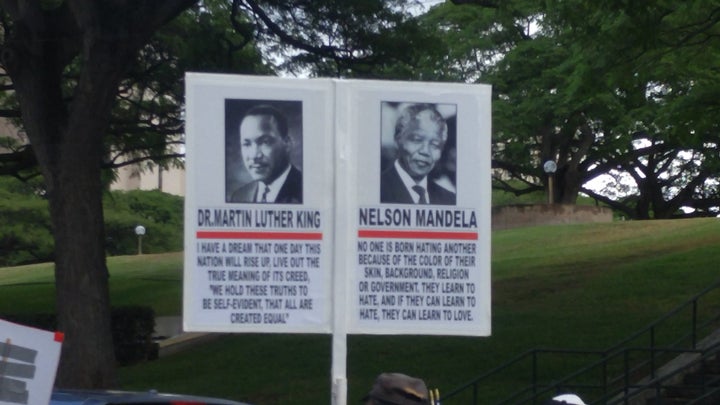 Others invoked contemporary heroines, like young Malala Yousafzai who defied the Taliban to insist on her right, and the right of other girls in her country, to get an education.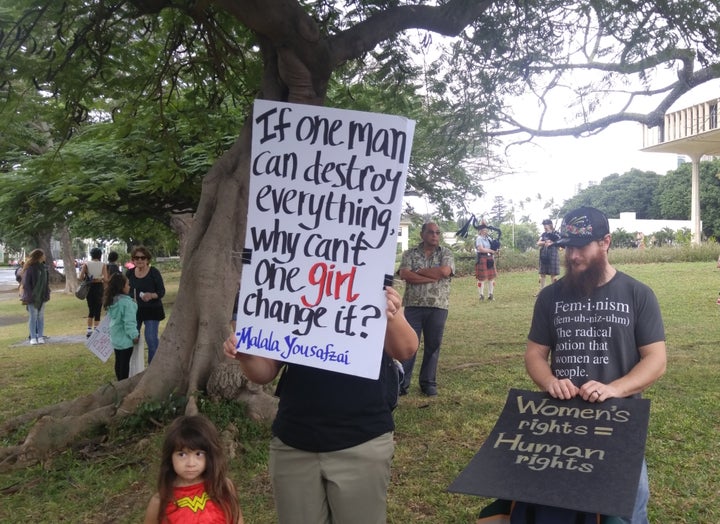 John Witeck answered the call of Martin Luther King Jr. when he was a sophomore at the University of Virginia, joining the March for justice in Selma in 1965. And today he, along with his wife Lucy, and two grandchildren, joined the Women's March in Honolulu. "They are still trying to take away the right to vote," he said.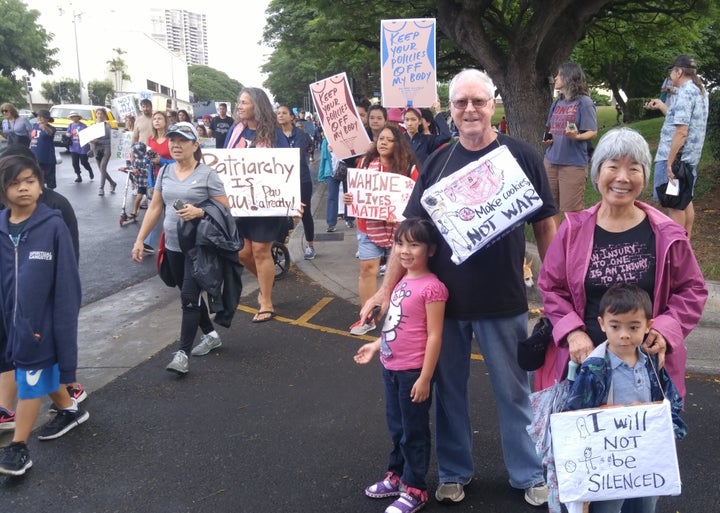 Eighty-seven-year-old Jeanne Aeby was undeterred by the rain or the crowds. She was there in her wheelchair, accompanied by her son, Tod Aeby and her grand-daughter, Briana Aeby Vandeneugel. As one of the marchers was overheard saying, "The rain is just a blessing."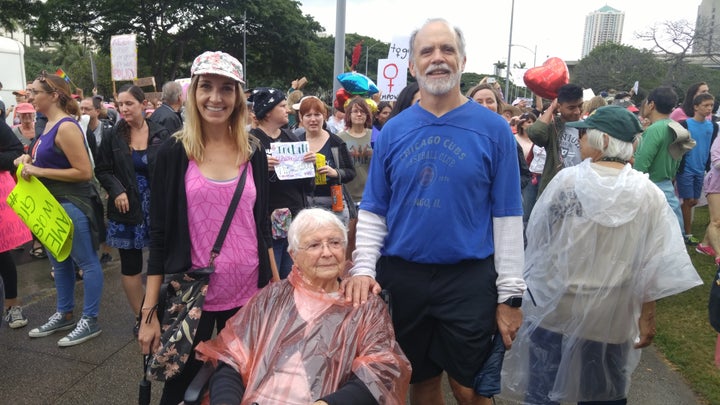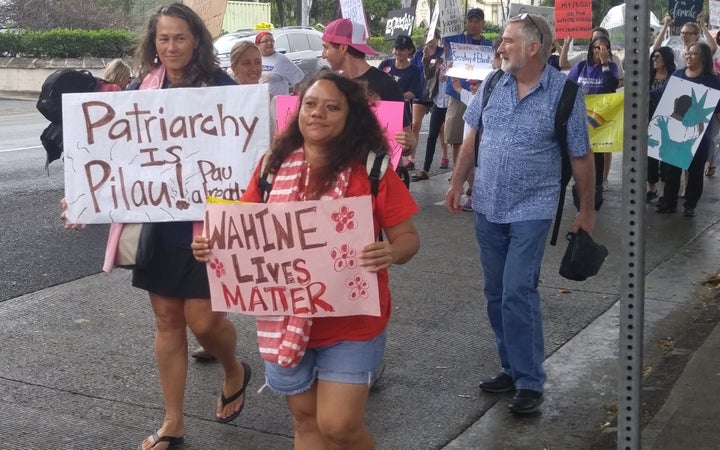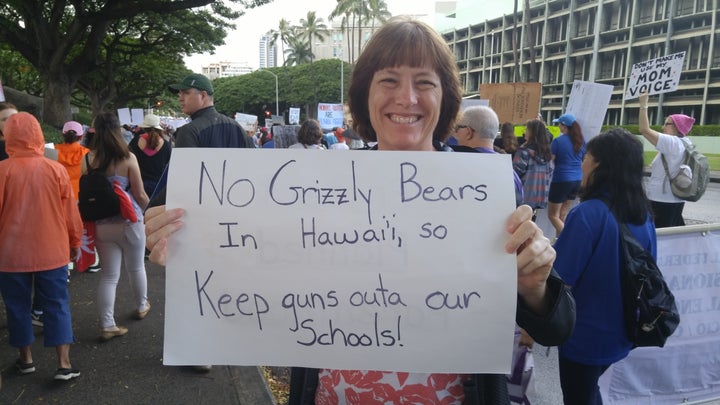 The Women's March in Honolulu was diversity on display. As several signs proclaimed, and as marchers of every age, ethnicity and sexual orientation chanted from time to time, "Aloha Trumps Hate" and "Women's Rights are Human Rights." Judging by the enthusiastic honks of passing motorists, none more assertive than the driver of a large truck with a cement mixer, the people of Honolulu agreed.
As Bayard Rustin taught us, we need to know when to move from protest to politics. And there to remind us that there are challenges that we can tackle locally, regardless of what is going on in Washington, was Jan Pappas. She helps her husband look after his 98-year-old mother, an exercise in loving care that is replicated over and over again across the state. Her sign was a call to policy-makers to do something to give respite to the thousands of family caregivers in Hawai'i. There is much that we can do, and if the turnout and the spirit of today's event was any indication, people are looking for ways to assert who they are through the lens of love, not hate.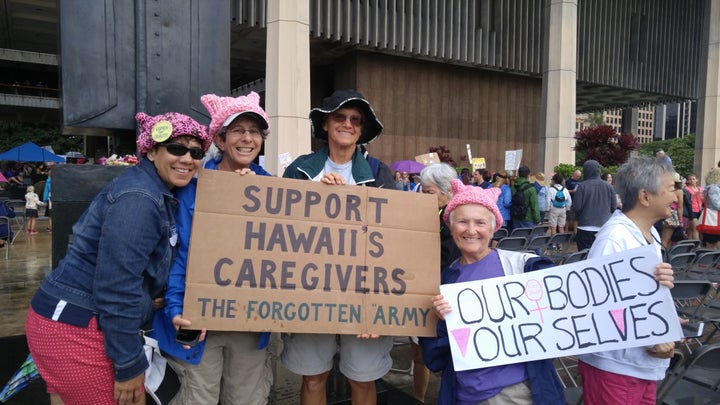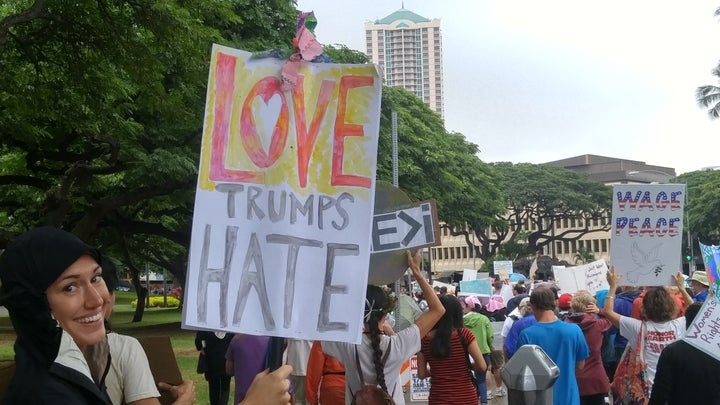 REAL LIFE. REAL NEWS. REAL VOICES.
Help us tell more of the stories that matter from voices that too often remain unheard.