As thousands of people gathered across Europe on Saturday to call for refugee rights, a human chain of hands was formed on a stony Lesbos beach next to a banner demanding 'No more deaths'.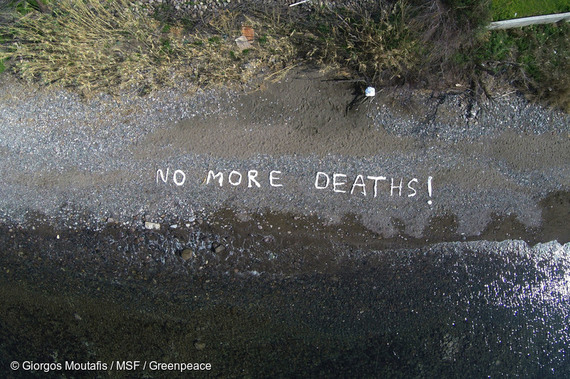 Lesbos is on the frontline of Europe's worst refugee crisis since World War II and it's where Greenpeace is working with Médecins Sans Frontières/Doctors without Borders (MSF) to rescue refugees in distress at sea.
Half a million people fleeing war and horror made the dangerous sea crossing to Lesbos last year and that flow of human hope and suffering has continued unabated in 2016. Already this year more than 300 people have died trying to cross the Aegean Sea.
"Europe needs to embrace this crisis and not have the borders closed ... We don't want to see any more bodies washing ashore," Lesbos resident Dina Adam said, her voice choking up and tears in her eyes. "This has affected us all, the whole community. Let's hope Europe starts to respect people."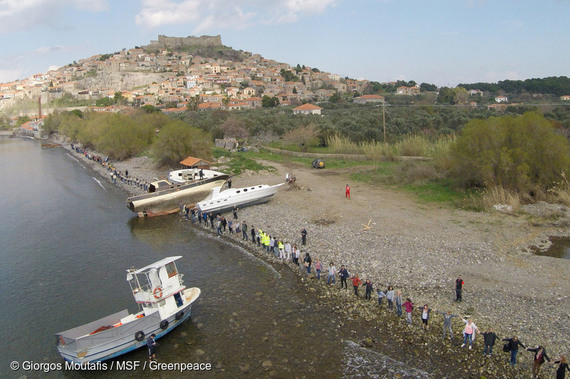 Dina was one of several hundred people who gathered on a Molyvos village beach on the north of Lesbos as part of a citizens' initiative #safepassage protest coordinated by the Sea Scouts of Molyvos.
The Molyvos activity was one of many across Europe and North America on the weekend calling for refugee rights and safe passage. According to the Facebook site promoting the event, rallies were planned in at least 115 cities across 28 countries.
The MSF-Greenpeace crews on Lesbos echoed their show of solidarity, producing a powerful video message using an abandoned refugee dinghy.
In Brussels, the heart of the European Union, estimates of participants marching through city streets ranged from about 2,000 to 3,000. Staff and volunteers from Greenpeace Belgium were among them.
More than 200 people took part in the march in Palma on the Spanish island of Majorca, while across the Atlantic in Canada, a choir sung hymns of peace as a dinghy arrived at a Vancouver beach with a dozen people in life jackets as part of activities there.
"Safe passage means for us we want no more deaths," said Eleonora Pouwels, a Sea Scout leader addressing protestors at the Molyvos march.
It can't be any simpler or more urgent than that.
REAL LIFE. REAL NEWS. REAL VOICES.
Help us tell more of the stories that matter from voices that too often remain unheard.