22,000 Residents of Staten Island/Brooklyn Congressional District 11 Are Insured Under Obamacare
As many as 22,000, or about three percent of the total population of CD 11, are insured under the Affordable Care Act. On January 26, 2017, US Congressman Dan Donovan (NY-11) voted with a majority of his colleagues in the House of Representatives to repeal major components of the Affordable Care Act, also known as, and identical with, Obamacare.
Enough to fill about 53 jumbo 747 jets.
Enough to fill the 714-bed Staten Island Hospital thirty times over.
About five boatloads of the Guy V. Molinari, Staten Island ferry boat, which carries 4,500 passengers at a time.
As a point of comparison, 50,000 runners participate in the NY Marathon, racing from Staten Island to Brooklyn.
The Kaiser Family Foundation recently released an interactive map showing how many people are covered by ACA, and who are therefore presumably vulnerable to its repeal. The interactive map from the Kaiser Family Foundation "provides estimates of the number of people in each congressional district who enrolled in a 2016 ACA marketplace health plan and the political party of each district's representative as of January." The analysis, Interactive Maps: Estimates of Enrollment in ACA Marketplaces and Medicaid Expansion, finds that "of 11.5 million ACA marketplace enrollees nationally as of March 31, 2016, 6.3 million live in districts with a Republican representative and 5.2 million live in districts represented by a Democrat. "
There are 724,434 residents in CD11, according to Ballotopedia. Three percent might not sound like a lot, but if thousands of people lose coverage, they will turn to emergency rooms for health emergencies, avoid preventive care, and may simply become sicker before seeking care. Presumably some will find coverage elsewhere, but thousands of uninsured is not a good health indicator for the district.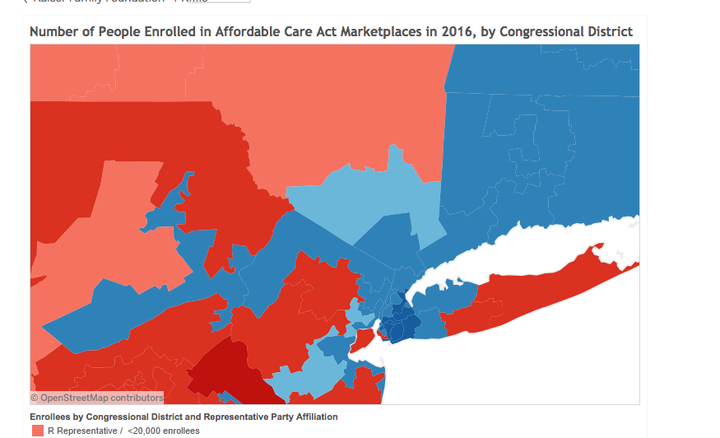 And so, local activists are calling on Donovan to listen to their concerns.
Locals Take Aim at NYC's Sole US Republican, CD11's Donovan
Issue: Accountability to Constituents: Demand Face-to-Face Town Hall Meeting
Date:Thursday Feb 16, 2017
Some activists demand face-to-face access to the Congressman, who voted for the travel ban impacting people from seven majority Muslim states, and wants to repeal the Affordable Care Act. "Because tele-town halls allow representatives to silence voices in gerrymandered districts like District 11, local activists invite constituents to rally while they participate in the tele-town hall," they say. Organizers — the 250 member-strong South Brooklyn Progressive Resistance, and Fight Back Bay Ridge —will collect and release constituents unanswered questions.
"Despite likely hundreds of phone calls, e-mails, tweets and postcards to Dan Donovan's office over the last 4 or 5 weeks requesting a town hall, the Congressman refuses to meet his constituents as a group face to face. Add to this, he is painting those constituents who are insisting on a Town Hall, with a broad and incorrect brush, by stating in the Brooklyn Eagle and Staten Island Advance, that disruptors at a recent Chamber of Commerce meeting were, "opposition party operatives." They were constituents thwarted by his continued non-response to multiple requests for a Town Hal..." says Lorie Honor, a Staten Islander and cofounder of Staten Island Women Who March.

Issue: Affordable Care Act and Accountability to Constituents/Demand Face-to-Face Town Hall Meeting
Just days later, another coalition of Staten Island and Brooklyn constituents are gathering to call for Donovan to support and sustain the Affordable Care Act, AKA Obamacare. The district has two VA hospitals, a large elderly population, an opiod epidemic and many immigrant families—in other words, Medicare, Medicaid, and the expanded availability of insurance enabled by the ACA are important to many constituents.
Flying in the face of Republican claims that such protests are either paid or created by agitators, many of the organizers of these events are life long locals, with deep roots in the community.
New York City progressives are interested in working on "flipping" Congressional Districts from Republican to Democratic in 2018, and Congressman Donovan will be up for re-election then. But the background data are sobering:

This is Where Democracy Looks Like
This little office, one of two in Donovan's bi-borough district straddling all of Staten Island and a jagged swath of southern Brooklyn is becoming the scene of "Resist Trump Tuesday" rallies and protests on an array of issues — starting with accessibility to US Congressman Dan Donovan's by his own constituents. Inside, the Congressman's narrow office is bare bones. Outside, it's barely two sidewalk pavingstones wide. Next door is a hairdresser, and a local jewelry store with a prominent "we buy gold" sign. On the corner is Caffe, with the "Isabella" rubbed out, a neighborhood hangout that, old-Brooklyn style, offers espresso, a few pastries, and conviviality. Rallies in front of CD11's Brooklyn district office take place here: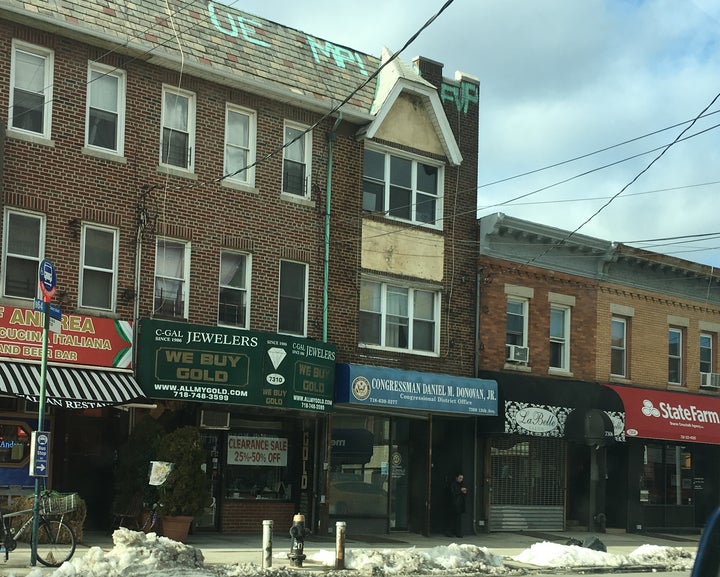 Calling all HuffPost superfans!
Sign up for membership to become a founding member and help shape HuffPost's next chapter