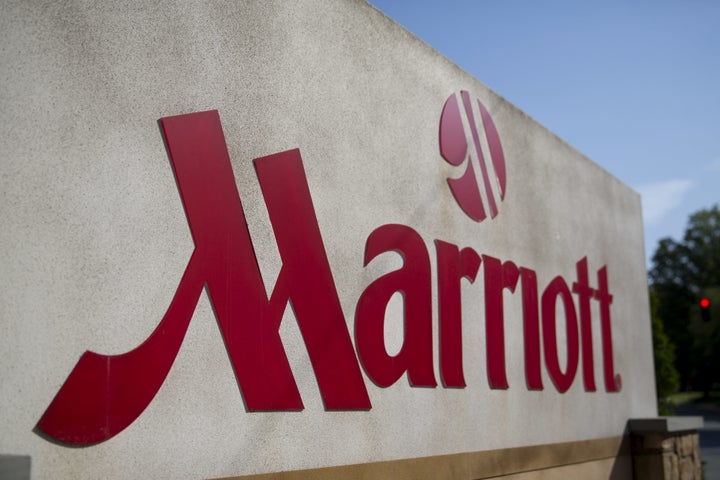 Employees of Marriott hotels in four cities are inching closer to going on strike after months of negotiations with the hotel chain have failed to secure new collective bargaining agreements.
The hospitality union Unite Here says affiliates around the country will be holding a series of strike authorization votes involving as many as 12,000 members starting on Sept. 10. Local unions in four cities ― Waikiki, Maui, San Francisco and Boston ― have already scheduled their votes. Local unions in five other cities ― Seattle, Oakland, San Jose, Detroit and San Diego ― may follow them.
D. Taylor, the union's international president, said members were willing to go on strike to raise working standards across the industry. He noted the size and influence of Marriott International, which is now the largest hotel company in the world.
"There are too many of our folks who are working full time, busting their butts, who frankly can't survive without doing two or three jobs," Taylor said. "We think the largest, most powerful hotel company could set a standard for the entire hospitality industry. And that's not where we're at now."
Jeff Flaherty, a Marriott spokesman, said the company and the union had reached some tentative agreements on certain issues. "There are still significant issues for both parties on the table that need to be resolved," he said via email. "We continue to negotiate in good faith."
Unite Here says it represents 20,000 Marriott workers around the country, a little over half of whom are now working under contracts that expired this year. (The terms of an expired union contract typically continue until a new one is agreed upon). They are guest room attendants, servers, bartenders and other service employees in hotels that bear the Marriott, Sheraton and Westin names, among many other affiliated brands.
If workers approve a strike through an authorization vote, that doesn't necessarily mean a strike will happen. It means workers will have given union leadership the authority to declare a strike at any point if they don't make more headway in negotiations.
"We know these properties do well because of the workers, especially here in Hawaii. The guests come back year after year. They know our names, and we remember their drinks. It's our labor that's creating the wealth."
A Unite Here spokeswoman said workers will be voting on having open-ended strikes, meaning there will be no set date for the work stoppages to end if they begin.
Having so many contracts up at the same time could give the union leverage by threatening coordinated work stoppages, potentially disrupting Marriott business in different cities. If workers went on strike, Marriott would have to find replacements to fill in at affected properties, likely seeing a fall in customer service and perhaps bookings as a result.
"We respect the right of our associates to voice their opinions on issues that are important to them," Flaherty, Marriott's spokesman, said. "Should the union and our employees choose to strike, our hotels will continue to operate and work to minimize any disruption."
Marriott acquired Starwood Hotels in 2016 and now has more than 6,700 properties around the world, surpassing Hilton. This month the company reported net income of $610 million for the second quarter, up 25 percent from the previous year. "[W]e are even more excited about our longer-term prospects," the company's CEO, Arne Sorenson, said on a recent earnings call. "From a competitive viewpoint, we've never been better positioned."
It's possible workers would go on strike in some towns but not others, since different contracts cover groups of hotels in different cities. The first vote is slated for Waikiki and Maui, where 3,500 union members work at six properties.
One of the Hawaii workers who plans to vote in favor of striking is Jason Maxwell, a 45-year-old bartender at the Waikiki Beach Marriott Resort & Spa who works a second hotel job to keep up with the high cost of living in Honolulu. As a member of his local union's organizing committee, Maxwell said he has seen little progress in contract talks.
"That's the only leverage we have to push this company to give workers what they really deserve," Maxwell said, referring to the strike threat. "We know these properties do well because of the workers, especially here in Hawaii. The [same] guests come back year after year. They know our names, and we remember their drinks. It's our labor that's creating the wealth."
Taylor said the union and Marriott are still far apart on key issues beyond just pay raises. One of them is the workload for housekeepers.
Like other hotel companies, Marriott has a program that allows guests to opt out of daily room cleanings to save water and energy. Though it supports the underlying principles, the union says the program has made work erratic for housekeepers ― and left them with heavy-duty cleaning to do once a guest has checked out after several days without it.
Yeqing Wei, a guest room attendant at the Sheraton Boston, said her schedule has become less predictable as the program has become more popular. She said she receives fewer hours than she used to and often has to be on call for days she isn't scheduled.
"I have no control of my day off," said Wei, who is 50 and works at the same hotel as her mother. "I have kids, and I have parents to take care of."
Another issue is automation. Hotel jobs are surprisingly vulnerable to displacement due to technology, as HuffPost previously reported. More hotels are using foods pre-cut by machines rather than cooks, and others are experimenting with drink orders placed over iPads rather than with servers.
Taylor said he'd like to see language in Marriott contracts that helps workers grow alongside the technology, rather than be replaced by it.
"We're not Luddites ― we welcome technology, but we want to have a real collaboration," Taylor said. "Marriott is doing gangbusters in profits. What we're demanding is our fair share."
CORRECTION: This post originally misstated the number of cities that had scheduled strike authorization votes. It is four, not nine.
Related
Popular in the Community