GAINESVILLE, Fla. — Thousands of people turned out on Thursday at the University of Florida to protest an afternoon speech by a prominent white supremacist, making their message clear: Richard Spencer, and those like him, are not welcome.
Well before Spencer's speech at a place that did not invite him, a mass of protesters was on hand to greet him. By the time Spencer took the stage at the Phillips Center for the Performing Arts, he was met by a small group of supporters and a larger group of activists.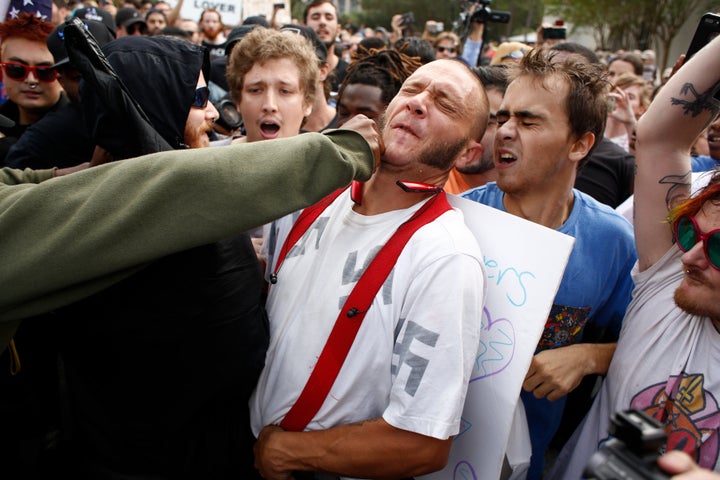 Protesters chanted "Fuck you Spencer!" and "Go home Spencer!" as the white supremacist spoke.
"I love you too," he said.
Spencer was routinely shouted down as he praised President Donald Trump, expressed concern that the man accused of killing Heather Heyer in Charlottesville, Virginia, this summer won't get a fair trial, and defended his ideology. But mostly, Spencer complained to the crowd for heckling him and drowning out his remarks.
"You are yelling at a dissident intellectual!" Spencer said. "You are not yelling at power!"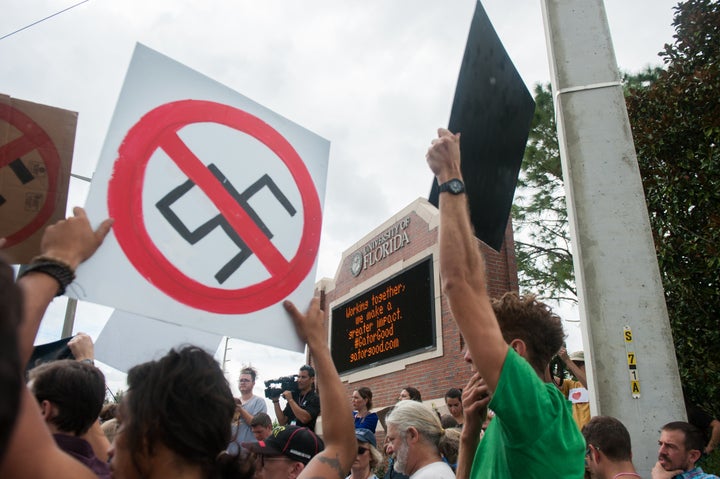 Taking questions from his audience, his answers were greeted with boos and various chants, including "We Don't Care" and "Black Lives Matter."
Spencer ended his appearance after close to 90 minutes with words of admonition to the demonstrators. "You think that you shut me down. Well, you didn't," he said. "The world is not going to be proud of you."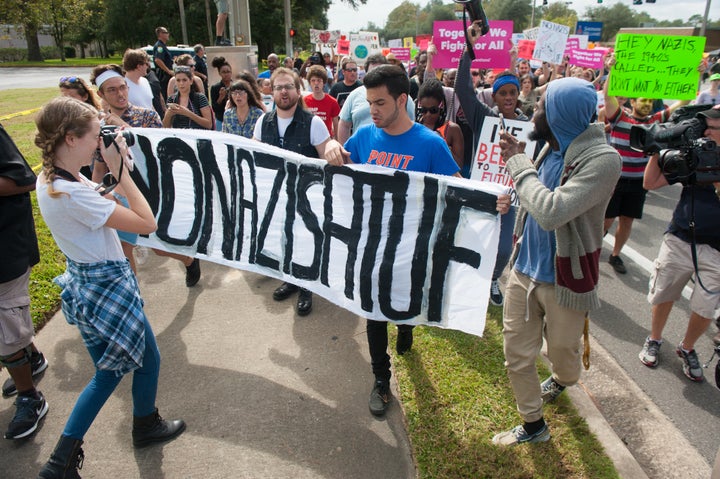 Before the speech, protesters making their way to the center had chanted, "Not in our town, not in our state, we don't want your Nazi hate!" Other popular slogans included "Alt-right you can't hide, you support genocide!" and "No Trump, no KKK, no Fascist USA!"
At least one man was arrested on a felony charge of carrying a firearm on school property. Sean Jeffrey Brijmohan, 28, told police he was doing private security for an unknown media outlet when they found him on campus wearing a gun on his waist. And an unidentified Nazi was photographed getting punched in the face.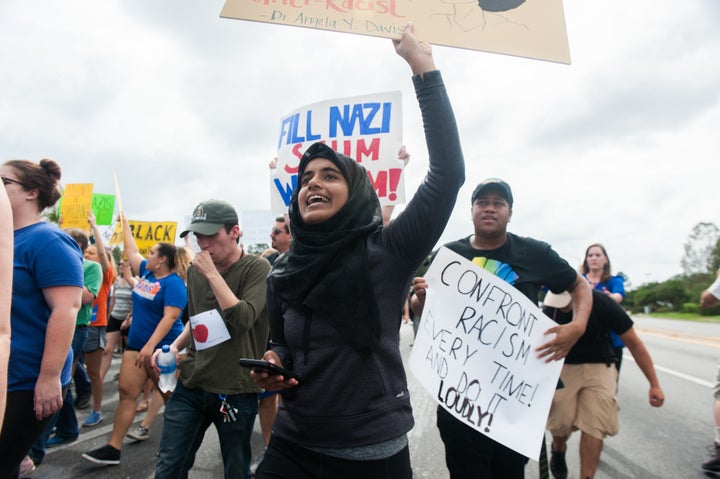 The Anti-Defamation League warned that Andrew Anglin, a neo-Nazi who runs The Daily Stormer, encouraged his followers to target Jewish and black religious and cultural institutions in the area. The intention is to make locals think that "the entire city is taken over by our guys," Anglin said in a post, according to the ADL.
In the two months since Spencer, 39, was a featured speaker at the large white supremacist rally in Charlottesville — which was marked by violence, including James Alex Fields Jr. allegedly rammed into counter-protesters with a car, killing 32-year-old Heyer — he has been threatening to sue state universities across the country who refuse to provide him a speaking venue.
University of Florida officials initially denied his request to speak on campus, citing security concerns, but ultimately relented. For First Amendment reasons, the university said, Spencer had to be allowed to speak, even if no one invited him. He paid $10,000 to rent use of the Phillips Center on campus.
Gainesville Mayor Lauren Poe (D) was among many speaking out against the white supremacist.
"We need to live our lives as normal and not let this disrupt us," Poe told HuffPost Thursday morning. "Because that's what terrorists do ― they want to disrupt your life, they want to get into your psyche and make you afraid to live a normal, free life."
When asked if he considers Spencer is a terrorist, the mayor said, "Absolutely, there's no question."
"He absolutely intends to create terror in people and that's his tactic," Poe said. "There's no question that he is a terrorist leader and that his followers look to commit acts of terror to disrupt our community."
Thursday's speech was Spencer's first stop on a planned tour of college campuses across America.
During the past few weeks, state, city, and college officials have worked to try to ensure that Gainesville did not become the next Charlottesville.
The school spent $500,000 on security — roughly equal to the yearly tuition for 78 in-state undergraduate students.
A large banner near the designated campus site for people to protest Spencer listed dozens of forbidden items, including backpacks, shields, fireworks, clubs, sticks or flagpoles.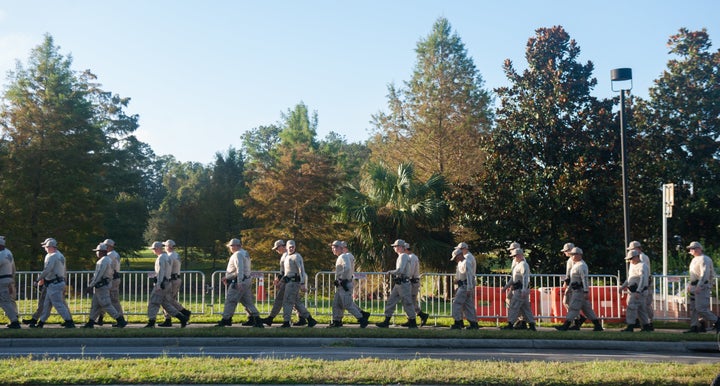 On Monday, Florida Gov. Rick Scott declared a state of emergency for Spencer's appearance, citing the violence in Charlottesville. Thursday morning, Gainesville was teeming with police from across the state.
Roads and bus routes were shut down. A university outpatient clinic and surgical center shuttered, postponing medical services to a later date. The school is officially open, but many classes were cancelled.
On Wednesday night, Spencer talked to HuffPost at a remote location in the Florida countryside. Standing outside the luxe ranch-style house where he was staying — for security reasons, he said — he drank Angel's Envy bourbon and puffed on a cigar.
A dozen or so other white nationalists were with him, among them Identity Evropa leader Eli Mosley, one of the main organizers of the Charlottesville event, and Evan McLaren, executive director of the National Policy Institute, which the Southern Poverty Law Center has designated as a hate group. Spencer serves as the NPI's president.
Spencer balked when HuffPost asserted he was a Nazi. "I'm not a Nazi," he said. "How am I Nazi? At no point in my life have I ever been a Nazi. This is just a slur word."
Spencer has been seen in multiple videos giving Nazi salutes. He and his supporters chanted Nazi slogans in Charlottesville. He's called for the creation of a "white ethno-state" and the "peaceful ethnic cleansing of the United States."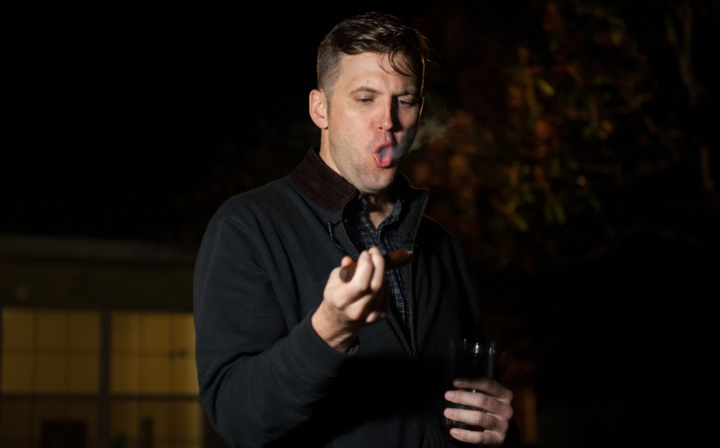 Mosley, Spencer's friend and ally, has written about the "struggle for total Aryan Victory" and the "Nazification of America."
Given all that, Spencer's rebranding of organized white supremacism in America as the "alt-right" would appear nothing more than a superficial rebranding aimed at mass appeal.
Spencer was unapologetic about the trouble and costs his Gainesville appearance had caused. The university's security tab? That's the fault of the far-left group Antifa and other counter-protesters ― they're the violent ones, he said.
He will gauge his Thursday event a success, he said, if "a packed arena" attends his speech, it gets a "splash in terms of media" and "no one gets hurt."
During a speech in New York City on Thursday, former President George W. Bush spoke out against people like Spencer.
"Bigotry or white supremacy in any form is blasphemy against the American creed," Bush said.
Mosley said that the rally in Charlottesville and Spencer's Gainesville speech ― and future appearances by him at college campuses ― are part of an effort to push their movement from an online phenomenon to one with "real-life effects on the real world."
"We've accomplished that," he said. "It's not going back. It's never going to go back. We're here to stay. People need to get used to us they need to get used to our ideas."
This story has been updated with Spencer ending his remarks. Emily Watson contributed reporting from Gainesville. Sebastian Murdock contributed reporting from New York.
Support HuffPost
The Stakes Have Never Been Higher
Related
Before You Go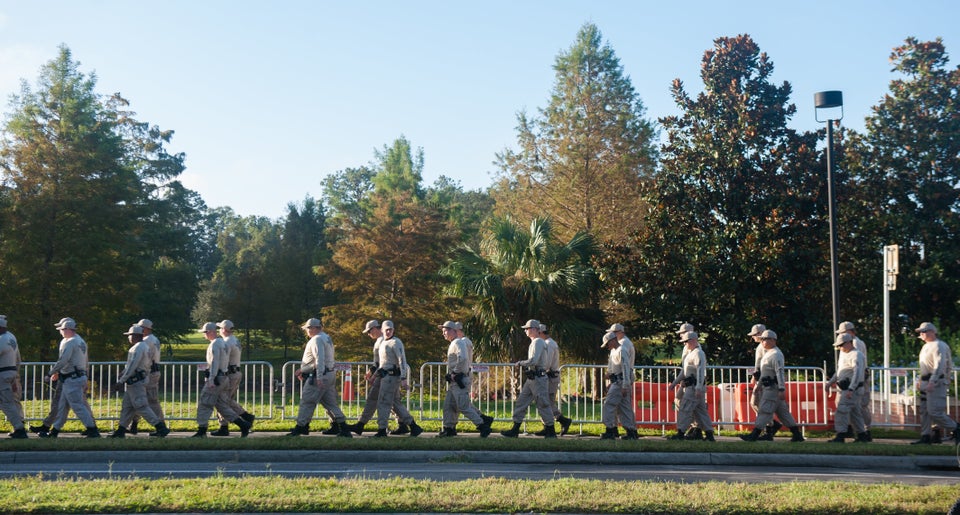 University Of Florida Protests Richard Spencer
Popular in the Community