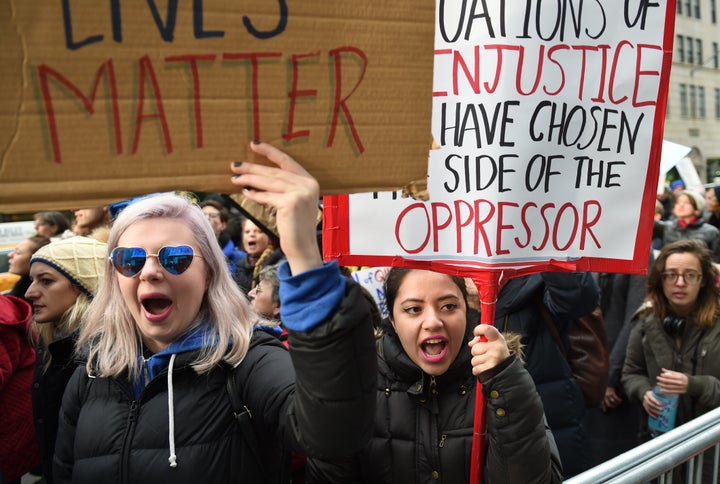 Strike organizers see the new protest as a separate but complementary action to the D.C. march, and the many sister marches planned across the country.
"It doesn't conflict with the march in any way," Paulina Davis, vice chair of the New York chapter of the feminist group National Women's Liberation, which is organizing the strike, told The Huffington Post.
"We're encouraging women on the day they strike to also get involved in some kind of demonstration that may be happening in their town that weekend," Davis said.
Plans for the strike came out of a November 15 meeting, and within a matter of days the group launched a website and had 500 pledges, according to Davis.
Its aims are lofty. In addition to protesting Trump and Vice President-elect Mike Pence, the group's demands include (but are not limited to) national health care for all, paid family leave and a blanket $15 an hour minimum wage. 
As of Monday, roughly 2,000 individuals had pledged to strike, Davis told HuffPost. Organizers are aiming for 20,000 pledges before they make the strike official, but Davis said she is confident they will get there. (Similar women's strikes have taken place in the country following Trump's election.)
"If 20,000 women pledge, it's a show of force. If 20,000 women say, 'I'm not going to work today,' people are going to feel that," she said. "They're going to feel that in the work place and they're going to feel it at home."
Strike organizers are calling for women to abstain from all work ― paid and unpaid ― to the degree that they are able, and to be vocal about their efforts to make a statement to friends, family and co-workers about why they are protesting.
"We're looking for women to strike in any way that's possible for them individually," Davis said. "Single moms can't necessarily strike from unpaid childcare, but we're asking women to find the places where they can draw the line and say, 'I'm not going to do this today, and here's why.'"
The strike website suggests women can strike from paid jobs, housework, and errands, as well as things like flirting and wearing makeup.
One personal testimonial on the website says, "I'm sick of protesting the same things my elders have protested. America has abandoned me as a woman of color. I'll be striking from: Paid job, sexism, emotional labor."
"I'm exhausted from navigating daily discrimination, overt and subtle," says another. "I'll be striking from: My job, fake smiles [and] apologetic speech."
Calling all HuffPost superfans!
Sign up for membership to become a founding member and help shape HuffPost's next chapter