Despite the 80-degree heat, thousands of Egyptians and International visitors showed their support for a cure for breast cancer by walking or running 1.5 miles through the magical landscape of the ancient Pyramids of Giza.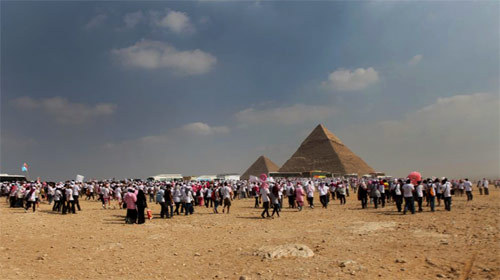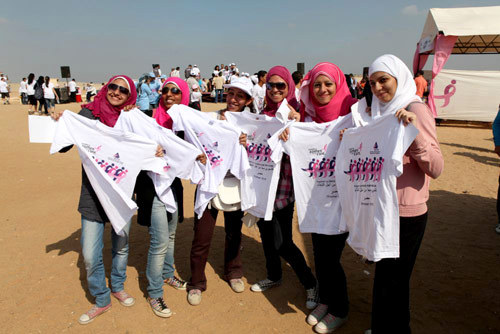 I was fortunate enough to witness it first hand.
Breast cancer has been on my mind a lot these days, because a 34-year-old friend of mine is battling a recurrence of cancer with incredible poise, determination, and optimism.
While I have been focused on her personal battle, attending the race gave me the opportunity to learn about the obstacles facing women in the Middle East.
Unlike the United States and Europe, where breast cancer is openly discussed, and self-checking and screening is common, it is extremely stigmatized in Egypt, along with much of the Middle East. As a result, the majority of cases go undiagnosed and/or untreated, despite the fact that it represents the primary type of cancer affecting women and is a huge public health concern.
Eating fatty foods causes breast cancer.
Breast Cancer is a contagious disease since it can occur in families with many members affected over time or many women can be diagnosed in single communities at the same time.
X-Ray Mammography can cause the cancer to spread to other body parts.
Breast cancer is a fatal disease that kills all patients.
It is likely that any woman showing one of the signs of Breast Cancer will most probably have the disease.
Many women in the Middle East are also reluctant to get screened for the disease because of apprehension of seeing a (particularly male) doctor, the threat of divorce if they are diagnosed, or fear of generating stigma for their family.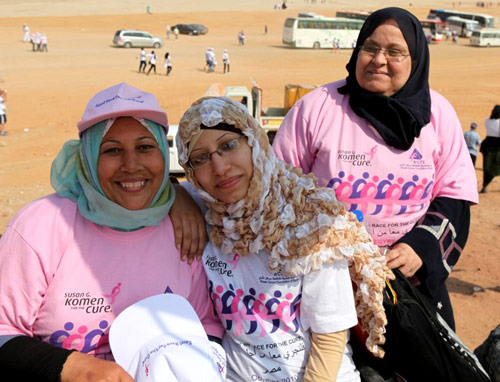 For those of you who've never attended a Race for the Cure, the women in the above photo are wearing pink t-shirts because they are breast cancer survivors. Let's all take action to ensure that the future will bring us many more.
But moreover, let's work to raise awareness in the Middle East, so that more women are prompted to frequent self-checking and screening. This is a race we can win.
This post is dedicated to my dear friend Megan, who is currently fighting the disease.
REAL LIFE. REAL NEWS. REAL VOICES.
Help us tell more of the stories that matter from voices that too often remain unheard.