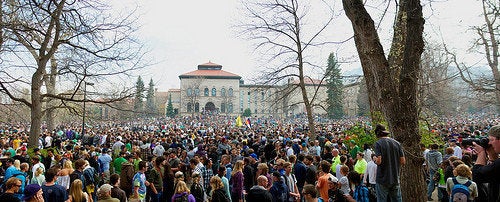 The University of Colorado at Boulder's campus was blanketed beneath a thick gray fog that had nothing to do with the weather yesterday, and it only grew thicker as 4:20 p.m. approached.
According to CU spokesman Bronson Hilliard, as many as 10,000 people made to the university's common Norlin Quad area for the annual marijuana field day -- and not everyone was a student, or even a Colorado resident.
Robert Loddin of Chicago told the Boulder Daily Camera, "I am smoking weed like it's oxygen." Countless others also drove out from states like California to celebrate Boulder's almost Coachella-like festival.
CU spokesman Bronson Hilliard says a combination of media attention and the fact that in Boulder there are more than 50 medical marijuana dispensaries have contributed to its destination-4/20 status over the last two years.
"People have said it's all CU students, and it really isn't if you go--if you just walk through the crowd you can see that you know, maybe 20 percent of the total crowd are our students," Hilliard told HuffPost.
The university's vice chancellors for administration and student affairs had sent out a warning message to students asking them not to attend, but it also mentioned that police would be onsite to focus primarily on public safety and traffic flow.
An excerpt from the warning notes:
• It is expensive to manage at a time when the University's funding is being cut back.

• It attracts many visitors to the campus to participate who have nothing to do with the University and frequently do not have its best interests at heart.

• It denigrates the value of your degree by helping to label CU-Boulder as a party school.
Commander Tim McGraw of the CUPD dispatch said there were some tickets given out, but no arrests.
"We had somebody who appeared to be under the influence of drugs and crashed into the sheriff's [unoccupied] car, and he went to jail, but that was it," Commander McGraw told HuffPost. He said there were about 10 emergency responses in total, and that the crowd had largely dissipated by 5 p.m.
Hilliard says Boulder's infamous 4/20 event also costs the university $50,000, mostly for cleanup and additional security.
This is an event that is imposed on the campus, it's not really one that we solicit, it's not one that we invite.

Neither medical marijuana nor recreational marijuana are allowed anywhere on the campus in any shape or form. But there's no way to enforce that when 10,000 people are doing it.

Is it likely somebody's gonna get expelled? No, it's not likely.
Calling all HuffPost superfans!
Sign up for membership to become a founding member and help shape HuffPost's next chapter