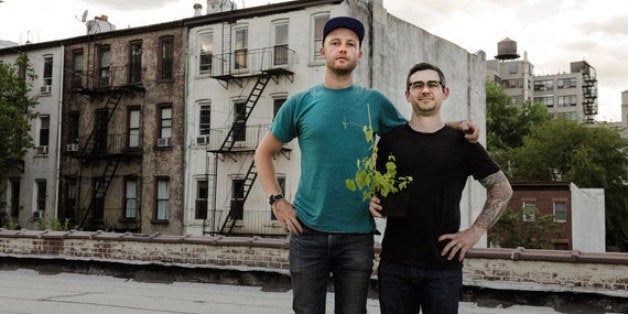 Caleb Freese and Julian Hensarling met in kindergarten at a Montessori school in Austin, Texas. The students there tended chickens, selling eggs and produce, and learning what it meant to grow things and be part of a community. When the two boyhood friends reunited 20 years later at a climbing gym in Brooklyn, New York, of all places, they realized that they still had those values in common.
As it turned out, they didn't learn everything they needed to know in kindergarten. They had to get more specific. Freese had spent seven years in the Pacific Northwest and found himself inspired by that region's bountiful soil. Transplanted to the far less bountiful environs of Brooklyn, he started growing, he says, "everything I could, wherever possible," including tomatoes, spicy peppers and olives. On rooftops--the only space Freese had in Brooklyn--he discovered that vines grew best. "I started thinking about things I could plant, as opposed to just morning glories," he says. That's where hops entered the picture.
Hops, the flowering cones of a vining plant that get turned into a component of just about every beer--providing the flavoring and aroma--are an essential crop in the Pacific Northwest. As it turns out, hops do quite well in New York City's open air. Hensarling, who was working as a private chef and had a lifelong obsession with food and the environment, as well as killer carpentry and welding skills, was the ideal partner.
So together, Freese and Hensarling formed Thousands Win, a vine-growing system that functions as both a hop farm and a green rooftop. The hop farm is lighter in weight than traditional green roofs. Their plants attach to the sidewalls and then the vines grow suspended across the rooftops. They're self-watering, low maintenance, easy to transport and, most importantly, they grow hops.
Thousands Win has become an important ingredient in Brooklyn's burgeoning beer renaissance. New York was once the U.S. capital of hop growing. Freese and Hensarling are trying to restore it to its former glory.
"I know l like growing things on rooftops," Freese says in this Dark Rye video, "and I know I like beer. And eventually that seemed to come together." Through their rooftop hops operation, they seek to inspire the growth of local community farms and gardens, and have a positive impact on the environment and health. But the bottom line, Freese says, is "trying to grow more shit in Brooklyn."