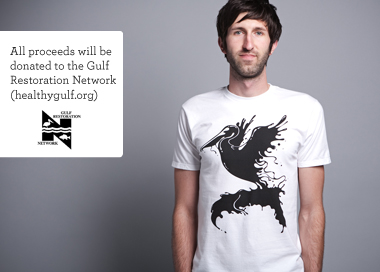 This week Threadless, the popular design community, launched their Gulf Coast relief tee called peliCAN. After watching the gallons of oil spilling into the water and onto land, Threadless came up with the idea to utilize their design community to help aid relief in the Gulf Coast. Threadless reached out to community members Frederik Wepener of South Africa to work with Threadless' own Ross Zietz on a collaboration tee. The result is the peliCAN design, which is intended to offer a bit of hope amidst devastation in the Gulf.
One hundred percent of the proceeds from peliCAN tee sales will be donated to the Gulf Restoration Network, a 15-year-old environmental nonprofit organization committed to uniting and empowering people to protect and restore the natural resources of the Gulf Region for future generations. The Gulf Restoration Network is the only environmental organization working Gulf-wide, and since the first day of BP's oil drilling disaster, they've provided independent monitoring and advocacy focused on holding BP accountable and ensuring an effective and transparent response to the crisis.
Th peliCAN collaboration tee was a coming together of generosity from the Threadless community members and friends. The printing of the tee was generously donated by Threadless' local friends Sharprint, who used a water-based ink to print the design. Both designers Frederik and Ross have donated their standard designer payment to the cause as well.
Though Frederik lives down in South Africa, he says he still feels the impact of this event: "My grandparents lived in Nature's Valley, a small, unspoilt town on the coast of South Africa. Having spent my summers there as a boy, I can only imagine how I would feel if something similar struck the place I hold so dear."
Ross, a Baton Rouge native, says, "I spent many many days on or near the Gulf coast. It is very near and dear to my heart. Hearing the sadness in the voices from all my friends and family back home plus seeing all the depressing but very real images on the news and web, I just really wanted to do something about this nasty disaster."
The power of "tees for good" is not to be underestimated. The Threadless community is a notoriously active and passionate crowd. Following the Haiti disaster, Threadless created the Many Hands Make the Load Lighter tee inspired by Haitian street art. With one hundred percent of the proceeds going to directly to the cause, Threadless was able to donate $100,000 to the American Red Cross Haiti Relief and Development.
The peliCAN tee is only $10. In Starbucks currency (my currency) that's roughly two coffee drinks.
Want to help defend and clean up the Gulf? Take action here.
Popular in the Community