Meta's newest platform, Threads, is in hot water for restricting search results for terms related to the COVID-19 pandemic, including vaccines, as the country has registered yet another uptick in coronavirus cases.
The company confirmed the policy, saying the social media site is for now blocking users from searching for words that could bring up "sensitive" posts.
"The search functionality temporarily doesn't provide results for keywords that may show potentially sensitive content," Meta said in a statement shared with multiple news outlets. "People will be able to search for keywords such as 'COVID' in future updates once we are confident in the quality of the results."
Threads, which was released earlier this summer, has been rolling out several much-requested updates in recent weeks, including launching a desktop version and search functionality.
But that functionality is not proving useful to users wanting to look for posts related to COVID-19. Users are greeted with a blank page and are simply prompted to visit the Centers for Disease Control and Prevention for more information when they search for words associated with the pandemic, including "COVID," "coronavirus" and "vaccines."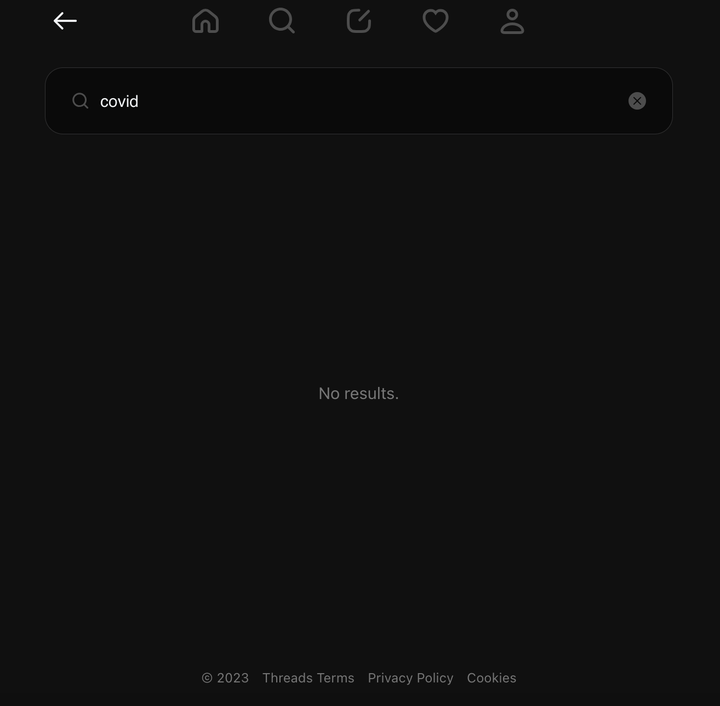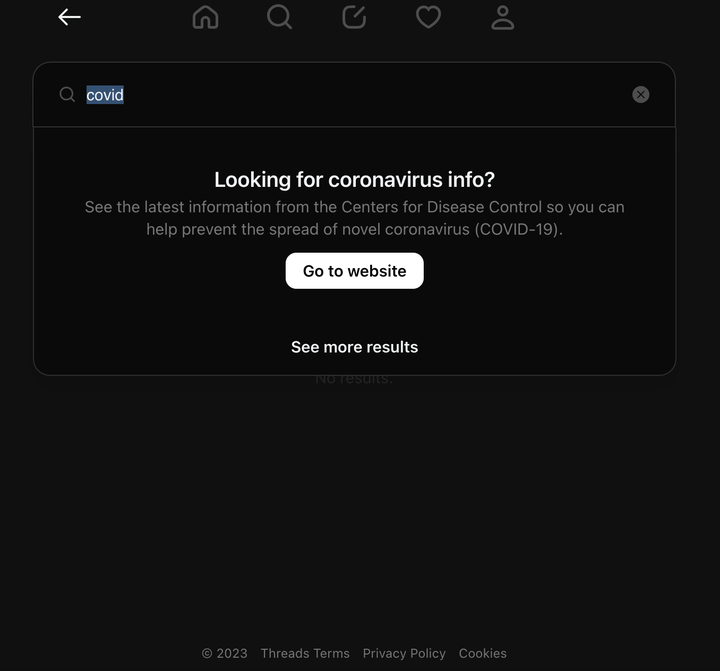 This comes as the U.S. has been seeing COVID-19 cases rise, which is likely to continue into the winter months. But one of the nation's top infectious disease experts, Anthony Fauci, told ABC's "This Week" Sunday that given the level of COVID-19 immunity in the population, "the chances of this being an overwhelming rush of cases and hospitalizations is probably low."
Meanwhile, the Food and Drug Administration on Monday approved the updated COVID-19 boosters. The shots should be available in the coming days.
The decision to block those search terms illustrates Meta's desire to avoid elevating any topics that could be deemed "hard news" in Threads.
"Politics and hard news are inevitably going to show up on Threads — they have on Instagram as well to some extent — but we're not going to do anything to encourage those verticals," Adam Mosseri, the head of Instagram who has also been involved in the launch of Threads, wrote earlier this year.
Threads launched in early July in an effort to take advantage of people's disappointment with Elon Musk's X, the site formerly known as Twitter, and managed to get 100 million sign-ups within five days of going live.
However, the platform has since struggled to maintain its momentum.
Popular in the Community