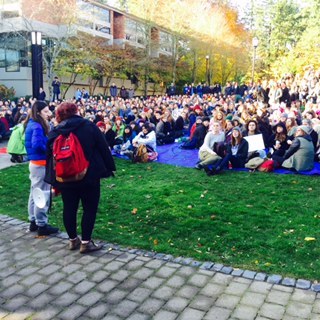 The balance between security and freedom is always difficult to achieve, but the recent events on Lewis & Clark College campus show us that when it comes to black students, they have neither. Some argue that the price of a free society is allowing racist messages on Yik Yak and elsewhere. But at what point do such messages create an environment that emboldens the racists to act? To what extent does the police refusal to investigate these posts send a message that the racists are free to carry out their threats?
At what point does an anonymous post expressing a desire to "hang all black people" posted on a geographically limited social media site constitute a threat to a particular community? It's not an easy question to answer. The courts have ruled that the more a message targets a particular person or group and a particular time and place, the more it constitutes a real threat. The fact that the post said, "want to hang" rather than "will," the legal experts inform me, suggests a desire, not an intention.
All of this legal parsing seems beside the point. The messages on Yik Yak, repeated again on Friday, were interpreted by hundreds of student, faculty and staff as threats. They were perceived as such dire threats that classes were cancelled and hundreds participated in a daylong anti-racism teach-in. Students of color feared for their safety.
And yet, in spite of repeated calls by Lewis & Clark officials and the broader community, the Portland Police declined to investigate, arguing that the posts did not constitute a threat. When one of my students called the police, they asked her whether she was a Lewis & Clark student and then, when she said she was, promptly hung up the phone.
It is hard to believe that the Yik Yak posts do not constitute a cause for investigation in a context where black people across the nation are being targeted and attacked, often by police. Yik Yak will only release the identity of the author to the police with a subpoena. At the very least, the police could have investigated to determine whether a crime had been committed. If it turned out to be a student, Lewis & Clark could have held the student accountable under its own code of conduct that clearly prohibits such harassing and threatening speech.
I would be more likely to believe the Portland Police were exhibiting restraint in the interest of protecting free speech if I hadn't witnessed the police tear gas and beat peaceful protestors over past 15 years. I would be more likely to believe that our justice system values privacy if the Oregon Department of Justice had not been conducting surveillance on people posting under #BlackLivesMatter. But given that the police seem anything but restrained when it comes to protests and black people, their restraint smacks of racism in this instance. It just doesn't pass the smell test.
In response to the Yik Yak threats, over 750 faculty, staff, alumni and students signed a letter of support for black students at Lewis & Clark. And still, some of my faculty colleagues don't believe the threat is real. One faculty member suggested that the students were overreacting to an outrageous posting. But this professor is white, like almost all faculty at the College. And so he may have had a difficult time understanding why students of color would interpret the desire to hang all black people as a threat. Maybe most white people just don't get it.
So now we have a black student who has been beaten up on campus by three white men. And the police are finally investigating.
Mayor Charlie Hales is Portland's Police Commissioner, and so the responsibility for police inaction rests with him. Instead of announcing October 15 as Hip Hop Day in Portland, perhaps it would be better if the Mayor paid attention to real threats against black students in this fair city before they have to face physical assault.
Calling all HuffPost superfans!
Sign up for membership to become a founding member and help shape HuffPost's next chapter