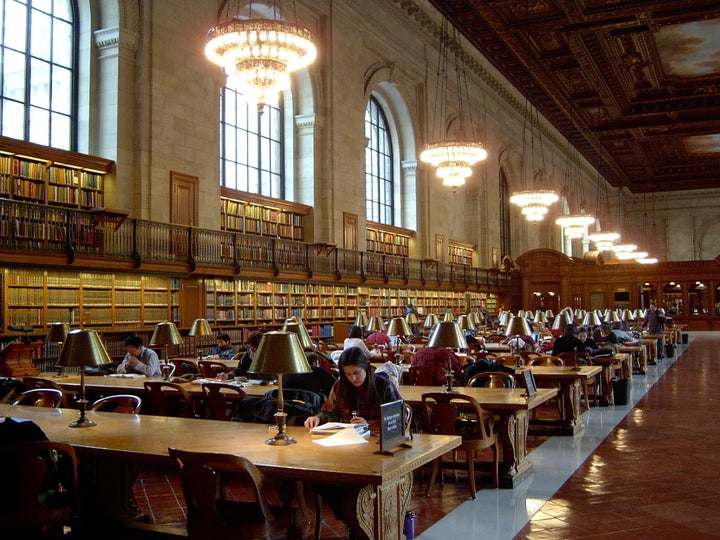 There is something ineffably sad about abandoned books. They sit, discarded, a story that will never be shared, pages that will never be turned. People are drawn to them, they are protective of them. Readers will stop for an abandoned book, they will bring them home even when they don't need them.
What if it was not just one abandoned book but entire libraries of them? What if library doors were locked and tens of thousands of books sat unused on shelves? What if the reading rooms were shuttered and the kids had to go to the next neighborhood to study at night?
Each of the books is emblazoned with a bright yellow sticker which reads "When libraries close this could be your only access to free books". They have a QR code and a link to petitions to save the three libraries. It is a protest, it is a scavenger hunt, it is a public art installation, it is a gift of books to the city. They have been left in phone booths, on park benches, in bars, in coffee shops, on the subway, anywhere, everywhere.
The book seeds have a bright green sticker on them which says "TAKE ME" so hopefully each and every one of them finds a good home. They are all Advanced Readers Copies and galleys, mostly donated from publishers and reviewers. ULU is very interested in book redistribution and those old ARCs, (some of which have been sitting on office shelves for years), finally have a new life, new readers. They are also protest art leveraging for libraries.
The three library systems in New York City, Queens Library, Brooklyn Public Library, and New York Public Library serve 8 million residents from a combined 212 locations. Mayor Bloomberg's Executive Budget for FY'13 calls for a reduction in funding of $26.7 million for Queens Library, $26.9 million for Brooklyn Public Library, and $42.8 million for New York Public Library. This $96.4 million in cuts is almost 32% of the total library budget. These cuts would result in the closure of 46 libraries across the city. Library hours would be drastically reduced in those left, to two or three days a week in Queens, and by about 50% across the board in Brooklyn.
Google has not killed the library and ebooks won't do it either. The biggest threat to the public library in American culture is limited hours. In the new budget reality if libraries are forced to dramatically decrease their hours then they will be drastically reduced in their ability to serve their public.
This new concept of library service is more active than ever. Instead of reacting to limited budgets by limiting services modern public libraries are expanding and doing more, serving more people in more ways than ever. Libraries have shifted from a passive model to an active one. Traditionally in libraries patrons came to the collection and got what they could out of it. The library aided in finding the information but they were passive in imparting it leaving that up to the materials patrons borrowed.
There has been a change in libraries in the last few years. Now they offer classes and provide job search assistance. They train people in technology and entrepreneurship, they offer ESOL and GED classes, and storytelling classes, and test taking classes and anything they can swing to help people out. Library people care about that kind of thing, the helping part, it is a big part of the social contract they hold so dear.
The public library in America will only be irrelevant when it is inaccessible.
Library supporters are pushing back. The book seeding is part of a campaign that includes a 24 Hour Read In, a postcard campaign, street theater, a mass multilingual Harry Potter reading (one chapter simultaneously read in 12 languages), anything, everything. Library activists are scrappers and they are getting more and more proficient and creative all the time.
More books are being put out on the street today, maybe this very moment. While it is wonderful to find an abandoned book it is a little heart wrenching to desert one. There are "book ninjas" at work in New York City right now and each of them feels a little flip in their stomach each time they turn their back and walk away from a book. Those books will speak volumes though, each of them stands on their own as a tiny eloquent testimonial to what is at stake.
See images from the guerrilla campaign (all photos by Vicky Zabriskie):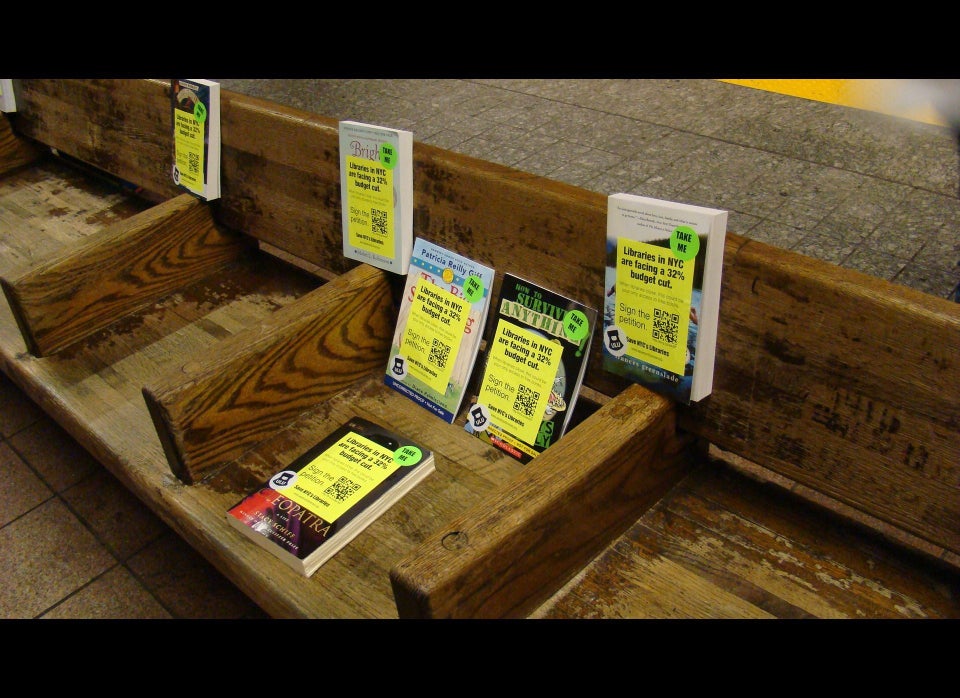 Save NYC Libraries Campaign
Related
Popular in the Community