The Army Corps of Engineers has announced it plans to evict the Oceti Sakowin Camp, the main camp of the water protectors at Standing Rock where thousands are now living and preparing for winter. But early responses suggest the water protectors will not budge.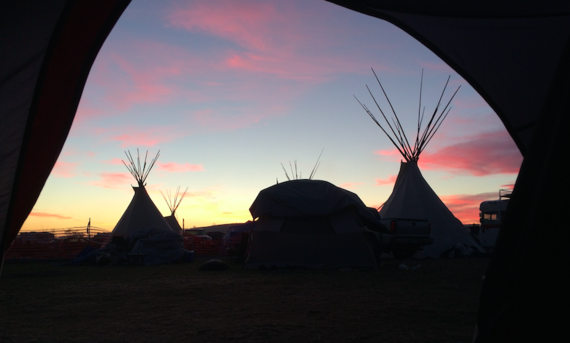 The Standing Rock Sioux received a letter from the Army Corps of Engineers dated November 25 (the day after Thanksgiving) stating that everyone must leave Army Corps land by December 5.
Chairman David Archambault II responded the same day, expressing disappointment, and calling on the Obama administration to protect public health and well being, not by evicting water protectors but by denying the permit for the Dakota Access Pipeline.
The other water protectors' camps are on the reservation and/or private land, so they will not be affected by the eviction.
In other relevant news: 1500 unarmed veterans, EMTs, firefighters and others are converging on Standing Rock on December 4 to support and protect the water protectors. This event was announced well before the Army Corps eviction announcement. What will happen if police and National Guard confront the camp, with this massive infusion of veterans who have come to stand with them, is far from clear.
At least some water protectors are saying they will not leave:
"It is true what they're trying to do but it won't matter," said Joye Braun, an organizer with the Indigenous Environmental Network and a member of the Cheyenne River Sioux Tribe.
"We're going to stand. We're ready for whatever they throw at us, rubber bullets, pepper spray, mace, water canons," she said on a Facebook live feed. "They try everything. It's just making us stronger."
Chase Iron Eyes, an attorney and member of the Standing Rock Sioux Tribe, posted this, showing the continuity between the eviction order and the long history of Indian removal:
"-Dec.3, 1875: The US Govt issued an order declaring all Natives not on reservations would be considered "hostile." Natives had until January 31, 1876, to report to their places of reservation confinement or be removed by the military.
"-Nov.25, 2016: The US Govt issued an order declaring all Natives & protectors not on the reservation would be considered "trespassers." Natives & others have until Dec.5, 2016 to report to the Standing Rock reservation or be removed by the Corporate State."
MORE FROM SARAH's COVERAGE FROM STANDING ROCK



I Found the Spirit of Standing Rock in Communities Across the United States
Support HuffPost
The Stakes Have Never Been Higher
Related
Popular in the Community