"It's like I am talking to a bunch of horse-dealers about where they can purchase a unicorn. Nobody believes it, but everyone wants to see it."
This is the story of Joshua Haupt, Denver's own fun-loving, charismatic, low-stress father, gardener and entrepreneur. Haupt's line of business? Marijuana. Specifically speaking, the growing process... and he is revolutionizing the act of doing so.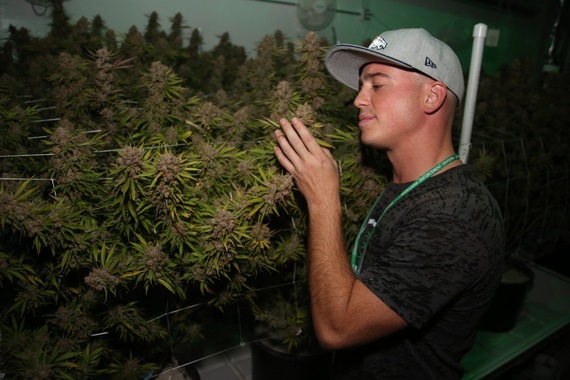 Haupt is damn good at what he does. His passion for this popular plant has lead him further into the cannabis industry, into a lucrative spot as a primary retail distributor and now, as an author. Citing an anonymous friend as his original source of inspiration, Haupt explains, "It follows the classic saying 'It's all about who you know'." For the lives of growers, enthusiasts or people who just need to wind down, it's a good thing that Haupt met that particular friend when he did. As the United States slowly but surely legalizes marijuana, Haupt is quickly producing more than triple the amount of yield per light. His new (and rather beautiful) book, Three A Light, is a deluxe how-to manual devoted to this innovative method of growth. But let's start from the beginning, shall we?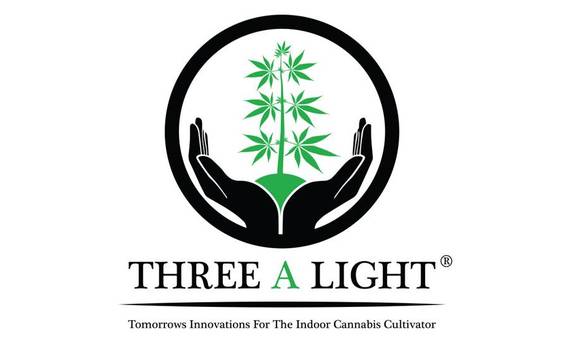 Born in Kauai, Hawaii, Joshua Haupt grew up in a tight-knit family, with young parents and plenty of siblings. With a grandfather who helped start the North Railroad, it's easy to say that the Haupt family tree consists of many industrious and daring men. This includes his father, who when Haupt was young, quit his mundane job in order to carry on this entrepreneurial fervency. Joshua Haupt, himself, eventually followed in his family's tracks, creating a name for himself and supporting his now 7-year old daughter, Jazzlyn.
At age 14, Haupt was diagnosed with epilepsy. Although his case was considered mild, he was put on Depakote, shortly leading to unfortunate side effects, such as weight gain and hair loss. At 15, Haupt "experimented" with marijuana, as the average teenager tends to do. But this experiment turned into a hobby and this hobby eventually turned into the only medicine Haupt needed. When the devastating side effects of Depakote began to take action, Haupt turned to marijuana, which resulted in a seizure-free, zero-side effect lifestyle.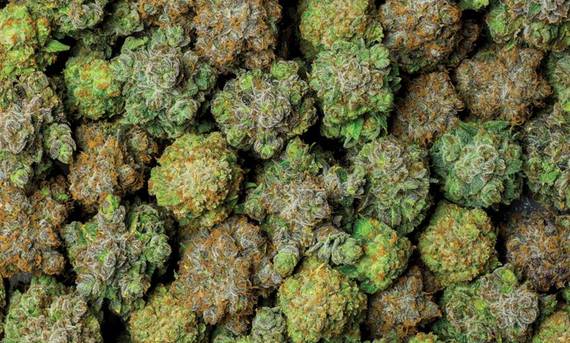 "At first, I thought 'This is fun', but then it became more. It became real medicine. At home, I was in charge of the gardening. I found a seed in one bag that I bought, and I decided to plant it. It took a while before my parents realized what it was, and when they did, I can remember my father saying 'Well, we can't kill it now...' and that's when my love for Cannabis began."

Cultivating marijuana wasn't Haupt's only interest. After moving to Colorado, and spending a lot of time snowboarding on the mountains of Breckenridge, Haupt designed a clothing label, centering around ski and snowboarding attire. What he considers "a dream come true", the clothing label reached some of the best winter athletes around, who also happened to be his best pals. When Haupt began teaching handfuls of friends his tricks of the trade for growing their own 'medicine', he knew crossing the line into the business aspect of marijuana would be a risky, but enjoyable choice. With that, he took the leap, producing and selling an incredible amount of plants. His method was efficient, commendable and rewarding.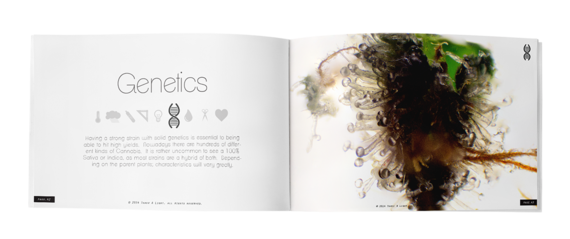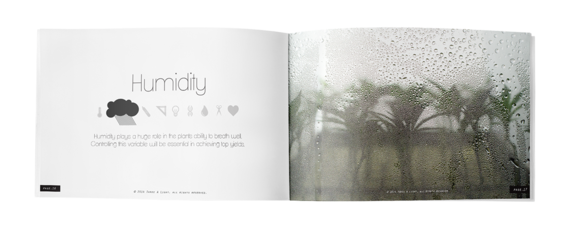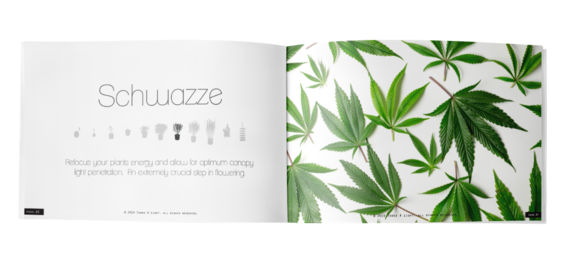 "I reached the point where I am comfortable at my daughter's soccer practice to tell other parents about what I do. It's not just a clothing line anymore. After learning some tricks from a friend way back when, I began upping the dosage of nutrients to my plants, and changing the environment in which they are grown. Through these innovations, we were able to triple the amount of production. This growth isn't just for me. I want to share and educate this efficient process, that way we can build a franchise. This thought prompted Three A Light."
Three A Light, although high in price point (you can order the book for $500 on the website) is designed for every type of aficionado. From avid indoor growers, to those just starting out, the book is a very simple take on a complicated process. With over 215 pages, a detailed glossary and hundreds of hi-res photos, Three A Light teaches the reader a number of invaluable techniques. The title of the book refers to a yield-to-light ratio, in which this method produces three pounds of marijuana per light used. Whether a facility hosts four or 200 lights, these results add up. It's an incredible amount of marijuana, especially when considering that an indoor facility can keep the same number of lights and equipment, and only change their process a bit. Haupt, along with his facility and production team, even gave the process a fun name: Schwazzing. Haupt truly stresses the simplicity of this book. "It was made with a beginner audience in mind. Step-by-step, picture oriented, a no-brainer," he explains. "It's very non-literary based. Think as user friendly as an Apple product, but with a Louis Vuitton feel."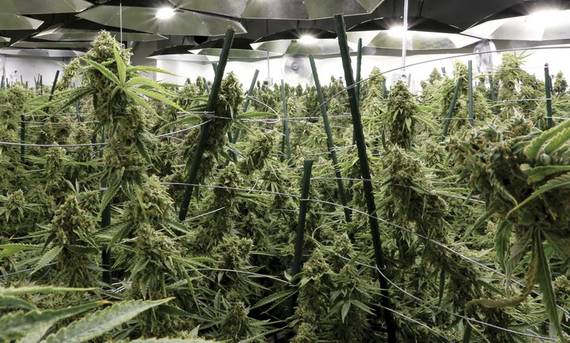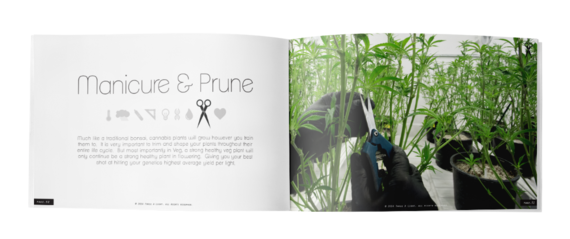 Haupt is a "huge fan of building bridges, but never burning them," so his team of farmers and artists is built upon a very strong, happy foundation. The ex-VP and CEO of Coca Cola recently joined their team, contributing highly to Haupt's dream. The book, which was released in late November during what you can only imagine as a really fun party (Redman and Ky-Mani Marley were first to snag their copies) is quickly grabbing the attention of the tobacco industry and pharmaceutical companies alike. But, as you can probably tell, money and expanding are only part of the reason Haupt is so involved in this industry.
"I'm here to help, and I am fortunate enough to play ball in a court where some people aren't allowed to. We are a group of smart, like-minded individuals, who know how to work hard but also enjoy ourselves. There's nothing I'd rather be doing."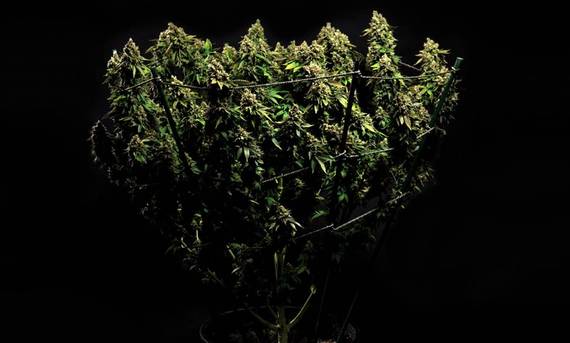 All photos courtesy of Joshua Haupt
REAL LIFE. REAL NEWS. REAL VOICES.
Help us tell more of the stories that matter from voices that too often remain unheard.