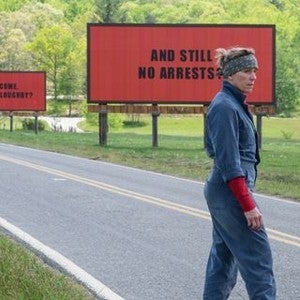 I sing the rage of Frances McDormand, who plays Mildred Hayes, a grieving mother who is not so much consumed by righteous fury as filled with a desperate need for it to consume everyone else around her. There is no better actor to convey fury than McDormand. When she is good, she is very, very good, but when she is mad she is better.
It is seven months after Hayes' daughter was raped and burned to death and there have been no arrests. There are three billboards near her home in Ebbing, Missouri that are crazy quilts of <a href="http://www.vulture.com/2017/11/behind-the-three-billboards-in-three-billboards.html" rel="noopener" target="_blank">tattered leftover, shredded images from layers of advertisements</a> brightly urging drivers to buy Huggies or visit the Ozarks. She visits Red (Caleb Landry Jones), who is responsible for renting out the billboards and gives him $5000 for one month. On oxblood-red backgrounds, the stark white letters now say, "Raped while dying," "And still no arrests," and "How come, Chief Willoughby?"
That provokes a visit from the police chief (Woody Harrelson) who is compassionate and frank. There were no witnesses. The DNA does not match anyone in the system nationwide. He wants to find out who did it, but there is not much he can do.
The billboards are unsettling to the town, especially Officer Dixon (Sam Rockwell), who is the kind of dim, resentful guy who expresses his insecurities by abusing others, especially African Americans. Only Willoughby sees that Dixon could be a better man. His angry, racist mother spurs him on to worse behavior.
Writer/director Martin McDonagh ("In Bruges," "Seven Psychopaths") has a savage humor and an ear for the poetry in the way real people speak. In this film, he shows a warmth and humanity we have not seen before. In one scene, Hayes' fury is instantly defused when a character shows unexpected vulnerability. In another, she has a conversation with a deer who wanders over to one of the billboards as Hayes is planting flowers. McDormand has always been one of our finest actors and here she gets a chance to inhabit one of her most complex characters and does it beautifully. Whether she is striding around like a warrior in a denim jumpsuit and a bandana wound around her head or unable to conceal a small smile at the ruckus she is creating, she is a force of a nature and a wonder to watch. Everyone in the cast is outstanding, with special mention of Harrelson and Rockwell and of newcomer Jones, a breakout this year in films including "American Made" and "Get Out." Hayes' fury is like a firework lighting up the sky, but it is only when it is out that we can see the stars in these deeply compassionate portrayals.
REAL LIFE. REAL NEWS. REAL VOICES.
Help us tell more of the stories that matter from voices that too often remain unheard.
This post was published on the now-closed HuffPost Contributor platform. Contributors control their own work and posted freely to our site. If you need to flag this entry as abusive,
send us an email
.