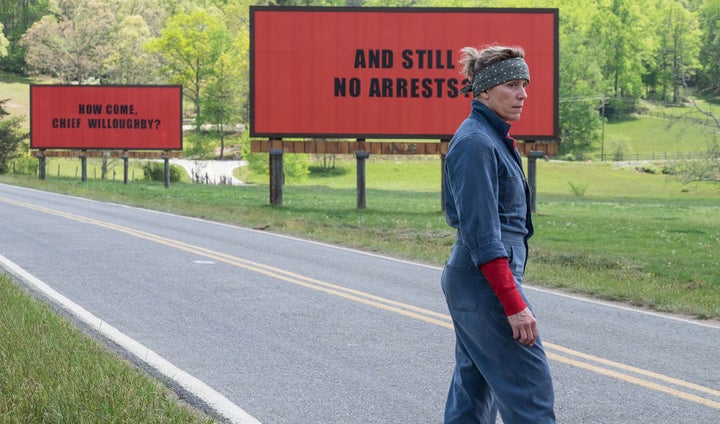 Three Billboards Outside of Ebbing, Missouri
Written and Directed by Martin McDonagh
A review by Lloyd I. Sederer, MD
Three Billboards at first seems like a film about solving a mystery. But it is not. It is more about the mystery of people: how pain, circumstance and the interplay with others can transform the most hardened and lost.
The film opens with a driver's view of three old roadside Billboards. They sequentially disclose the ineptitude of a local police chief who after seven months still has no clue as to who raped and killed a teenage girl outside of rural Ebbing, Missouri. Mildred Hayes (Frances McDormand, hopefully an Oscar nominee for the role) has lost her daughter and cannot abide not only with her horrific tragedy but also failed justice, after an ocean of time, grief and guilt.
She determines to bring the unsolved mystery into the center of attention, to shine the Billboard lights onto the heinous crime and its now state of inattention. She goes on local TV standing before the Billboards and launches the story that follows.
We soon meet Chief Willoughby (Woody Harrelson), who explains the trail has gone cold. Even the DNA traces provide no match on national databases. When Mildred learns that Willoughby, married with two young daughters and an apparent true public servant, is dying of cancer she tells him that he better get working since he won't find the perpetrator after he is dead. The deadpan delivery of this and many other lines of dialogue is as sharp as the agony of those assembled.
Willoughby is vomiting blood and knows he has not long on this earth, a time that will surely be filled with watching his family grieve him while he is still alive. One of his men, Dixon (Sam Rockwell, in a superbly rendered supporting role), is a truly repellent, white racist, sadistic, mama's boy; his mother (Sandy Martin) passes her time on the porch drinking, smoking and stoking her son up. Mildred's ex-husband Charlie (John Hawkes) is a wife-beater dating a girl barely legal. Family dysfunction abounds. The only peace to be found is in the fields surrounding the Billboards, not in any human abode. Not exactly a cavalcade of heroes, rather mere humans just like us.
Yet we root for Mildred, even when she is awful to her son (Lucas Hedges) and others who cross her bleak path. McDormand never cracks a smile, except in irony until near to the end. And we gain hope for other characters in this fine ensemble whose nuanced transformation is portrayed before our eyes.
Through the often-inexplicable way that grace can come to the bitter, defeated or cruel, we are taken through a set of unexpected plot twists and turns, painful or funny or both, as we witness ugly character-caterpillars become not quite butterflies but maybe moths.
There is no happy ending, or Detective Poirot solving a complex case in Three Billboards. But there is a deeply moving, if dark and searing, tale of how life can hurt and heal, how redemption can come in strange and - in the end - beautiful ways.
Dr. Lloyd Sederer is a psychiatrist and public health doctor. The opinions offered here are entirely his own.
His next book, The Addiction Solution: Treating Our Dependence on Opioids and Other Drugs, will be published by Scribner (Simon & Schuster) in May, 2018.
Popular in the Community