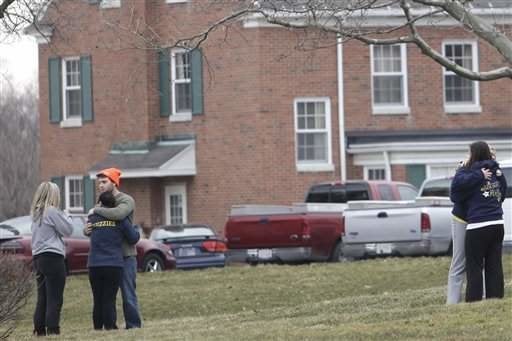 Three sorority sisters from Bowling Green State University were killed in a tragic car crash Friday.
The students, Rebekkah Blakkolb, 20, Christina Goyett, 19, and Sarah Hammond, 21, were just miles from campus when the crash happened. They were driving on Interstate 75, south of Toledo, Ohio, going out of town on a spring break trip, the AP reported. The women were heading north to the Detroit airport.
Two other BGSU students, Angelica Mormile, 19, and Kayla Somoles, 19, were also in the car. Mormile and Somoles were hospitalized with serious injuries.
According to Bowling Green University, the students were members of Alpha Xi Delta sorority. The school's spring break begins March 5.
Wood County Sheriff Mark Wasylyshyn said he didn't believe the students ever saw the other car coming.
"The college girls apparently did nothing wrong," Wasylyshyn told the AP. "They were just driving northbound and a woman driving in the opposite direction in the wrong way on the roadway hit them head-on."
CORRECTION: A previous version of this article stated the women were driving on Interstate 70, they were in fact on Interstate 75.
REAL LIFE. REAL NEWS. REAL VOICES.
Help us tell more of the stories that matter from voices that too often remain unheard.