Grow an oak from an acorn
Even mighty oak trees start their lives as tiny acorns. If you have the room, the climate and the patience to grow an oak from an acorn, here's how to do it. Select a fallen acorn that is shiny, plump and free of worm holes; remove its cap. Dig the planting hole 6 inches deep and wide, then -- to protect the buried acorn from birds, squirrels and other creatures -- roll a 1 1 /2 inch wide length of aluminum screening into a 6 inch diameter cylinder and insert one end of it into the hole. Refill the screen-lined hole with unamended soil (if a white root has already sprouted, point it downward). Tie the screening closed at the top. Or plant several acorns in one area and thin to the best seedling. The first summer, give it moderate water -- just enough to keep soil moist for good root growth. After the first summer, remove the screen to allow the young oak to grow freely.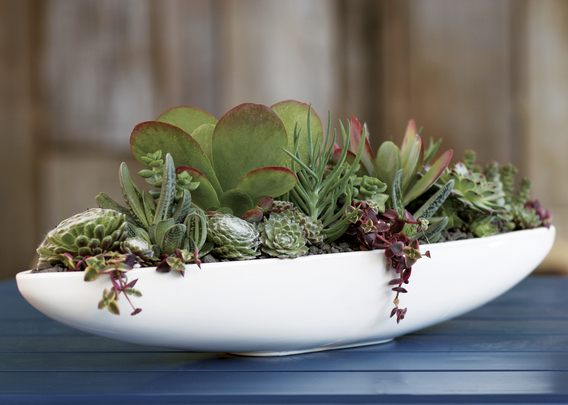 Grow a living succulent centerpiece
Succulents with bold shapes and shiny jewel-tone leaves are as pretty as flowers. Here are fun ways to show them off .
Starfish: Make a mossy starfish, dotted with succulents that resemble sealife, for your outdoor table. Just tuck stems of mounding green Astrophytum asterias 'Sand Dollars' and pinkish gray Lithops into sculpted floral foam, secured to metal backing. Design: Heather Lenkin.
Canoe: Tuck a big dramatic succulent into a long shapely dish such as this canoe pot (bauer.com), then fill in around it with lower growers. Here, Kalanchoe thyrsifolia, with green leaves edged in red, presides over Sempervivum arachnoides, Senecio vitalis and crassulas. Design: Flora Grubb Gardens
Cluster: Mounds of tiny succulents and 3-inch crassulas set in moss in metallic glasses recall frothy drinks. (diggardens.com)
Create a tea garden
If you love tea, you can experiment with different flavors by growing your own tea herbs, either in pots or in the ground. They need fast-draining soil, full sun and regular water until established. For easy harvest, try a U-shaped bed pictured.
Anise hyssop: (Agastache foeniculum). Try both the licorice-tasting blossoms and leaves of 'Golden Jubilee' (grows to 3 feet).
Bee balm: (Monarda didyma). Its mildly citrus-flavored pink, red or pure white blossoms look spectacular in a mug or cup.
Chamomile: Snip the fragrant, mellow blossoms of this of this 2-foot annual to use fresh or dried.
Lemon balm: (Melissa officinalis). In the same family as the mint family but not as invasive. Tastes like mint plus citrus.
Lemongrass: (Cymbopogon citratus). Flavor is concentrated in base; harvest by separating a stalk, roots and all, from the clump.
Lemon Verbena: (Aloysia triphylla). Intensly flavored and highly fragrant
Nutmeg geranium (Pelargonium fragrans 'Nutmeg'). It's all about aromatic leaves, which really do taste (and smell) of nutmeg.
More great tips like this can be found in the Sunset Western Garden Book: The 20-Minute Gardener. Visit www.sunset.com/wg.