How to inspire acceptance of change in our cities by examples, gestalt and the power of small-scale, local reinvention.
One of my favorite motivational scenes, that inspires city reinvention, is the one above.
The photo shows the first part of the Nice, France tramway--a city-center transit line which has helped change an automobile-oriented downtown. Experiencing this image in real-time, applying the full range of human senses, compelled my understanding of what is achievable amid the urban fabric of today.
Immersion in the real look and feel (and sometimes sound and smell) of a more compact and sustainable local experience can feed arguments for change, justify expenditures or tell how to cast a strategic election vote. Personal involvement is the most powerful and verifiable way to champion the city cause, over and above mere acceptance of empirical data, article prose and illustrations.
Unfortunately, when it comes to these far-away urban places, not all of us have real-time access to the inspirational modern projects served by transit, or the historic monuments, streets and squares that illustrate the potential of creative city life.
How best then to inspire others' personal preferences for cities? How do we translate in real terms the popular arguments in favor of urban density and moderated use of the automobile?
I have written a fair amount on similar supplements to popular visions of how cities "should" be. In my recent book, I embellished arguments for developing one's own urban diary and for considering the real challenges of "bringing home history from another place." I also cautioned against developing "place-echoing" venues with a purpose only to provide--without more--decorative facades of more desirable places.
When advocating for clients or researching transit-oriented development topics, I have found that often the most daunting task is to cast an ideal new goal (such as re-engineering transit-based places next to single-family neighborhoods) as something of value, convenience and pleasure that will improve day-to-day life.
Here are three, perhaps non-traditional thoughts about how to bring messages home in a meaningful way.
By example. How to further the potential of a green tramway, even if it means giving up something accustomed, like street parking? Acceptance and excitement about the concept might occur through indirect, yet powerful experiences: while sampling a local streetcar and understanding its convenience, suffering a long commute and its related frustration, or vicariously in a phone conversation with a friend who has just had a real-time experience in a far-away place where such transport exists.
Only when an abstract goal has such personal meaning can it be complemented through example, such as the photograph of Nice, France. For some, such as property owners along a planned transit improvement, commitment may only be achieved after receipt of an ample compensation award by a transit agency to "sweeten" the deal.
By gestalt. Consider the value of a surprise event that recalls something well-known to you. My own such experience was a sudden brush with a famous painting early one morning, where a similar, modern view resulted in a new perspective.
Edward Hopper's Nighthawks painting (from 1942) has long symbolized the loneliness and isolation of urban life.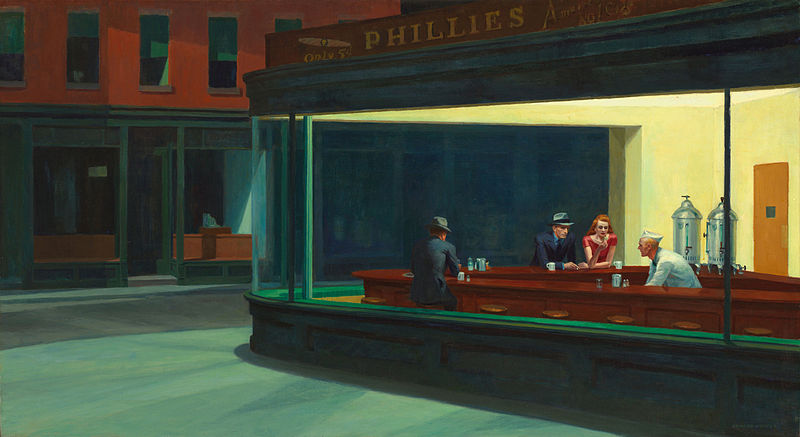 That Hopper painting, much critiqued and recreated for almost 70 years, appeared anew to me in a university city (Eugene, Oregon), in early morning darkness.
But, ironically, inside the new "Nighthawks" setting was an upbeat, small city crowd with resilience and interaction--the opposite of Hopper's interpretation of urban life--an environment which suggested the positive elements of human interaction as the baseline for all of our urban potential.
By local reinvention. A logical place for firsthand observation is close to home, where local action can supplement big ideas through demonstrable implementation, such as a reclaimed natural system, a dedicated restoration of a creek in urban woods.
One such "scaled" lesson learned comes from a historic urban park network, partially restored by well-organized neighbors, working with the Seattle Park Department. Seattle's Madrona Woods story, accessible here, shows us how and why.
Note the city woods, then (1909), and now:
And see the new pedestrian bridge, and restored Lake Washington shore:
While photographs, artwork, numbers and the written word are accessible to most, in my view, limited access to real-time experience of place is a challenge to urbanist sermons and rankings. I find that successful advocacy and implementation is more about facilitating real and personal commitment in others than in proselytizing about the abstract, and for that, we need more accessible experiences.
In the end, urging people to witness and experience their own examples, gestalt and local reinvention may become the most successful advocacy of all.
Image of Nighthawks, by Edward Hopper via Wikipedia, fair use. 1909 postcard of Madrona Park courtesy of City of Seattle. All other images composed by the author.
Related
Popular in the Community