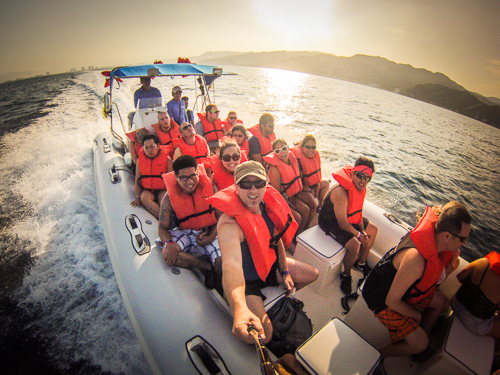 As the weather turns chilly, car windows begin to frost, and jackets become daily attire, our thoughts naturally turn to vacations on palm tree-lined beaches. Puerto Vallarta is one of the popular winter destinations by Canadians, and for good reason. Direct flights arrive daily, the cobblestone beachside promenade is adorned with unique statues, and the Zona Romantica is filled with charming boutique restaurants and artesian shops.
And, of course, there's the palm tree-lined beach and bathwater-warm azure ocean.
I, however, am not one for lounging on the beach. I prefer to get out and explore. Last June I visited Puerto Vallarta and these are three great and family-friendly activities I found for spicing up my beach vacation.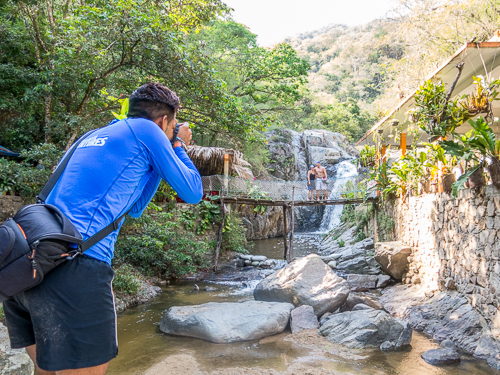 The name Sea Safari — given to the tour by the operators Vallarta Adventures — does a poor job of describing what this tour actually includes. This eco tour began with a ride ride in an inflatable motor boat to a remote village of 500 people accessible only by sea. Dozens of pelicans sat atop the fishing boats in the bay as we pulled into the dock.
We walked through the village to a riverside stable where we were matched with horses, which we then rode into mountains to a waterfall and lagoon. While the waterfall and lagoon were certainly impressive, I was even more impressed by the horses, which were all gentle and well-behaved. After a while I simply let go of the reigns because the horse knew exactly where he was going.
I was also quite impressed by the conspicuous absence of garbage — and presence of numerous trash cans — along the trail.
I am a person who values responsible travel greatly, and this was a well-run tour. Both the horses and the environment were well cared for.
Our expedition was followed by a snorkelling trip and barbecue on the beach. It was very pleasant day.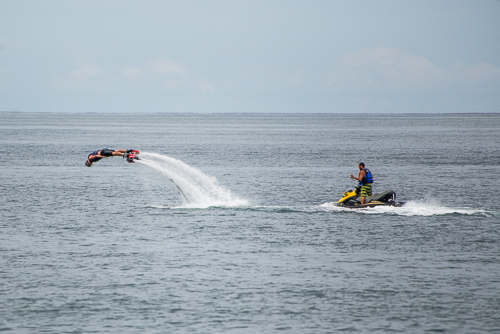 In a different vein, Puerto Vallarta is home to several flyboarding operations. Flyboarding is a new and novel activity in which the flyboarder straps on two Iron Man-like boots with jets on the bottoms that propel water out of them at such a velocity that the person wearing them is propelled into the air.
I took a one-hour lesson, during which I was able to learn a surprising number of manoeuvers. I learned to stand, front dive, swim forwards by jumping in and out of the water like a dolphin, and even tried a couple of (unsuccessful) backflips.
And all that in just one hour.
I'm personally not a fan of fuel-intensive leisure activities because of the environmental cost — and since flyboards are powered by gas-guzzling jet skies they certainly fall in that category — so I don't think I'll try it again. But it was pretty awesome to try it once.
Explore the Mountains by Dune Buggy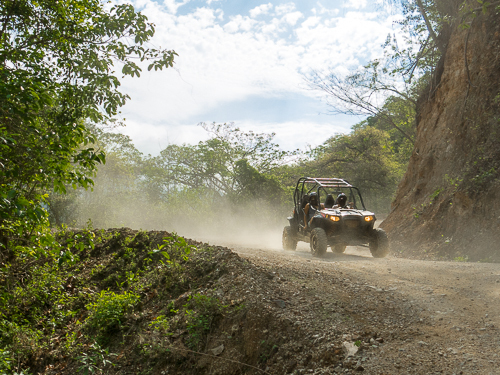 This was probably the least adventurous of the adventures I tried, but still worth a mention. There are several companies in Puerto Vallarta that lead dune buggy excursions into the jungle-laden Sierra Madre mountains.
You are allowed to drive your own buggy, which is pretty fun, since you can fishtail around corners on the dirt road. But, other than that, it's basically just a pretty drive through the mountains. Our tour took us to a scenic lookout where we snapped a few obligatory photos and then turned back.
Afterward we drove back down to a very nice restaurant beside a river with several pools and small waterfalls, which was very pretty.
The dune buggy tour is probably not something that I would do again, but it's a perfect half-day outing for a family with young children looking for a change from sitting on the beach.
Do you have any suggestions for adventures in Puerto Vallarta? If so, leave them in the comments below.