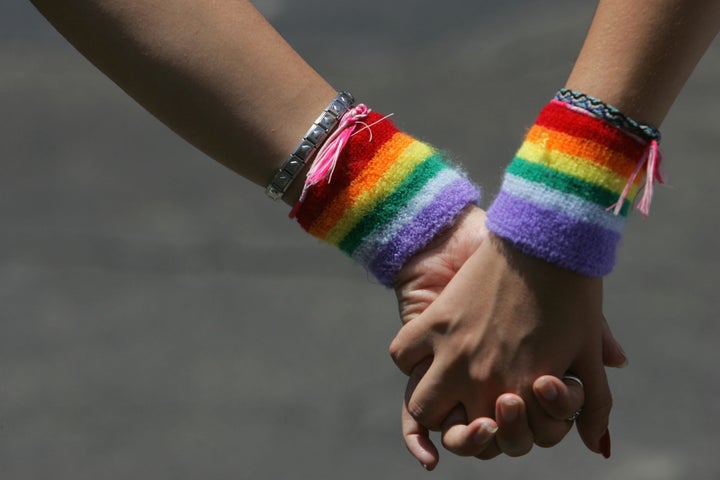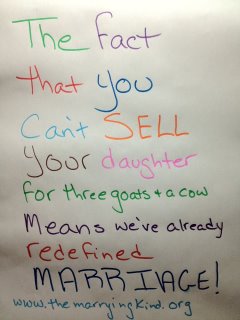 You know you have arrived when you've been plagiarized. (I believe I said this first, but if not let me know and I'll give you credit.)
Several months ago my friend Ted asked me if I'd joined Pinterest yet. I had not even heard of Pinterest. He informed me that with my novel The Marrying Kind about to be released, I needed to be marketing the book there. Pinterest, he was certain, was the next big social media thing.
Terrific. Facebook, Twitter, the occasional blog posting and now Pinterest. I wondered if I should stop going to the gym and reallocate the saved time to virtual scrapbooking.
At first I could see no connection between the pictures and graphics people 'pinned' onto their Pinterest boards and my comic novel dealing with marriage equality. Then one night I had a dream: I was working at a bake sale with St. Theresa -- a.k.a "The Little Flower." And Theresa said: "Make a sign with the price of the brownies on it."
I pulled out a box of magic markers and some white craft paper; and the instant I began to write I awoke with an idea. I would come up with succinct, pro-equality sayings, make signs and post them online. Fun, creative, helpful to a cause I care about (and maybe I'd even sell some books in the process)!
The main problem with a social media site that is the next big thing is that it is not the big thing right now. I dutifully 'pinned.' But not many people were actually seeing my posters. So I decided to also share my handmade signs on Facebook. Some of them were shared several hundred times.
And then one day I created my masterpiece: "The fact that you can't sell your daughter for three goats and a cow means we've already redefined marriage."
In the film Kissing Jessica Stein, Jessica talks about how wonderful it would be to come up with one great quote like: "You have nothing to fear but fear itself." Then you could just retire, rest on your laurels and always be remembered as the guy or gal who said the one great thing.
The day I posted "three goats and a cow" it was shared on Facebook about five hundred times. By the next morning that number was well over a thousand. I was on my way. Fifty new people "Liked" my book's Facebook fan page. I began to draft the thank you note I would send to my fans and followers when The Marrying Kind lept onto the New York Times Bestseller list. (I haven't needed to send that yet.)
But after a few days, this poster's sharing stopped. New pictures and stories grabbed the attention of the Facebook equality community and those images moved to the tops of the newsfeed. I continued to make posters. While all got attention, none were quite as popular as "three goats and a cow."
Then, about a month after its initial mini-explosion on Facebook, the poster began to be actively shared again. I awoke to discover that my as-yet-to-be-released novel had 40 new fans.
A bit of detective work revealed than an Atheist Organization had reposted my sign, igniting this second wave of activity. Thank God for Atheists! I had approximately 3,000 more shares.
A great run for one, pithy equality slogan! I began to think that whether it helped book sales or not, I had done a good thing for the cause. I had engaged thousands of people in a conversation about marriage inequality and made them laugh, too.
Recently, when I signed onto Facebook and checked my homepage, I saw my famous (at least in my mind) poster. But it had been rewritten, and my web attribution was missing. I discovered my poster phrase on the Facebook page of a group of gay Christians in Australia. "Their" poster had been shared several thousand times. Interesting that the Atheists gave me credit for the quote but the Christians didn't seem to think that was necessary. (Believe me, I have notified St. Theresa.)
Other groups and pages -- including George Takei! -- have since appropriated the uncredited version of my poster, too. And why not, since they could not possibly know who wrote it originally?
Though I am no longer able to track the reach of my words it seems that in the last few days one version or another has been shared over 30,000 times.
I remember a time when "viral" had one meaning and it was very bad.
I'm not going to compare what is happening to me with meningitis. But it certainly would have been nice if I were going viral along with my quote.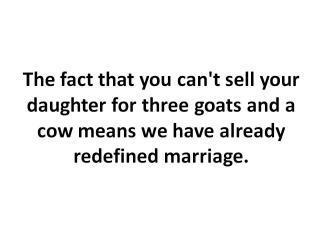 Related
Popular in the Community