What would you do if you got a box containing ten new, limited edition single malts in the mail? Apart from dance a jig of glee, I mean. Well, assuming you're a spirits writer, you figure out a time and place to drink them in which they can best reveal their magical qualities. In my case, you also overcome your hoarder tendencies and invite a fellow liquor scribe to drink them with you. That scribe turned out to be my friend Robert Haynes-Peterson, a dashing gent and fine writer who knows his way around a bottle.
For the place, we picked Fine & Rare, the terrific new spirits/cocktails/food joint opened up by whisky luminary Tommy Tardie. Which is how we managed to snag him into spending the afternoon drinking with us. Now, the question would no longer be, "Who are these morons drinking all that fancy whisky?" but "What is Tommy Tardie doing hanging around with these morons?" For the time, we picked a rainy Monday afternoon, perfect for contemplating the mysteries of "the water of life."
Oh, about those whiskies: They're Diageo's 2016 Special Releases, created in limited quantities (usually several hundred to a few thousand bottles) by Diageo-owned distilleries. An annual tradition since 2001, the Special Releases run the gamut from soft Speyside malts to smoky Islay whiskies to rarely seen grain whiskies, from well-known brands like Lagavulin to distilleries mostly used in blends, like Mannochmore, as well as celebrated "ghost distilleries" no longer in existence but whose remaining stocks are still maturing, like Port Ellen and Brora.
We started off with the CAOL ILA 15 YEAR OLD UNPEATED ($140), an Islay malt that's usually peated; once a year it's distilled unpeated for Special Releases purposes.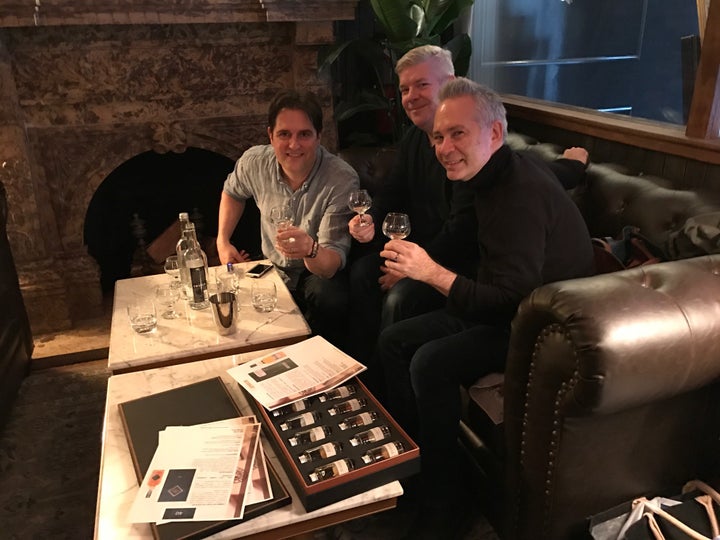 TOMMY TARDIE: 61.5 [percent alcohol by volume, that is]? Damn.
TONY SACHS: Well, it's not burning my nose hairs. They're not on fire yet.
ROBERT HAYNES-PETERSON: It's got a really pleasant burn on the back.
TT: I could drink this just neat. So much honey, so fruity, so floral.
TS: Yeah, it starts off so beautifully.
RHP: It's not heavy, but it sits on the palate, it coats the palate really nicely.
TT: Surprisingly, I was going to try it with a splash of water — I mean, I still will add a splash, but....
TS: You don't really need it.
TT: A lot of floral notes.
TS: It's a tiny bit medicinal.
[We commence to add water.]
TT: It's got a nice, oily viscosity. Just a splash of water, I think, you get a lot more fruit. Really opens it up.
TS: A little bit of water, man, those floral notes come in, holy cow.
TT: Any remote sense of it being cask strength is gone. I get bananas too, when I add a little water.
TS: Oh yeah, like a little overripe banana! For 123 proof, that's a delicate and subtle whisky.
RHP: A nice way to start. If you have to start somewhere, starting with a cask strength 15 year old is a nice way to start.
TS: They're all cask strength, but I think this is the strongest one.
Next up: CAMBUS 40 YEAR OLD GRAIN WHISKY ($1,150) from the now-shuttered Cambus distillery. Grain whisky is a big component in most blended Scotch, but it's rarely bottled on its own, so this is a treat.
RHP: So where's the distillery?
TS: It's... from Cambus! And it's a ghost distillery, now closed.
RHP: Oh, it's probably a component in blends. It's totally different on the nose.
TS: That's gorgeous. So sweet.
RHP: Yeah, there's like a vegetal note.
TT: I can't believe that's 52.7%. Especially for so old, you know?
TS: The color is relatively dark, especially for a grain whisky.
RHP: It's sweet on the front. Interesting! The finish is really unusual.
TS: That went in a whole different direction from what I was expecting.
RHP: It's sweet up front, and then at the back --
TT: It gives a little sourness.
TS: Ooh, it's kind of tart! Like grapefruit.
TT: I first started out with a lot of sweet wood, and then, you're right, it just kind of contracts your tongue.
RHP: Fascinating. There's something a little bit chemical.
TS: There's a lot of dried citrus, and a little menthol. But I know what you're talking about, it's not that.
RHP: Yeah, like a steel/shale kind of thing.
TS: It's just this side of funky.
RHP: It's 40 years old? It'd be interesting to compare it to a younger version of itself.
TT: Yeah, to see what changed. A splash of water softens the nose even more. I'm curious to see what happens to the palate, because the nose was soft in the beginning.
TS: The nose was a little deceiving.
TT: But once you add the water, once a whisky is over 22, 23 years, you get that polished wood kind of effect. And you can smell it.
RHP: I'm not sure the water helps, though.
TT: It kind of turns it, not an attractive term to use, but gets kind of skunky.
TS: It dulls it down, definitely.
RHP: Yeah, but you still get that unusual finish. I'd love to know if that's intentional, or if that's just the way it aged out.
TT: So this is a grain whisky?
RHP: Yeah, I've never heard of it [we all get to researching on our phones]. The only thing that comes up for Cambus is this 40 year old. And Cambus, Iowa.
TS: Dammit, it's Templeton Rye!
Our third whisky is LINWOOD 37 YEAR OLD ($900), a Speyside malt distilled in 1978.
TT: There's sherry in there, right?
TS: It says American oak and European oak, so I'm assuming there's some sherry cask-aged, but it doesn't say sherry.
RHP: Man, there's gotta be some sherry in there. It's very rich, aromatically.
TT: Like that kind of burnt creme brulee, that stone fruit....
TT: My mouth immediately started watering.
RHP: It's got that warming spice, those oranges, chocolate. But then again, it's got that nice weight without being full-bodied.
TT: It's got that unmistakable taste of an old whisky. That polished wood.
RHP: Exactly, I got that in terms of the oak.
TS: The wood doesn't overwhelm -- it's also got that nice rich fruit.
TT: I feel like this one's gonna do well just sitting. It's like a chocolate orange.
TS: Yeah, and with the baking spices in there.
RHP: That is tasty. I'm not even gonna put water in this.... But I will, just for science.
TS: Let the record show you don't need to add water. Yeah, I love that one.
[We add water, in the name of science.]
TT: Does the water do anything to the nose?
TS: It made it more one dimensional. I smell a lot of orange and less of everything else. Same on the palate.
RHP: Linkwood is active or inactive?
TS: It's... [frantically looks it up on iPhone] active.
Still going strong, we crack open AUCHROISK 25 YEAR OLD ($450, limited to 600 bottles in the US), a relatively young distillery that's only been around since 1974.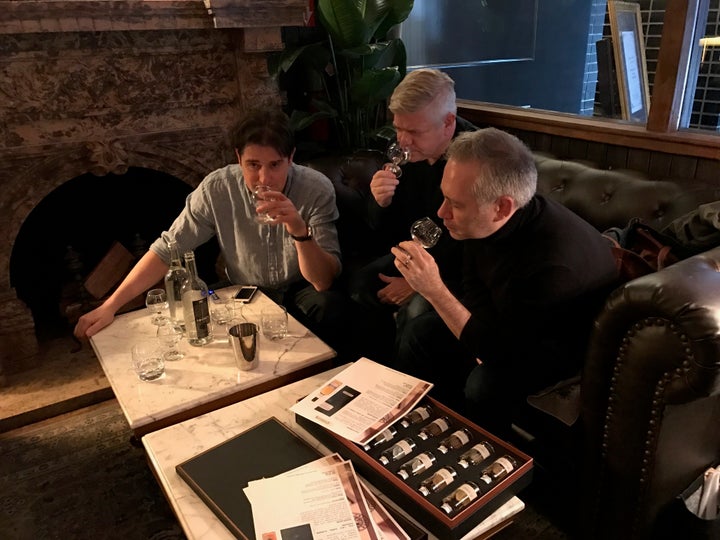 TS: How the hell do you pronounce this?
RHP: Ok-risk? Ok-roisk? Acchh-risk....
TS: I don't even try anymore. If I don't hear somebody say it first....
RHP: There are some I still mispronounce after I learn them.
TT: It smells a little like a Japanese whisky, so grassy, light and soft.
RHP: It definitely is a Speyside.
TS: You get that floral, sugary, kind of marzipan vibe.
RHP: Yeah, but it does really remind me of a Japanese whisky.
TT: The palate was surprising, it wasn't what I was expecting. The alcohol came through, and I actually got hit with a sourness.
RHP: There's a sourness on the mid-palate and back of the palate.
TS: It's a lot bigger than I thought it was gonna be.
RHP: Yeah, that's interesting.
TT: I like the nose a lot better than I like the palate.
RHP: There's almost a bitterness to it.
TS: A little water might temper it a little bit. [Pouring commences]
TT: It makes the nose even lighter and softer and more fruity. Like lavenders and roses.
RHP: It does get more floral, but softer too, more subtle. It cuts away some of that vegetal herbaceous note.
TS: I like it, it softens it up a little.
RHP: Yeah, it needs water.
TT: I'm getting more of the flavors I was getting on the nose.
TS; Yeah, it gets it more in line, definitely. The finish is more chocolatey.
RHP: The chocolate was hiding in there before. And you lose that whole bitter, kind of sour note.
TT: It was one dimensional before.
TS: A little overwhelming.
RHP: Interesting, and still a grassy note on there.
GLENKINCHIE 24 YEAR OLD ($450) hails from the Lowlands region of Scotland, which produces gentle, easy-drinking whiskies.
TS: It reminds me a little of Auchentoshan in that it's very fruity.
RHP: If I were gonna picture a leather club chair, fireplace, kind of old-school Scotch....
TT: You get some of the grain, some of the wood, some of the citrus.
TS: Very buttery, holy cow.
RHP: There's like a lemon note, and a bit of heather. Good acids, a little chewy....
TS: It really leaves a nice oily film on the tongue, but it doesn't feel gross. It's lemony fresh. I feel like you could clean some furniture with this.
RHP: It'd probably make a killer highball.
TS: Oh yeah, because it's nice and concentrated. Like a summer highball.
RHP: I like that a lot. Tommy, how does this taste compared to the other Glenkinchies you've had?
TT: Fuller. I think of Glenkinchie in general as very soft, very approachable. It's one of those ones I'd recommend to somebody that, you know, is new to whisky. But this one, it's more complex, it has a lot more depth. The viscosity on this is nothing like the 14 year.
RHP: This is for when you want a Scotch, but you don't... I don't say you don't want to be challenged, because that makes it sound like this is dumbed down.
TT: It's like a classic. It's not a sherry bomb or a heavy peat bomb. It's well rounded.
RHP: And yet it's not a simple whisky.
TS: A little bit of water makes it really nice on the nose. It's still very buttery, but more floral. It really tastes like a Speyside. The water really cuts into the lemon.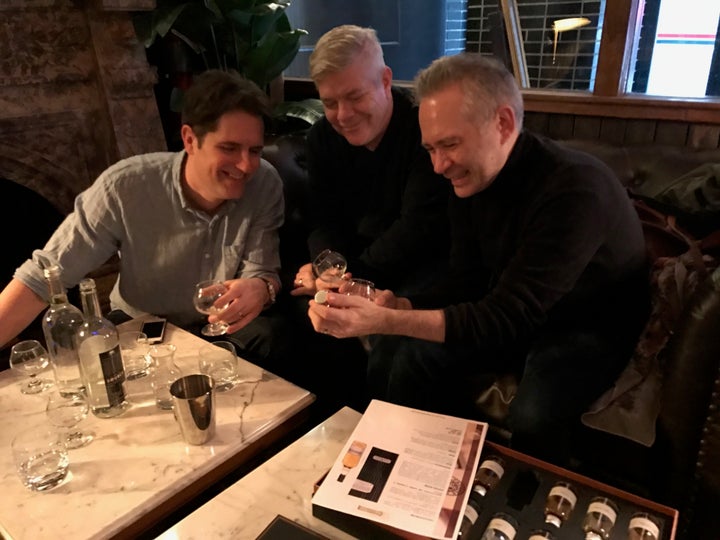 Ever heard of this one? MANNOCHMORE 25 YEAR OLD ($400) may not be the best-known distillery on Speyside, but it was good enough for Special Releases, so it was good enough for us.
RHP: There's a ton of fruit on this one.
TT: It reminds me of the Linkwood on the nose. It does have that sherry kind of vibe.
RHP: It's the "ex-bodega" barrels. You didn't know you could buy a barrel of whisky at a bodega?
TS: A bottle of water, some gum, and a cask of Mannochmore.
RHP: This is really pretty. There's a ton of fruit on there, there's a cinnamon... not like a cinnamon crunch. What do you call it....
TS: There's a cinnamon but it's very woody at the same itme.
RHP: I'm thinking, not like a cinnamon roll, not sweet cinnamon. Like a brown sugar/cinnamon crunch thing.
TS: It's like a hot apple cider with a cinnamon stick in it.
RHP: So I think the ex-bodega casks have to be sherry casks.
TS: And not simply casks from bodegas.
TT: The more I keep nosing it, the more I get leathery notes.
RHP: Now, see, I'm a fan of pure sherry cask, like Macallan.
TT: One of my favorites is the Glendronach 18. The finish on that just goes and goes and goes. And this also has that long, resonating finish.
RHP: Yeah, there's a lot of leather here. And it starts off with cooked fruits and then moves back. But what's interesting compared to the last two or three is that it doesn't change dramatically. You still get a sweetness on the finish
TS: The leather evolves --
RHP: Yeah, into fresh tobacco. And the orange notes! Whereas up front it's all raisin and date. That's kind of in my wheelhouse. This is where I like to go.
TT: Where's this from? I've never even heard of it before. "Mannochmore." I know it's Klingon....
RHP: Exactly! Or what's the language in Game Of Thrones.... I know it's similar. Qaddafi or something?
TS: I think it was Qaddafi's favorite single malt, actually.
RHP: Again, that kind of dry cinnamon note on the apples.
TS: What does some water do to this? Let's find out.... [and away we pour!]
TT: The water opens up the nose and the palate, but the finish, I feel like it turns a little bit tart and sour. I liked it at first, it opens up a lot, but then on the finish it kind of contracts.
CRAGGANMORE ($600), from Speyside, is the only one of the ten whiskies without an age statement. We cocked a collective eyebrow and lifted our glasses.
RHP: $600 for a no-age-statement.
TT: I mean, you'd think a brand like that, that's not as widely known... that's a risky move.
RHP: It is really lovely, though.
TT: Orange, and butter, and some lemon zest.
RHP: And a little something like a rosewater or a raspberry note or something.
TS: It's very subtle. I was thinking rosewater but it's more fruity.
RHP: Like some fancy flavored water that has just a hint of raspberry.
TS: Like a raspberry seltzer.
TT: Wait a minute... (lifts up a bottle of pomegranate-cherry seltzer)
RHP: Maybe I poured from the wrong bottle!
TT: The heat came through after I tasted it. I didn't get the heat on the nose.
RHP: Yeah, it does warm you up all the way down.
TT: Without even trying it, I think that water on this is not gonna work.
RHP: Yeah, it's pretty delicate. That's really nice, though. I don't know if it's $600 nice....
TS: No, I don't think it is.... OK, do we want to do the Lagavulin 12 or the Brora next?
TT: Yeah, the Lagavulin is heavier, but....
TS: We don't want to ruin our palates, but yeah, I know. We want to save the Brora.
TS: That was the rallying cry for William Wallace.
RHP: I think so. My history's a little shaky.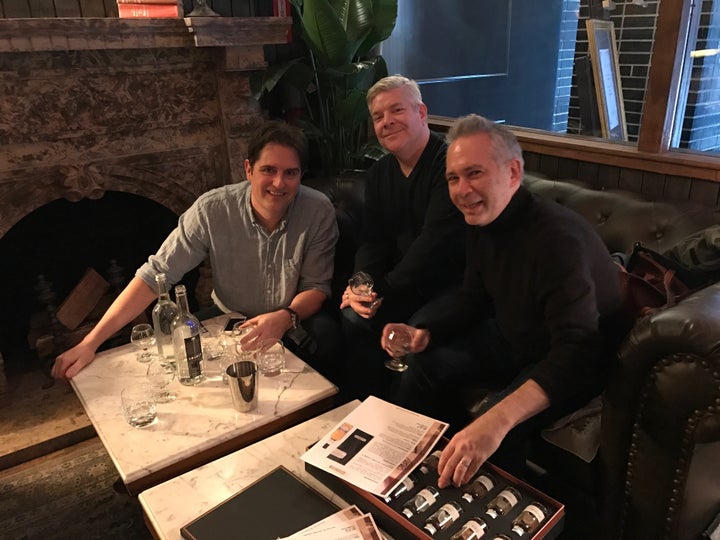 Without further ado, we jump into LAGAVULIN 12 YEAR OLD ($135). Lagavulin is one of Islay's most beloved distilleries; the 16 year old is their flagship expression, but the 12 makes an annual appearance as part of Special Releases.
TS: Welcome to Islay, ladies and gentlemen!
TT: So thick -- I mean, I'm surprised it's even going through my nostrils.
RHP: It's just a great, solid whisky. Some banana, some peat notes....
TT: But it's just so well balanced.
RHP: Yeah, you're not getting the big, heavy peat bomb
TS: There's so much other stuff going on in there.
TT: I just took a sip and then exhaled, and you can feel it kind of activating in your mouth. It's almost like the smoke is filling your mouth.
RHP: There's something about the smoky peats from Islay that are just like a comfort.
TS: Lagavulin is so beautiful.
TT: I burned some peat from Orkney, and then I burned some peat from Islay, and you could really tell the difference.
RHP: It's really evolving as it sits.
TT: Yeah, it's getting more chocolatey....
TS: I love that honeyed, fruity opening. That's delicious.
TS: And it's a bargain! The cheapest one of the lot, I believe.
TT: So much bang for the buck.
TS: Alright, time to stop fuckin' around, gentlemen.
RHP: Put away the Fireball!
TT: I've got some Southern Comfort I'd like to taste you guys on right after the Brora.
RHP: Is it cherry or peach?
TT: Are they doing that now?
RHP: Yeah, because it wasn't flavored enough.
BRORA 38 YEAR OLD ($2,200) is one of the two most anticipated whiskies — by us, at least — in this batch of Special Releases. The distillery was mothballed in the '80s; this expression, distilled in 1977, is the oldest Brora to date.
RHP: It's bourbon-y, and caramelly, vanilla, definitely marshmallow... it's almost like a bourbon to me just on the nose.
TS: If you'd told me this is a bourbon just from the nose alone, I'd believe it.
TT: There's fruit, and then I'm also getting that unmistakable, that polished wood that goes through all the older ones.
TS: Very buttery, kind of toffee.
RHP: That's a bit of alright. Holy crap, that's smooth as sin. What's the ABV? [Nobody bothers to answer his question, but if you're wondering, it's 48.6%.]
TS: Holy shit, that is amazing.
RHP: Like velvet going over the tongue. There's chocolate, and orange, a little lemon....
RHP: There's a cigarette candy sweetness that's not menthol,
TS: Yeah, that powdered sugar and bubblegum kind of deal.
TT: That bubblegum wrapper.
TS: We need to get a pack of baseball cards to compare.
RHP: It's not very acidic. It's super-soft and round.
TT: It's so well balanced, it just keeps delivering. And there are so many layers on the palate.
TS: To put any water in this would be a sin.
TT: It goes through that whole flavor profile. You start off with, like, the sweetness, the candied oranges, some citrus, and then it just develops on my palate and I start getting heavier notes. I get that wood that goes through the middle, and then kind of deeper chocolate.
RHP: I don't know if this is left over from the Lagavulin, but I'm getting a little smoke on the finish.
TS: Yeah, when you swallow, it leaves a wisp of smoke.
TT: There's some iodine, and just a light, nice touch of peat.
TS: It's really one to leave on the palate for a little bit.
TT: Going back to it after a few minutes, the glass smells so, so beautiful.
TS: That's our winner. But we've got one more!
RHP: Oh yeah, the Port Ellen! Ahhh, let's skip it.
RHP: Let's go get some Arby's.
Robert is kidding, of course. Any day you get to sample a whisky from Islay's famed Port Ellen distillery, closed since 1983, is a good day indeed. PORT ELLEN 37 YEAR OLD ($4,000) is the latest from Diageo's ever-dwindling stock.
TS: This is from refill American oak hogsheads and refill European oak butts.
RHP: See, but this is more, I don't get the dried fruit and stuff on this one.
TT: I get some candied fruit.
RHP:Yeah, a little bit like what you'd put in a fruitcake or something. But more vanilla and oak.
TS: Yeah, like a creme brulee. Not the nose you'd expect from an Islay.
RHP: There's a little smoke, though, but it's more like a tobacco smoke.
TS: Not even the smoke, just like the unlit tobacco.
TT: I'm not getting that Islay kind of iodine.
RHP: No sea notes at all, you're right. On the mouth I get a little more of that medicinal note.
TS: It starts out really orangey.
RHP: Orange and brown sugar.
TS: Vanilla, brown sugar, then it got medicinal, and then the smoke just sort of wafted in. And if you inhale you get the menthol.
RHP: And then the sea notes.
TS: It's interesting how really old Islays, they lose the smoke and the peat and it gets a lot more subtle.
TT: On the nose, I got more of the wetness, but it wasn't until I tasted it that I got the Islay notes. It's lingering now, with those kind of medicinal notes, and the seaweed and the kelp and the vegetation.
RHP: This would be a good way to trick someone who doesn't think they like Islay whiskies.
TS: The nose is really not Islay at all.
RHP: I'm gonna add a little water. Take one for the team.... [we wait with bated breath] It didn't do anything to it. There's a little more wood, that's it.
TT: I still get that polished wood on the nose.
RHP: Do not add water to this. It goes all the way to citrus and melon --
TS: I am getting some melon on this now that it's sat here.
RHP: Yeah, but it goes all the way there.
TT: What does it do to the smoke? Do you get any more?
RHP: No, it softens the Islay notes completely.
TS: This may be the softest Islay I've ever had.
RHP: But I like the chewiness on it.
TT: Yeah, it's got a lot of viscosity. It sticks and lingers.
RHP: It's got a cleanness to it.
TS: But I've got to say, I like the Brora a little more.
TT: The Linkwood I liked a lot.
RHP: What was the one I raved about? The one with the sherry notes?
TS: Thank God I recorded this!
TT: The Glenkinchie was really nice.
RHP: I would go Brora, Port Ellen, sherry note one.
TS: And the Lagavulin was really nice.
TT: it's the blue cheese, the gorgonzola. You don't want to start your night with that.
TS: I don't know about you guys, but I'm not super drunk.
TT: I think it actually did a lot of good for my cold.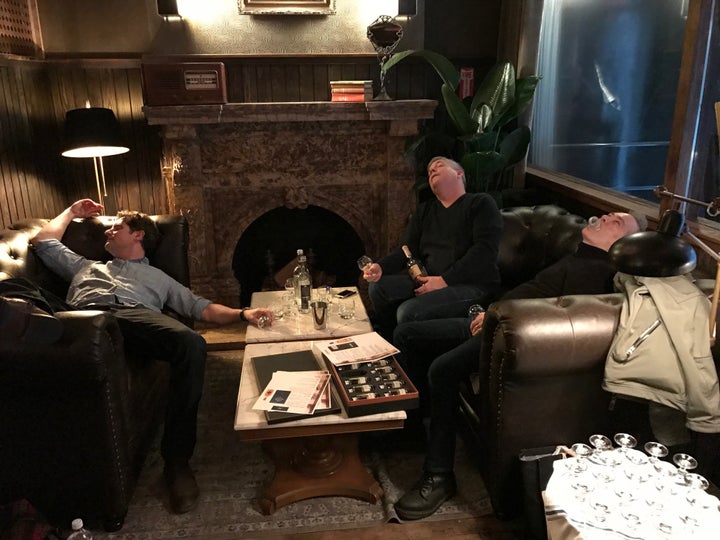 Related
Popular in the Community