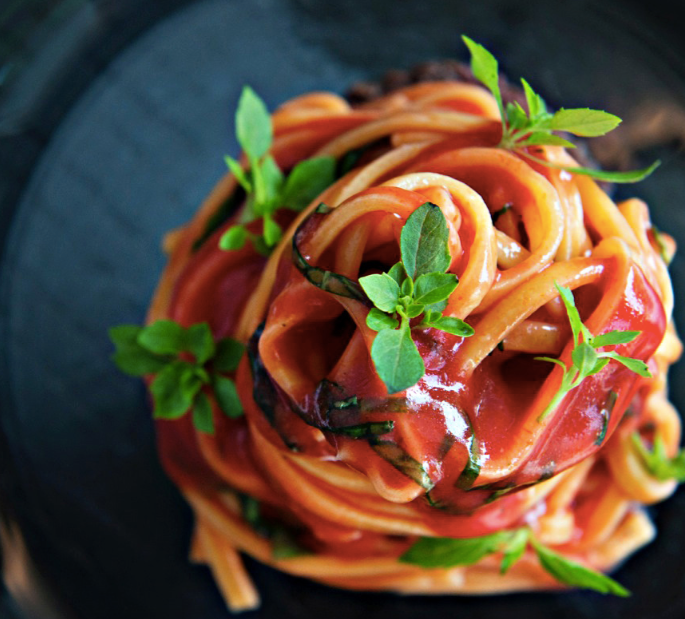 "Come on, let's make (or – in the lazy version—make me) some spaghetti with tomato sauce." If you're Italian, you've uttered this sentence hundreds of times. For those who love Italian cooking – and love to experience it – pasta is true comfort food and everyone loves the red version, even children and picky eaters. But watch it! Despite its simple name, there are infinite nuances to this dish and the delicious combo of pasta and tomato is a challenge for any chef. Particularly the top ones, who go to great lengths to keep improving their recipe in search of the perfect one that will evoke delightful memories and include the best products.

We asked Andrea Berton, Viviana Varese and Davide Scabin to reveal their version of "spaghetti with tomato sauce."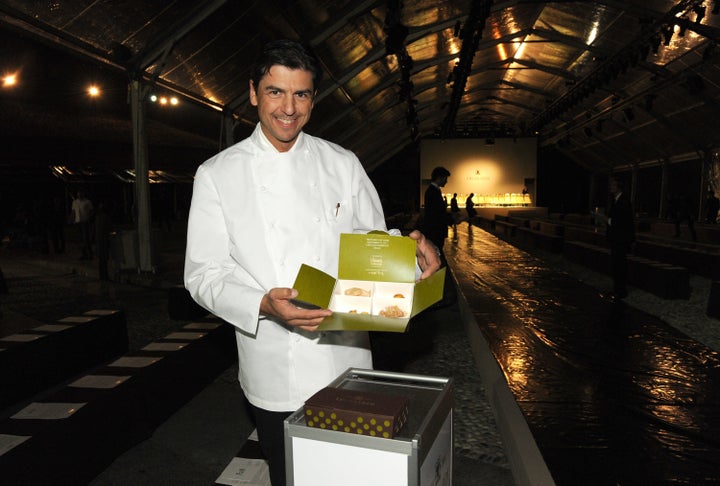 ANDREA BERTON
Born in Friuli, Andrea Berton has worked with Gualtiero Marchesi and Alain Ducasse, among others, and now heads his own Ristorante Berton (www.ristoranteberton.com), vaunting a Michelin star, in Milan. For his version of spaghetti with tomato sauce, he chose fresh pasta and grape tomatoes.
FOR THE SPAGHETTI:
375 g (3 cups) pasta flour
125 g (1 cup) semolina
200 g (3/4 cup) pasteurized egg yolks
2 whole eggs
35 g (2 1/4 tbsp) water
Knead all the ingredients. Cover in plastic wrap and refrigerate for 24 hours. Roll the dough out to a thickness of 0.2 inches, forming sheets measuring 8 x 4 inches, and use the chitarra pasta cutter to make spaghetti. Twirl the spaghetti into nests weighing 3.5 ounces each.
FOR THE CREAM OF TOMATO:
300 g (10.5 oz) fresh grape tomatoes
30 g (1 oz) fresh basil
5 g (7/8 tsp) Maldon salt
30 g (2 1/8 tbsp) extra virgin olive oil
Marinate all the ingredients. Blend well until smooth. Pass the sauce through a sieve.

TO GARNISH:
10 g (0.35 oz) julienned fresh basil extra virgin olive oil
salt and pepper
cream of Taggiasca olives
Cook the spaghetti in plenty of salted boiling water. Drain when done and toss in a skillet with the raw grape-tomato sauce. Add the julienned basil, salt, pepper and a drizzle of oil. Smear each plate with a little Taggiasca olive sauce and place the warm spaghetti on it.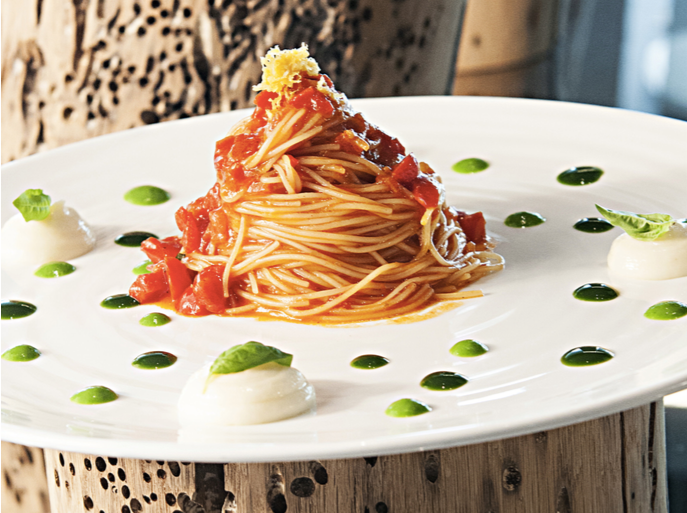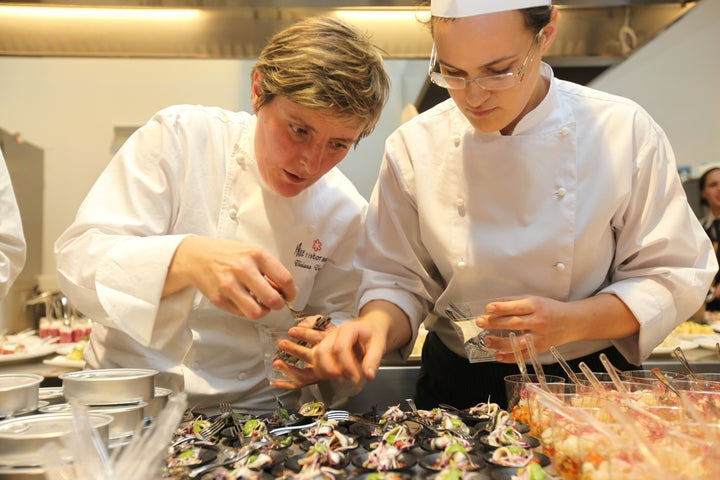 VIVIANA VARESE
Viviana Varese, from Alice Ristorante (www.aliceristorante.it)
at Eataly in Milan, one Michelin star, is a native of Salerno. She loves desserts, vegetables and fish (the restaurant she manages with her business partner Sandra Ciciriello is named after the ubiquitous anchovies found in every Italian fish shop), and is obsessed with high quality. For her pasta, "tomato paste, spaghetti with double tomatoes, basil sauce and a Grana cheese mousse," she has chosen only the best.
INGREDIENTS
:
300 g (10.5 oz) thin spaghetti
80 g (2.8 oz) Grana Padano mousse, made with 150 g (5.3 oz) Grana Padano cheese and 500 g (2 cups) heavy cream. Pour the cream into a saucepan and heat. When it has been reduced to half, add the grated cheese. Blend using a stick blender, pour the mixture into a pastry bag and set aside to cool.
20 g (0.7 oz) basil sauce, made with 50 g (1.7 oz) fresh basil, 30 g (2 1/8 tbsp) extra virgin olive oil, 20 g (0.7 oz) boiled potato, salt and pepper. (
Blanch the basil for 2 seconds and then cool in ice water. Pat dry and blend with the other ingredients.
20 g (1.7 oz) basil extract, made with 500 g (17.5 oz) basil leaves, 1 g (0.4 oz) xantana, salt. Blanch the basil, cool in ice water and extract the juice using a cold-press juicer. Add 100 g (0.4 cups) water. Thicken with the xantana and salt to taste.)
1 small untreated Amalfi lemon
FOR THE ROASTED TOMATO SAUCE:
30 g (1 oz) fresh grape tomatoes, 2 cloves garlic, 20 basil leaves
10 g (0.34 oz) confectioner's sugar, grated zest of half a lemon, 50 g (3 2/3 tbsp) extra virgin olive oil, 3 gr (0.1 oz) salt
FOR THE SKILLET TOMATO SAUCE:
200 g (7 oz) fresh grape tomatoes, 1 clove garlic
200 g (1 cup) vegetable broth, made with 3 carrots, 5 celery stalks, 1 yellow onion, 1/2 fennel bulb, 1/2 leek, 3 l (12.5 cups) water, 10 g (0.35 oz) salt, 3 crushed peppercorns, 2 crushed juniper berries. Wash and peel the vegetables, and dice. Add to a pot with the water, salt, juniper and pepper, and cook for one hour. Strain, cool, and store in the fridge or freezer.
50 g (3 2/3 tbsp) intense extra virgin olive oil, salt and pepper
FOR THE ROASTED TOMATO SAUCE:
Wash the grape tomatoes and put in a bowl with the other ingredients. Mix and then place on a baking sheet lined with parchment paper. Bake at 230 °C (450 °F) in a preheated oven for 10 minutes. Remove from the oven, eliminate the garlic and blend with a stick blender. Set aside.
For the skillet tomato sauce: Quarter the tomatoes. Sauté the unpeeled garlic in oil in a skillet as wide as the length of the spaghetti. Remove the garlic, add the tomatoes and cook on high for 4 minutes. Add salt and pepper to taste. Stir in the roasted tomato sauce, cook for 3 minutes, add the broth and turn off the burner.
Garnish the plates with the cheese mousse, basil sauce and basil extract. Cook the spaghetti in the skillet for 3 minutes, stirring constantly. If necessary, add more vegetable broth. Put the pasta in bowls and garnish with the lemon zest.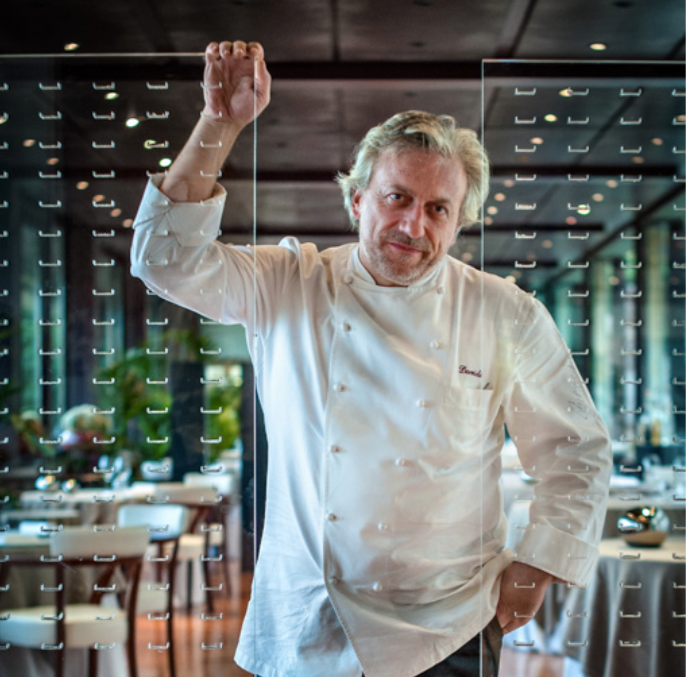 DAVIDE SCABIN
Davide Scabin, the most histrionic Italian chef who can boast of two Michelin stars at Combal.zero (www.combal.org) in Rivoli, is also a master at creating plates based on dozens of ingredients that magically and harmoniously converge in the mouth. For him, the seemingly simple recipe for spaghetti with tomato sauce is an alchemical challenge, in which perfection may not be achievable. So his dish of spaghetti with tomato sauce becomes "Spaghetti Pizza Margherita", with ingredients like provola cheese, mozzarella, anchovies and even lime.

INGREDIENTS FOR THE TOMATOES CONFIT:
8 grape tomatoes, blanched and peeled
2 ripe cluster tomatoes
5 g (0.18 oz) butter
10 g + 5 g (3/4 tbsp + 1/3 tbs) extra virgin olive oil 1 g (1/8 tsp) table salt
1 g (1/8 tsp) lime zest 1 g (1/8 tsp) sugar white pepper

FOR THE SPAGHETTI:
4 cups natural mineral water
pinch coarse salt
150 g (5.3 oz) Monograno Felicetti thick spaghetti 2 oil-packed anchovies
1 handful fresh basil
60 g (0.4 cups) mozzarella water black fried spaghetti
2 tomatoes confit
green basil olive oil
chili pepper oil
2 chunks smoked provola cheese 2 Taggiasca olives
Cut the tomatoes lengthwise and place in a baking pan with
the cut side up. Drizzle with 3/4 tbsp oil, the salt, the sugar and two grindings of white pepper. Bake at 150 °C (300 °F) for 90 minutes.
Remove the seeds and gelatinous part of the cluster tomatoes, trying to leave them as whole as possible. Blend the tomatoes and rub through a sieve, reserving the liquid. Assemble the tomato compote by putting the remaining oil, butter and grape tomatoes in a pan; set aside some of the grape tomatoes as a garnish. Cook over medium for about 1 minute and remove from the burner. Add the tomato seeds and lime zest, the liquid from the tomatoes, and blend with a stick blender.
Cook the pasta for 9 minutes in boiling salted water, and add to the tomato sauce. Cook for a few more minutes. Garnish the plate with the tomato confit that was set aside, the olives, a few pieces of anchovy, the basil, the chunk of smoked provola cheese and a piece of black spaghetti.
Use the mozzarella water to fill the gaps on the plate, drizzle with the chili and basil oils, and place the spaghetti on top.