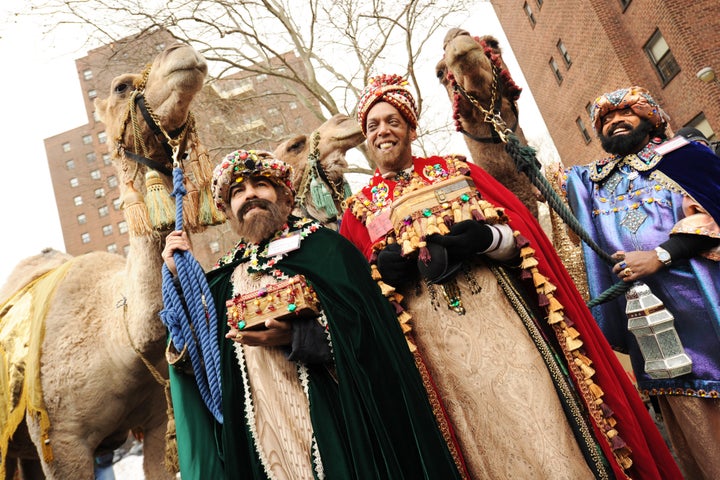 Christmas is over, bank accounts are in recovery, New Year's resolutions were made and probably already forgotten. While for most people, the start of a new year is a time to contemplate the year ahead or to shake off the holiday blues, for most Hispanics it's still part of the Christmas holiday festivities, as on January 6th, Latinos celebrate Día de Reyes, or Three Kings' Day.
The colorful and lively celebration is also known as Epiphany and marks the end of the 12 days of Christmas. Epiphany "is a Christian celebration of the revelation of the birth of Jesus Christ to the world. This is embodied most in the story of three wise men visiting a newborn Jesus with gifts." The festivities commemorate the visit of The Three Kings, or The Three Wise Men -- Melchior, Caspar and Balthazar -- who are said to have arrived with gifts of gold, frankincense, and myrrh for the newborn child.
Over two thousand years later, from New York to Chicago to Southern California, the widely popular tradition is celebrated in cities and communities across the U.S.
In Chicago, dozens of Latino employees work day and night in a local bakery to prepare Rosca de Reyes, Mexican style.
When the owner of the bakery, Gilberto Chavarría, came to the U.S. from Mexico 23 years ago, "he baked a good number of roscas and then gave them away to Mexicans in the area," said Rafael de la Vega, another supervisor at the bakery. This year, they will bake and distribute around 6,000 of the special pastries.
Mexicans do love their roscas.
This past Wednesday in Mexico City, thousands gathered to enjoy a gigantic one of over 740 meters in length and over 10 tons in weight. Two thousand bakers participated in preparing this tasty treat, using 2,323 pounds of fruit, over 5,720 pounds of sugar and 1,320 pounds of marmalade, reported NTD Television.
According to custom, a small figure of baby Jesus is baked into each rosca, to represent the fact that he had to be hidden and protected at birth.
The festivities also include something for the kids. Much like on Christmas Day, children receive three presents, one from each of the wise men, in remembrance of the gifts they brought baby Jesus. And again, similar to how kids leave milk and cookies for Santa Claus, Latino kids will leave green grass for the kings' camels.
In New York, the celebrations are heard across the city, particularly around the annual Three Kings' Day Parade in East Harlem. The procession, hosted by El Museo Del Barrio, lures in thousands of people each year.
"It's something that every New Yorker -- every Latino New Yorker, and a lot of New Yorkers in general -- wait to see, because it's so colorful and brings a little bit of joy to the dark and cold days of January," said Gonzalo Casals, director of education and public programs at El Museo del Barrio in an interview with WNYC.
"For us, the holidays haven't finished yet," Casals said , "The big celebration for Latinos is Three Kings' Day."
SEE HOW THREE KINGS' DAY IS CELEBRATED AROUND THE WORLD: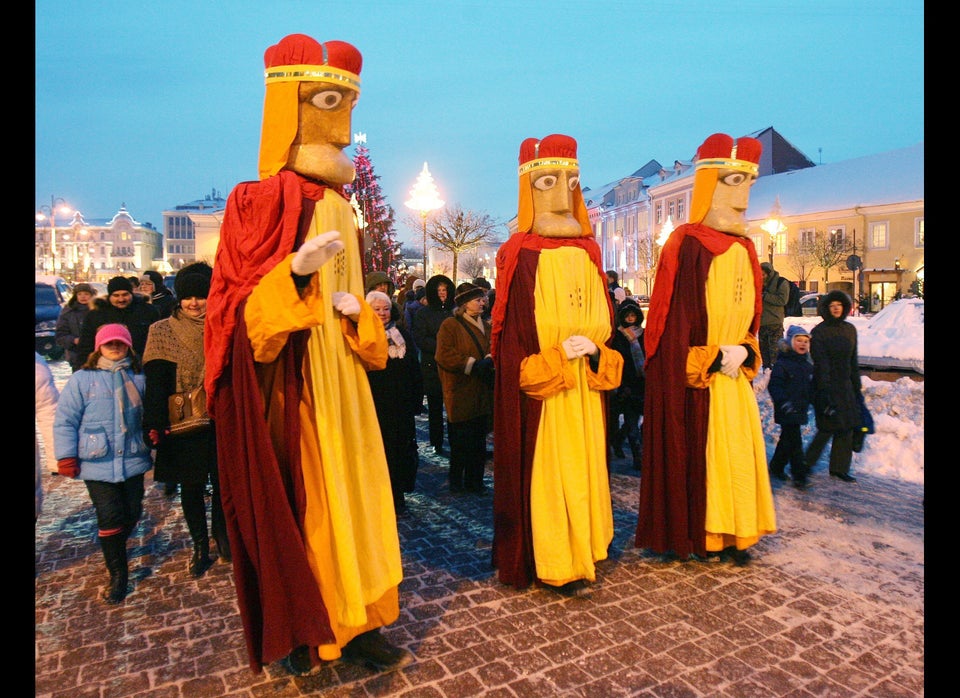 Three Kings Day
Popular in the Community