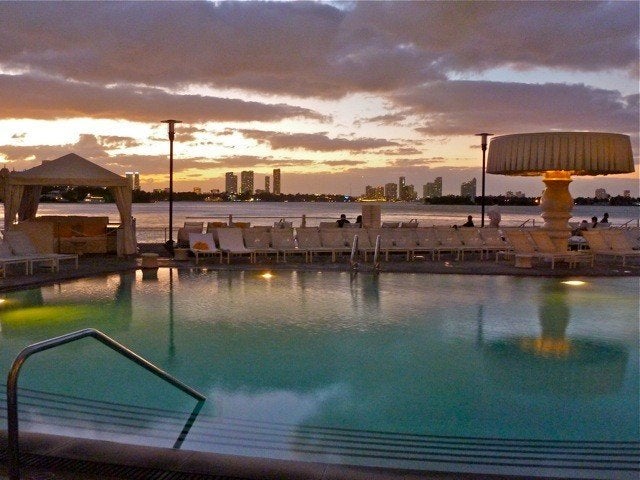 Miami's hotels offer three distinct luxury experiences: classic grandeur, zen elegance and chic boutique. Each is distinguished by location, accommodations and atmosphere.
Coral Gables and the venerable Biltmore Hotel
In the 1920s, developer George Edgar Merrick envisioned a classy, planned Miami community and wooed North Easterners to 10,000 acres of land that became the posh city of Coral Gables. Southwest of downtown Miami, this Beverly Hills-like town lined with Banyan trees, immaculate lawns and stately residences has become the home of the University of Miami, attracted celebrities like LeBron James and is anchored by the classic, legendary Biltmore Hotel.
Built in 1926 on 150 acres, with classic yellow-and-orange Spanish architecture, the Biltmore's 273 luxurious rooms and 130 suites embody old world charm. History is in every corridor, on the greens at the 18-hole Biltmore Hotel Golf Course (designed by Donald Ross), at the 10 tennis courts and at the largest outdoor hotel pool in the continental U.S. In the '30s, Johnny Weissmuller was a lifeguard here before winning Olympic Gold and becoming Tarzan; actress Esther Williams taught synchronized swimming. Over the years guests like Judy Garland, Al Capone, the Duke and Duchess of Windsor and Bill Clinton have lodged here and dinned at the Zagat winning Palm d'Or French restaurant on appetizers and entrees like frog legs jambonnette and grilled buffalo tenderloin.
At the spa, start with the Chardonnay scrub (wine therapy for your skin), then try a signature Chardonnay massage (uses the powerful anti-oxidant Chardonnay grape seeds). You can also attend the Biltmore Culinary Academy where famous chefs and chefs from around town have whipped up soufflés and given away their secret recipes. You cook, you eat and enjoy an interactive culinary lunch.
The Biltmore is legendary not only for its guests but for its standing in the community. At the Biltmore, locals marry off their daughters, use the gym, learn tennis and golf and loyally show up for a Sunday brunch of egg dishes, grilled meats, sushi, seafood and fancy desserts. This is one of the few hotels in Miami where you get to meet the people of the city.
Things to do: It's a short drive to the Miami Improv in Coconut Grove (3390 Mary Street, Miami) and to the Grove Isle Tennis Center (4 Grove Isle Drive) where the club's director Max Mangones can help you bring your game to the next level. You can empty your pockets at the Village of Merrick Park Shopping Center (Jimmy Choo, Nordstrom, Burberry, Gucci) and hear beguiling string music at Florida Philharmonic Orchestra (4120 Laguna St., Coral Cables).

A South Beach view and a swank hotel: The Setai
Countless hotels line South Beach's Collins Avenue; it's a blur of buildings. The Setai distinguishes itself from the pack as the tallest, most swank, expensive and visually awe-inspiring. There's a hint of 1930s in the front, Art Deco Building, once the stately Dempsey Vanderbilt Hotel, which houses the vast, high-ceiling 24 ft main lobby with its grey antique brick, bronze, tropical timber and leather interior. The old world meets new when you view The Tower, an adjoining forty-story rear oceanfront building with Asian fusion architecture. Windows are the same height as the rooms in this shining glass, oceanfront structure and residence tower that shoots up into the sky, looking down on the other hotels.

The 85 studio suites and 40 suites with their ultra modern, clean-lined design and slate floor bathrooms are steeped in luxury. But those four-bedroom, four-bath, 10,000-square-foot penthouses! Wraparound terraces, saunas, stainless steel kitchens, private swimming pools, 40th-floor views: They are so opulent that one just sold for a record $21.5M, the most expensive condo per square foot south of New York City!

Walk through the Setai's celestial courtyard, past the three swimming pools, through the Pool & Beach Bar, and you'll step on to the white sand beach. This is why folks come to South Beach, the sand, sea, sun and people watching. In fact Lenny Kravitz has a 2,500-square-foot music studio at the Setai, and musicians (Jay Z, Mary J Blige) who've recorded there have been known to lounge on the beach, next to the moneyed Europeans and Wall Street bankers.

When evening falls, save your appetite for a meal at The Restaurant at the Setai, run by Executive Chef David Werly who fuses Far East cuisine with classical Western dishes in an open theatre kitchen. Taste the Maine diver sea scallops, and follow them with the signature homemade Peking duck.
Side trips: Drive up to North Shore Park (501 72nd St.) for a tennis lesson with Julio on the best clay courts in the city. Keep going north and grab an outdoor seat at the restaurant Makoto, at the chic Bal Harbour Shops, where Former Iron Chef America competitor Makoto Okuwa pays homage to traditional Japanese cuisine, while adding his own flair: Have the delicate feather-light sautéed air spinach, followed by Kobe beef cooked tableside on a hot river stone. Top it with mochi: mango, green tea and strawberry ice cream crammed into a rice skin with fresh berries on the side. While you're at the mall, stop by GEE Beauty a modern skincare and beauty studio to get a relaxing oxygen facial: a scrub, a massage and the oxygen therapy will make your face feel and look like a million dollars.
View Biscayne Bay and Downtown from the posh Mondrian South Beach
Conventional wisdom says travelers converge on South Beach for the beach. But those who go off the beaten path are rewarded with a less hectic vacation that's steeped in luxury, with a touch of pizzazz and a drop-dead gorgeous view. The driveway slinks up a hill off West Avenue on the bay side of Miami Beach into the trendy Mondrian South Beach with its stark white lobby and a dramatic black spiral staircase. Formerly an apartment building, it now consists of 342 studios, one- and two-bedroom apartments and penthouses, a beguiling hotel that's deceptively comfortable and homey. No snobby airs, large rooms, glass-walled balconies: This enclave has a tranquility you won't find on bustling Collins Avenue and it's perfect for afternoon sunbathing.
The spa at Mondrian sprawls over 4,000 square feet on the third floor, with six treatment rooms. If the signature treatment Agua Milk and Honey (a specialized blend of warm honey, organic sesame oil and milk applied to the body in a gentle one-hour massage) doesn't tempt you, perhaps the seaweed mask will (combines seaweed and French green clay to stimulate and detoxify your skin with amino acids, Vitamin E and green tea extract). There's fitness center too, but don't be surprised if you find yourself spending most of your time out by the pool, on a lounge chair, in a cabana or on an oriental carpet sipping a martini -- especially at sunset, when the view of a shadowed downtown Miami glistens, backdropped by red, orange and magenta hues from the sky.
The hotel's indoor-outdoor restaurant Asia de Cuba boasts Asian-Latino cuisine served in a bright white room, with modern tables and chairs. Sip on a passion fruit caipirinha while you snack on the spiced pork spare ribs with sweet soy glaze, and don't be surprised if you order a second helping. Follow that with the whole Maine lobster pad Thai or the Cuban BBQ chicken.
Out on the town: Douglas Rodriguez, the former chef of New York's famed restaurant Patria, has brought Nuevo Latino cuisine to his hip beach-view restaurant D Rodriguez Cuba on Ocean. Drink a Daiquiri La Floridita (Don Q Rum, Cointreau, fresh lime juice and guava puree), dine on crispy shrimp chicharron, his signature ceviches (lobster and mango, salmon and apple, tuna watermelon) and a main entrée like crispy Cuban pork belly beckons. For dessert head to Lincoln Road, to the noted Italian restaurant TiramesU and try their tasty tiramisu. Hurry and you can catch a show in the New World Symphony hall or on an outdoor Wallcast, a visual and audio technology display on a soaring, 7,000-square-foot projection wall. Bring a blanket. Marcello, a tennis pro at Flamingo Park (1200 Meridian Avenue), will help you hone your strokes.
Popular in the Community