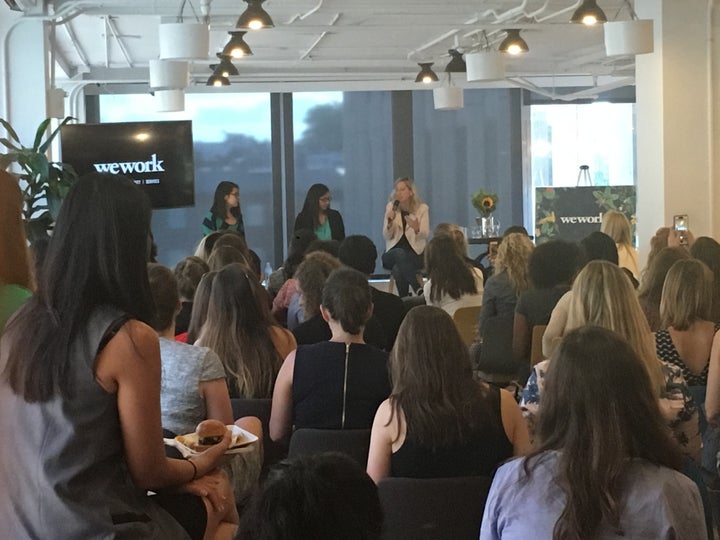 I recently attended a Women In Tech networking event hosted by WeWork Dupont in Washington, DC. I didn't go alone though; I brought my daughter Ava — the most unorthodox of plus ones.
My daughter only wants milk from the source, so wherever I go, she goes — lunch meetings, the grocery store, and now networking events. If the thought of toting a potentially hungry 14-pounder around with you at all times seems daunting, I'll be honest — it is. But I'm determined not to let it stop me from doing the things I want in life such as building my business and meeting other intelligent women.
I packed all of our essentials, strapped her in the car seat and hopped in my Lyft.
We arrived at WeWork and made our way to the 11th floor. I introduced myself to the man checking names and looked through the glass doors to a full room. Fear overcame me as I looked down at my peculiar situation — a car seat in one hand and diaper bag in the other. It was the kind of fear you feel physically, one that permeates your entire body.
If you know me, you know nervousness is not an emotion I frequently feel. I'm what you would call an "extroverted extrovert" — I love networking, meeting new people, drumming up conversation, and smiling really big smiles at strangers.
Despite all of this, in that moment, I was very scared.
I was scared people would judge me for bringing my child and peg me as unprofessional, unable to afford childcare, or maybe a woman of color who didn't understand how "these things" worked.
And here's where I learned my first lesson, Fear is normal.
I had THE largest knot in my stomach. I could have tried to ignore it or merely brush it off, but I chose to fully acknowledge it and own it because you can't change what you don't acknowledge.
We all experience fear at some point and it's important to realize that it's totally okay; It doesn't make you weak or less than. What's important is what you do with that fear. I had to ask myself what would I be losing out on if I let fear win?
"Humans are very good at considering what might go wrong if we try something new, say ask for a raise. What we often don't consider is the atrocious cost of the status quo — not changing anything. So you should ask yourself, if I avoid this action or decision and [those] like it, what might my life look like?"
For me, the cost of inaction would be losing out on building relationships that could take my life and business to the next level.
I took a deep breath, walked through the double doors and said a prayer: "Lord, help me to meet exactly who I'm supposed to meet tonight."
The first part of the evening was filled with open networking, followed by a panel discussion, then more networking. I walked into a side office to get Ava into her baby carrier and to give myself a personal "you can do this" pep talk.
After texting my really good mompreneur friend, I knew that in order to make the most of my time at the event, I would need to suppress the urge to make the conversation all about my baby, and be intentional about what I wanted the other person to know about me and my business.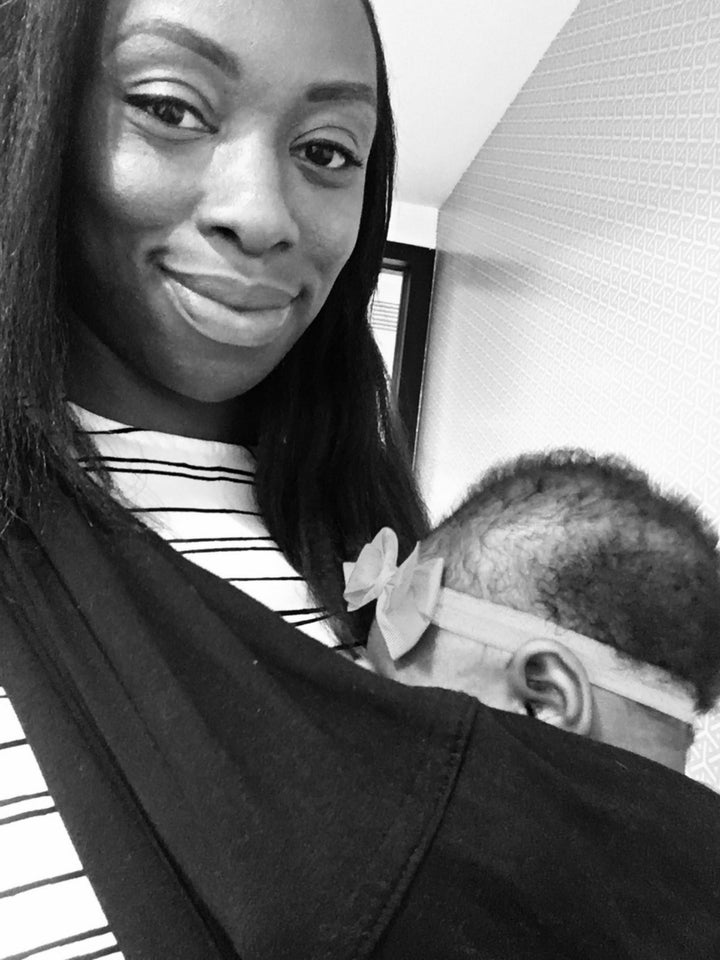 With Ava strapped to my front, I stepped out onto the main floor where the event was taking place.
I stayed close to the back during the panel discussion in case I needed to escape into the side office to breastfeed (which I did) or if Ava began babbling loudly (which she did). They spoke about the challenges women faced in the tech world, how they broke into tech, their current careers, and work life balance.
The panel wrapped up and everyone went back to networking. I scanned the room for people I wanted to speak to. At this point I was feeling less afraid, but was still very aware of the awesome little person I was wearing.
I stood in line to speak to the general manager of Uber Southeast. While I waited, three other women commented on how cute and perfectly well behaved Ava was. I thanked them for their kind words, offered a firm handshake and introduced myself.
"Hi, I'm Isi, a business and digital marketing strategist. I help entrepreneurs use digital marketing to get more customers, sell more products and increase their revenue."
This is where I learned my second lesson — Stay focused in the face of fear.
I had acknowledged my fear and made a decision to face it. I had taken action and stepped out onto the main floor of the networking event.
At this point, it would have been very easy for me to rely on what feels comfort — talking about my daughter Ava. I had to make sure that I didn't just talk about her, but that I spoke primarily about my business. Talking about Ava would have been an out for me because it's easy and comfortable. When we're afraid we tend to default to our comfort zones. In doing so, we miss out on opportunities and forgo what we initially set our minds to do. I made sure to stay focused and keep the conversation about Ava to a minimum.
Each of the three women shared who they were and asked me more questions about what I did. One of them was from the Washington Business Journal who promised to connect me with a few of her colleagues who needed my services. By the end of the conversation, my confidence was through the roof.
It was my turn to talk to the general manager at Uber. By this time, my fear had subsided. She saw Ava and lit up. She congratulated me on attending the event with my baby and shared how important it was that we normalizethings like this.
By this she meant the intersectionality of motherhood, tech, and entrepreneurship. As women, we are encouraged to be amazing mothers and awesome entrepreneurs, but when the two are brought together in a very public way, it's frowned upon. We're asked to separate the two but we can't.
Motherhood and entrepreneurship coexist in my world. It was my new truth and I wasn't going to be fearful of what it meant for me.
We continued our conversation speaking about my time at Teach For America, my work as a digital marketer, her time at Uber, and her rise to general manager. We really connected and planned to grab coffee in the coming weeks. I told her Ava would be in attendance. She told me she would love to meet her again.
My final lesson of the night — Kill the opportunity.
I can honestly say I killed the opportunity. In the best way.
You always hear that you have one opportunity to make a great first impression. I also believe there are certain opportunities in life that you only get one stab at. So when you do, make sure you kill it. For me, it was networking and meeting the GM of Uber Southeast. Before I started networking that night, I took a couple minutes to get myself together and went over my elevator pitch. I came dressed to impress, gave eye contact and a firm handshake. I was ready. Once you've gone through the work of acknowledging your fear and mustering up the courage to face it, you don't want to drop the ball when it matters most. Show up and kill the opportunity because frankly, you don't know when it'll present itself again.
With all the lessons I learned that night, the one that I prize the most is knowing that I'm ready. I'm ready for this new chapter of my life as a mother and entrepreneur. I trust it'll come with its fair share of adventures and challenges, but whatever the case, I'm ready to take them on with Ava by my side.