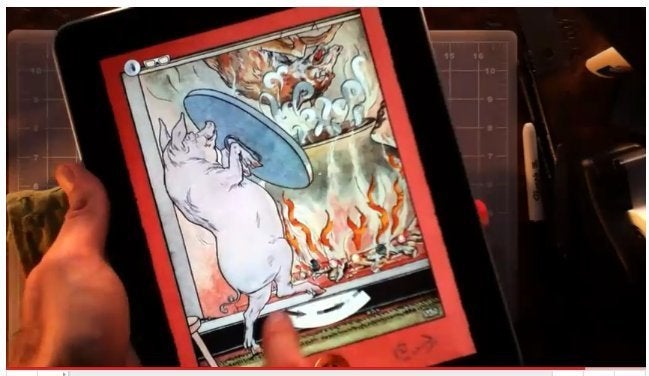 With the release of the NOOKcolor, Barnes and Noble staked out their claim in the children's books market. But Apple won't let the iPad cede its share of kids' hearts quite so easily.
A new app based on the story 'The Three Little Pigs' melds the best of both digital and paper in a totally new-fangled take on the pop-up book. The Three Little Pigs and the Secrets of a Pop-Up Book combines the tactile beauty of the traditional pop-up book with the technological capacities of the iPad. While utilizing the handmade gorgeousness of line-drawn illustration characteristic of classic picture books, the vivid high-color display on the iPad perfectly captures more photorealistic touches.
But the most incredible part of the experience is, as in low-fi pop-up books, the interactive element. This 'Three Little Pigs' has the same swinging cut-outs and springy moveable parts as the paper version, but it also has sound effects, and, most impressively, a feature that reveals how the pop-ups are constructed.
Clicking on the little glasses in the corner of the screen lets you see an 'x-ray' view of the picture, showing you exactly how the sliding mechanisms and swinging pieces are made from wheels, pulleys, strings and bars. That's definitely something you would never be able to do in paper alone.
Check it out below, and let us know what you think!
WATCH:
Popular in the Community