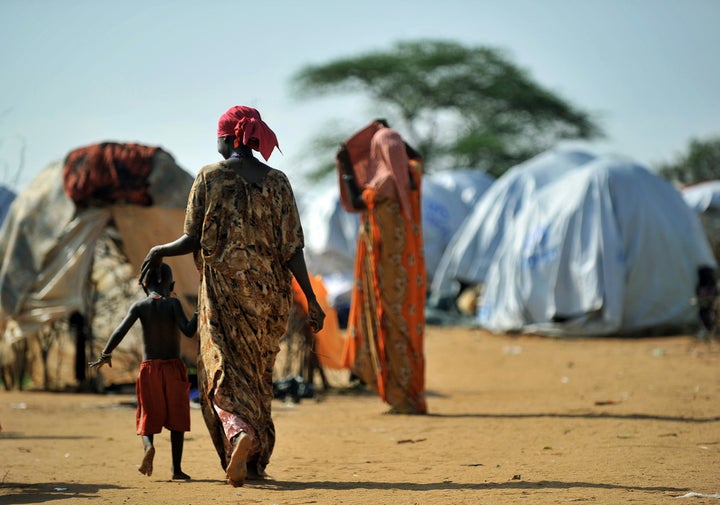 This month Americans welcomed the three millionth refugees since 1975, helping them build new lives, homes, and communities in all 50 states. The United States is proud of its history of welcoming immigrants and refugees.

The 1980s saw primarily refugees resettling in the U.S. from Vietnam, Laos, and the Soviet Union. The 1990s brought large numbers of Bosnians as war engulfed the former Yugoslavia. In the 21st century, we welcomed refugees from Burma, Bhutan, Iran, Iraq and Somalia, among others, reflecting a more diverse and expansive refugee resettlement program.

Historically the United States has provided protection to such well-known individuals as former Secretaries of State Henry Kissinger and Madeline Alright, Nobel Prize winner Albert Einstein, performer Gloria Estafan, and marathoner Mebrahtom Keflezighi

The stories of many other lesser-known refugees reflect the same determination and perseverance:
Mr. Bol B. Aweng, a "Lost Boy" from Sudan, came to the United States in 2001. He fled at the age of six, without his parents, when helicopter gunfire and aerial bombs destroyed his village. He saw friends shot, eaten by crocodiles, and die of food poisoning. He took refuge in Ethiopia and finally in Kenya before being resettled to the U.S. As a boy in the refugee camp, Mr. Aweng first began drawing in dirt and then on cardboard. He brought his love of art with him to the U.S. He graduated from Ohio State University in 2009, where he majored in Fine Arts, specializing in digital media.
Mr. Bertine Bahige, from the Democratic Republic of the Congo, arrived in the United States in 2003. When Mr. Bahige was fifteen years old, rebels came to his house and tried to forcibly recruit him. Traveling alone, he fled first through Zambia, then spent five years in a refugee camp in Mozambique. When he was resettled in Maryland, he worked multiple jobs and went to community college. In 2006, he was offered a scholarship to the University of Wyoming. Today, he serves as a high school and community college math teacher, soccer and cross-country coach, and liaison/interpreter for Spanish-speaking parents.
Mr. Anh "Joseph" Quang Cao was the first Vietnamese-American elected to the U.S. Congress, serving Louisiana's second Congressional District from 2009 until 2011. Mr. Cao left his home country with his aunt and two siblings in a military transport plane three days before the fall of Saigon, while his mother and the rest of his family stayed behind to wait for his father.
Mr. Wilmot Collins, from Liberia, arrived in the United States in 1994. Mr. Collins and his wife have been U.S. citizens since 2001. He is an administrative officer at the Veterans Hospital in Helena. He has an M.A. in Human Resources Management, and is working towards a Ph.D. in Clinical Psychology. He is also a member of the U.S. Naval Reserves.
Mr. Aumer Hadi is an Iraqi refugee who resettled in Columbia, South Carolina in 2010. Following the Gulf War, Mr. Hadi and his family fled to Yemen, where they lived for eight years. With a computer science degree from Saba University in Yemen, Mr. Hadi has been able to use his education in the United States by helping his employer to develop software for the iPhone.
Mr. Igor Kotler, originally from the Soviet Union, has lived in the United States for over 20 years. He is President and Executive Director of the Museum of Human Rights, Freedom and Tolerance. An accomplished scholar in human rights and world history, Mr. Kotler and others helped to capture 52,000 interviews of Holocaust survivors in 32 languages, representing 56 countries.
Less than one percent of refugees worldwide are ever resettled in a third country, estimates the Office of the United Nations High Commissioner for Refugees. But, in the words of one refugee, new life in the United States was "the beginning of my return to humanity."

This past year, more than 56,000 refugees from almost 70 countries, fleeing fear of persecution based upon race, religion, nationality, political opinion, or membership in a particular social group, found new homes in the United States. Until then, some lived in camps for years or even decades, such as the Burmese on the Thai border or Bhutanese in Nepal. Others, like Iraqis in Jordan, Lebanon and Syria, or Somalis and Ethiopians in Kenya, eked out meager existences in temporary and uncertain urban dwellings.

Some came with family members, most came with few belongings, but all came with hope for the future.

In the end, all Americans benefit from our nation's open doors -- the refugees, those whose lives they touch, and communities strengthened by their contributions.

The Great Seal of the United States carries the motto "E Pluribus Unum." Ninety-nine percent of all Americans trace our heritage to foreign lands. Our founding fathers would be proud that our nation continues to offer a place of refuge to the most persecuted from many ethnicities, races and religions, who now call America home.
Popular in the Community