Although they were paraded down the runway and later spotted on the likes of Daphne Guinness and Lady Gaga, Alexander McQueen's ten-inch-tall, other-worldly stilettos couldn't find their way onto the feet of some of the fashion set. Grazia Daily reports that models Abbey Lee Kershaw, Natasha Poly and Sasha Pivovarova refused to wear the precarious pairs and were therefore cut from the designer's show.
Kershaw knows firsthand just how dangerous McQueen's fashion can be. She immediately fainted after walking in his Spring 2009 show, reportedly due to the super-tight corset she was squeezed into.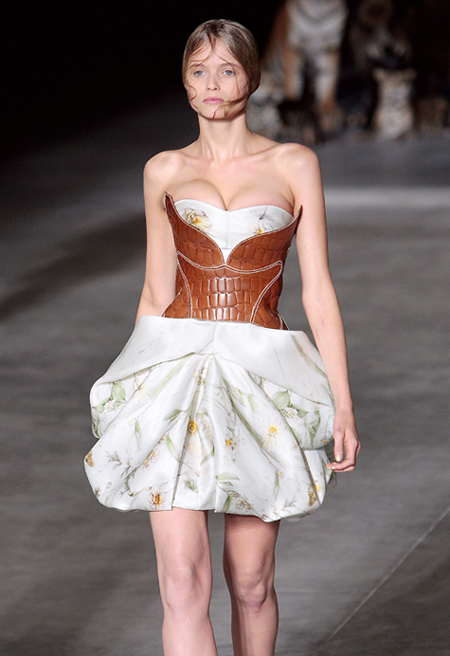 An eyewitness recounted, "When she was coming to the end [of the runway], back near the [entrance] ramp, I could tell she was having difficulties, because her steps were getting shorter and shorter, they were more like baby steps. I was reading her face and I could see 'struggle' all over it and I was thinking, 'She's not going to make it.'"
"Many looks were so body-hugging that models' bones protruded through the clothes awkwardly, causing some discussion in the audience. Skin-tight sheath dresses of fairy light fabrics, jackets and suits in a print like wood grain, and several white dresses embroidered with a skull across the upper torso."
It might be time for McQueen to...er, loosen up a bit. Or at least to make matching helmets and knee-pads.