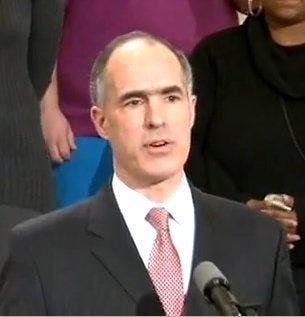 Sen. Bob Casey, a centrist Democrat from Pennsylvania, has committed to voting for a public option if it's included as part of a package of health care reform fixes passed through the majority vote process known as reconciliation.
The public insurance option was revived by two House Democrats -- Chellie Pingree of Maine and Jared Polis of Colorado -- who sent a letter to Senate Majority Leader Harry Reid (D-Nev.) with 120 signatures, calling for the public option to be put back on the table. Polis's Colorado delegation colleague, freshman Democratic Sen. Michael Bennet, then took up the standard, asking senators to sign a letter calling for the same.
"Sen. Casey thinks that all options should be considered for moving forward legislation to insure more Americans, crack down on insurance company abuses, and get a handle on health care spending that is raising the deficit and threatening our economy," said Casey spokesman Larry Smar in a statement released to DFA, PCCC and Credo Action and provided to HuffPost.
"He has been a longtime advocate for a public option and he believes that it is the best way to increase choice and competition and to hold insurance companies accountable. He has made this known to Senate leadership as next steps are considered. If there is a vote on the House public option in reconciliation, he will vote yes."
Charles Chamberlain, political director for Democracy for America, which, along with the Progressive Change Campaign Committee, has been organizing the effort, said that Casey is the type of moderate senator who shows the broad popularity of the public option.
"Senator Casey is one of many moderate senators standing strong for the public option, and he deserves great credit for his leadership," he said in a statement. "Day after day, we're naming names and proving the votes exist for the public option in reconciliation. If President Obama and White House Press Secretary Robert Gibbs don't think the votes exist, it's time for them to name names and be transparent about which Democrats would oppose the public option. If they can't do that, they have a responsibility to stop undermining the will of the American public -- who overwhelmingly support the public option over the Senate bill that lacks one."
More than 30 senators are now on board. A running count can be found here.
Organizers behind the effort say that two more senators have agreed to join the effort and will be announced later Tuesday.
Popular in the Community