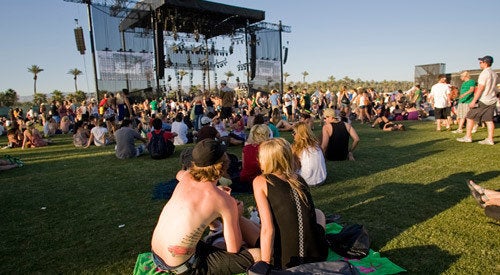 Music festivals come in all different shapes, sizes and flavors and sometimes, with the blinding laser beams from the marquees of Coachella, Lollapalooza and ACL, it's easy to forget how many great options are out there. For those looking to partake in adventures beyond the beaten path or fresh ideas for 2011, there is a set of festivals still sneaking in under the radar with badass, blockbuster line-ups and evolved concepts that offer a fantastic festival experience. To name a few, Jazz Fest, The Hangout and Wanderlust Festivals may just be your new favorite destination concert event. Let's assess:
1. Jazz Fest
Where: New Orleans, LA
When: April 29th - May 8th, 2011
Ticket Prices: $45 - $1,025 (Single day pass - Super Duper VIP)
Not new by a long shot but in its 31st go-round and worthy of some serious attention, this giant, Big Easy affair is really bringing it this year. Stars include Arcade Fire, (who during their 2006 tour for Funeral became the single best live act I have ever seen), Wilco, The Strokes, Robert Plant, Lucinda Williams, Willie Nelson, Ms. Lauryn Hill, John Legend and The Roots, The Avett Brothers, Mumford & Sons, Trombone Shorty, Cyndi Lauper and many, MANY more. The festival spans two weekends and seven days, with some majorly tough decisions to make about where to go and when. Aside from the first-class music, it's a great excuse to visit a city in recovery that's set up for a weekend of transcendent soul food experiences, leisurely strolls, Mardi Gras-style play and nonsense.
2. The Hangout Festival
Where: Gulf Shores, AL.
When: May 20th-22nd, 2011
Ticket Prices: $174 - $900 (3 day pass* - Super Duper VIP)
The Hangout is another festival delivering a borderline unbelievable line-up. In only its second year, top billing goes to Paul Simon, whom I cannot find playing anywhere else on the map in the near future, not to mention the Foo Fighters. Other big draws include The Black Keys, Flaming Lips, My Morning Jacket, Michael Franti & Spearhead, Amos Lee, Girl Talk, Ween, Matisyahu, Drive-By Truckers and a personal favorite, Old Crow Medicine Show. Did I mention this festival is ON the beach? It's also worthy of note that in its inaugural run last year, which coincided almost exactly with the initial days and mayhem of the BP oil spill, this Gulf Coast festival donated 100% of the proceeds to oil spill relief. Righteous music line-up with a soul and conscience: doesn't get much cooler than that.
3. Wanderlust Festivals
Where: Bondville, Vermont and Squaw Valley, CA
When: June 23rd-26th and July 28th -31st (respectively), 2011
Ticket Prices: $337.50 - $405 (for yoga and music; music-only tickets also available)
This Music AND Yoga festival offers many pleasures in one place by weaving together an excellent roster of artists like Andrew Bird, Michael Franti & Spearhead and Girl Talk with yoga classes taught by world-renowned teachers such as Seane Corn, John Friend and Shiva Rea. The Wanderlust events take place amongst indescribably beautiful, natural mountain scenery and offer guided hikes and local food markets, not to mention an abnormally high number of people in a genuinely good mood. Last year Wanderlust also added a new element to the program by incorporating Ted.com-inspired "Speakeasy" talks, lead by headliners and special guests, into the festival weekend. The speakers included a notable list of names like Chris Sacca (a founding investor of Twitter), Adrian Grenier and an incredibly likable Moby talking in a very non-annoying way about being a Vegan. Impressively, the 2011 line-up for the Vermont event includes Deepak Chopra, further proving that these people are not messing around about creating a way fulfill spiritual, intellectual, outdoorsy, debaucherous, physical, music-loving interests in a single festival escape.
*Previously there was an incorrect ticket price listed: The $174 is for a 3 day pass, not a single day.
Popular in the Community