Summer music festivals have become a mainstay attraction across much of the U.S., but few celebrate their place of origin like those occurring in Napa Valley, California.
Each of this summer's three major musical fetes enables visitors to enjoy a wide variety of national and international musical talent while savoring a slice of life in the country's most prominent wine country.
BottleRock, Napa, California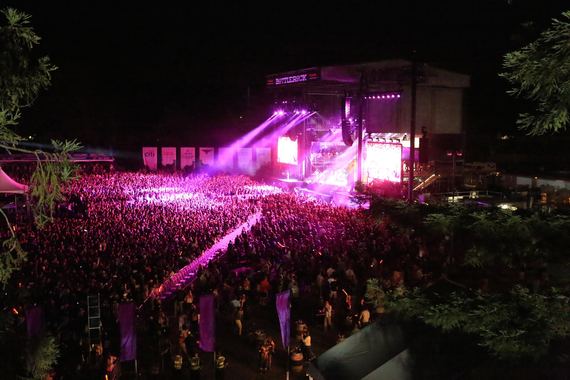 The sleepy little town of Napa, the seat of Napa County, has been steadily transforming itself into a trendy destination over the past several years. BottleRock, a three day music festival now in its third year, is the epitome of Napa's new identity as a tourist magnet.
BottleRock almost died after its rocky first go round in 2013. Then, last year, the company Latitude 38 Entertainment, started by Napa city natives, took over, appeased local complaints and performed a talent coup by procuring The Cure's only North American concert of the summer.
This weekend's BottleRock brings Imagine Dragons, No Doubt, Robert Plant and Michael Franti (a long time Bay Area favorite), The Avett Brothers, Foster the People, the Gipsy Kings. Los Lobos, Snoop Dogg, The Chris Robinson Brotherhood (former leader of The Black Crows) and dozens of others to the festival's four stages.
But the singular characteristic that distinguishes BottleRock as a specifically Napa event is the high level wines and gourmet food that accompanies the music. For a further Napa twist, the festival is launching a new and experimental culinary stage that pairs rock stars with celebrity chefs - Oenotri's Tyler Rodde with former Stone Temple Pilots' lead singer Scott Weiland; Snoop Dogg with Iron Chef Masaharu Morimoto.
The owners like to refer to BottleRock as "Coachella for grown ups." Actually it is easier to navigate than Coachella-at least once you are within the festival grounds. Traffic in and out of Napa Valley is a slogfest every weekend in the summer. So if you are heading to BottleRock, adjust your schedules -and driving patience--accordingly.
http://www.bottlerocknapavalley.com/
.
Started by a member of the family who pioneered the U.S. wine industry, the Robert Mondavi Winery still stands as one of the quintessential Napa Valley experiences. This summer, visitors can partake of Mondavi while seeing first rate musical talent-- Melissa Etheridge, Lyle Lovett, The Wallflowers and New Orleans' Trombone Shorty--within a serene wine country setting.
Tickets range from simple picnic style seating on the lawn to fine-dining served amid the vines. Starting on July 4, the weekly series is a staple of the Napa Valley summer. Proceeds from ticket sales benefit the Napa High School and Vintage High School Instrumental and Choral Departments.
http://www.robertmondaviwinery.com/Visit-Us/Concerts
One thing about Napa Valley--it attracts the moneyed crowd, especially in the summer when old line San Francisco wealth retreats to the wine country to escape the crisp months of July and August that pass for summer in the city. Festival del Sole, ten days of live, predominantly classical music concerts, food feasts and top tier wine spectaculars, has developed into the most prominent social/cultural gathering of Napa's summer season.
One of the festival's greatest charms, however, is that it has priced several shows at levels accessible to those who do not qualify for an American Express Black card. While the opening gala weekend with Kevin Spacey costs $3,000, a few Festival del Sole's concerts are free.
A particularly good value takes place on July 24, when SF socialite superstar Dede Wilsey sponsors a special dance program with members of the San Francisco, New York City, American and Royal Ballet. Tickets start at $49.
For more information on Festival del Sole's entire range of events and tickets check:
http://festivaldelsole.org/
Calling all HuffPost superfans!
Sign up for membership to become a founding member and help shape HuffPost's next chapter