In Nassau County, New York, three elected officials are creating an initiative to help small businesses and aspiring entrepreneurs fulfill the American Dream. At the forefront of this initiative is second termNassau County LegislatorCarrié Solages and his Democratic Minority Caucus colleagues, LegislatorsKevan Abrahams andSiela Bynoe. Last week, the Legislators kicked off the first of its kindSmall Business Empowerment Seminar Series that will continue in 2015. Attendees at these free seminars have the opportunity to listen to experienced panelists providing information on subjects such as corporate formation, applying for government contracts, small business loans, and financial essentials.
Collectively, the Legislators represent three of the most economically and culturally diverse districts in one of the wealthiest counties in America. As African Americans who grew up in Nassau County, their strong roots give them a clear understanding of the needs and challenges facing a significant number of their constituents. They want to empower and engage new and small business owners of all backgrounds as well as motivate women, people of color, and new Americans to pursue their entrepreneurial ambitions. All three are optimistic that they can help to revitalize "Main Street" within the communities they represent.

Although vast resources and information are accessible via the Internet, there is a crucial need to provide hands-on assistance to increase the probability of success for small businesses. Their goal is to reach people who are ambitious with great ideas but lack the proper guidance to navigate the tough terrain of small business ownership. More important, they want seminar attendees to network with other small business owners as well as the panelists representing the U.S. Small Business Administration, New York's Empire State Development Corporation, local chambers of commerce, regional small business development organizations, attorneys, accountants, and marketing specialists.
This week, Legislator Solages shares his thoughts on why this seminar series is so significant to him and the diverse, suburban district he represents.

Q: Why do you think it is important for you and your colleagues to do a small business seminar series?

Legis. Solages: Prosperity in America has been primarily built on the entrepreneurial spirit of people who start small businesses. Literally, a lot of the greatest business success stories began as small, startup companies in someone's basement, garage or storefront shop. Think of Microsoft or Macy's. They started quite small. Now these companies are worth billions of dollars and employ thousands of people.

Q: What is the most surprising thing you've seen or heard from constituents about this small business outreach?
Legis. Solages: At the first seminar last week, there were at least 70 attendees. People were calling our offices and going online to reserve each available seat. The same thing is happening this week! The interest exceeded our expectations. The people we represent are letting us know that they want small business outreach.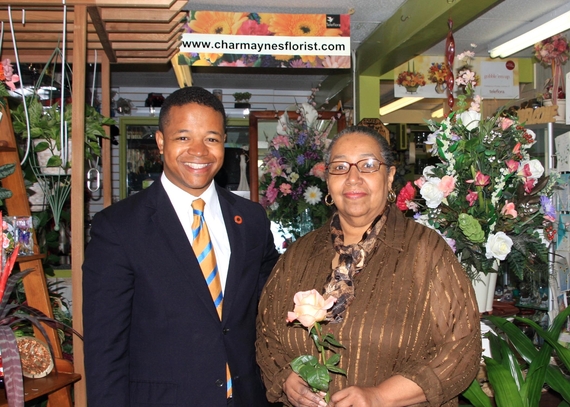 Legislator Solages with small business owner Charmayne Buchanan at Charmayne's Florist in Elmont, NY. "People can relate to seeing someone they know personally succeeding," says Solages.
Q: How can government play an effective role in helping small businesses and creating jobs?
Legis. Solages: Job creation comes primarily from small and medium size businesses. It is incumbent on those of us in government to provide the optimal environment for them to take root and flourish. Local government is an effective conduit to provide information and assemble resources to help a person who wants to participate in our free-enterprise economy.

Q: So, by pulling resources together to help small business owners, how can you increase the probability of an entrepreneur's success?

Legis. Solages: When I look at a program like Goldman Sachs' 10,000 Small Businesses Program helping entrepreneurs in Detroit, I'm filled with optimism. The program is putting the power of economic self-determination in the hands of people who have a burning desire to succeed in a city that has faced low morale for a long time. People want to be empowered; especially people who might be in certain disadvantaged groups. Giving a person the tools to make their ideas and dreams soar is at the core of motivating people to believe in their potential.

The key is giving people the information, skills, and mentorship they need so they can find a gateway to prosperity. But we also have to let the entrepreneur understand the true importance of building relationships at all levels of the entrepreneurial process.
Q: Why do you believe it is important for women, minorities, and new Americans to see small businesses succeed?

Legis. Solages: When a multibillion dollar corporation does well, it makes headlines in the media but it does not necessarily make the average person excited. But when a person's next door neighbor opens a small business and he or she grows and employs residents within the community, people get excited. People can relate to seeing someone they know personally succeeding.

Q: What do you think is that "special trait" every entrepreneur should have?

Legis. Solages: If a person can work at one or more jobs for 60, 70, or 80 hours per week, they have at least one component a business owner needs: diligence. Obviously, it's hard work to be your own boss but sometimes people go down the entrepreneurial road and they learn quickly that it's harder than they imagined.

No one is going to work harder for your dream than you. But if you work hard enough and shape your business plan effectively and realistically, someone with the ability to fund your dreams may be willing to invest in that dream.

Q: In closing, what is the most important thing you hope the seminars will accomplish?
Legis. Solages: Eventually, I hope this initiative will develop into something that helps to change how people think about economic advancement. I would like to see a seismic shift in how people within my community value new business ideas. If a business succeeds, that success should flow throughout the community. People feel more confident and treat their neighborhood and neighbors better when they realize their value and the value added by others. I hope these seminars can help to create some of the change I want to see in my district.
*Cecilia T. Capers works at the Nassau County Legislature