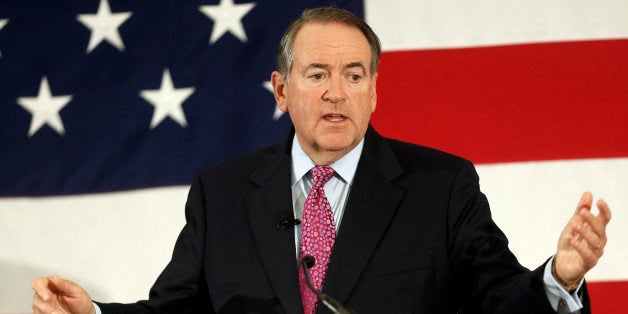 The 2016 presidential race is officially heating up, with three new "dirty deniers" entering the contest last week. While there are differences among the three -- Mike Huckabee, Carly Fiorina and Ben Carson -- on policy and style they each hold views on climate change and clean energy that make them ill-prepared to win or govern from the White House.
Let's take a look these three new contenders' views on climate change and clean energy.
On climate change the views of Mike Huckabee, the former governor of Arkansas, have shifted over time -- and not in a good way. Back in 2007 Huckabee told an audience in New Hampshire that he supported "cap and trade of carbon emissions," citing "our responsibility to fix" climate change:
By 2010 Huckabee was walking back his previous support for cap and trade, saying he'd only ever supported "voluntary cap and trade," and that mandatory programs are a "bad idea." Now Huckabee says the science on climate change has proved to be inaccurate, while making inaccurate statements of his own, claiming, for example, that Icelandic volcanoes are a greater carbon-pollution problem than fossil fuels.
Huckabee has gone so far as to belittle concern about climate change, glibly quipping that the consequences amount to nothing worse than a "sunburn."
Huckabee's traction with evangelical Christians is one of his strongest assets, which makes his stance on climate change all the more disappointing. When Huckabee spoke out in support of efforts to avert climate change in 2007, he made the moral argument for action. I've written before about what it means to be a climate Christian, and in Mike Huckabee we have someone who may be missing the messages from both the creator and the voters.
California businesswoman Carly Fiorina deserves a bit of credit. As recently as February she stated, "There is a lot of consensus among the scientists that climate change is real and human activity contributes to it." That's more than we can say for many of her peers in the Republican field.
However, while Fiorina may not deny the science, she is still denying the need to act. At the same event in February, Fiorina opposed regulation and said that no one nation could address climate change on its own. Fiorina's cowardly opposition to government action is nothing new. When she ran against climate champion Barbara Boxer for Senate in 2010, the NRDC Action Fund blog wrote:
Fiorina has gained notoriety for flippantly calling global warming "the weather" in a campaign ad, and for doubting the overwhelming science of global warming. Not surprisingly, Fiorina also opposes legislation like the American Clean Energy and Security (ACES). Passed by the U.S. House in 2009, ACES was the first comprehensive clean energy and climate bill to ever pass a chamber of Congress. On her website, Fiorina cites a biased report from the Heritage Foundation claiming that climate legislation will "cost American families $2,872 every year." Furthermore, she claims that a climate bill "will punish manufacturers and small-business owners and put the U.S. at a competitive disadvantage with nations like China and India." She has even sided with dirty Texas oil companies to favor passing Proposition 23, which would overturn California's climate law -- the strongest such law in the nation.
Unfortunately, not much has changed in the last five years. Fiorina is still denouncing the Golden State's leadership on climate change, despite California's huge job growth while it has been working to reduce carbon pollution. With California's clean-energy jobs growing 10 times as quickly as jobs in the overall economic sector, action on climate change is actually driving the economy forward, not holding it back. If Fiorina's strength is supposed to be her business acumen, it looks like she still has a lot to learn about what will power our country's future economic growth.
Ill-Suited for the White House
Every corner of our country and globe will feel the effects of climate change: heat waves, heavy downpours, sea-level rise, increasing wildfire, insect outbreaks, drought, declining water supplies, reduced agricultural yields, health impacts in cities -- the list goes on and on.
We know voters are more concerned than these candidates: Two thirds of voters, including nearly half of Republicans surveyed, are more likely to vote for a candidate who says human-induced global warming is happening.
Climate change is no laughing matter, but let's hope that by this time next year the American electorate will have laughed off the candidacies of anyone who denies the science or the need to act in the face of a global crisis. America needs a president who will act decisively to address climate change. Any candidate who believes otherwise should head home.
REAL LIFE. REAL NEWS. REAL VOICES.
Help us tell more of the stories that matter from voices that too often remain unheard.