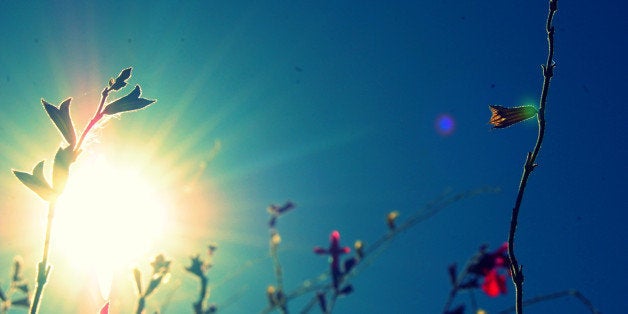 An introverted lot, writers often face a challenge in the world; they at once need time and space to create, but sometimes they need the real world for inspiration and support. This need struck me all at once; I began to find myself lonely during my workday -- a feeling not in my standard repertoire. After years of working at home, the urge to belong to a larger community seized me. For a while, I fought the idea. Me? Lonely? Nah. But the weird, empty feeling didn't go away, so I hatched a new plan. I called it the Year of Awesome. This would be my campaign to change up my day and help me find a tribe. The Year of Awesome employed three main tactics: talking to strangers, saying yes, and giving back.
A big part of the Year of Awesome meant combatting the loneliness I felt as a writer working at home. On this front, I waged a lunch date campaign. I began inviting cool women out to lunch, aiming for at least once a month. One of my dates is an old friend I reconnected with over writing. Another is a stranger I kept running into at my favorite restaurants. My third lunch date is an amazing, local artisan and jeweler who sold me the coolest purse. I treasure the friendship, inspiration, and support that connecting with these amazing women has provided in a way I never would have expected as an introvert. All it took to find this tribe was speaking up and inviting someone to lunch.
This Year of Awesome also featured a hearty dose of saying yes to opportunities. When the local bookstore said I could teach a workshop for them, I said yes. My mentor, Ann Garvin, invited me to join her collective of authors, The Tall Poppies, and I said yes. When a colleague, Susan Trestrail, asked if anyone wanted to teach creative writing in Ireland on a tour group, instead of cowering behind my computer screen imaging how nice that would be, I said yes. So now I am planning my spring class at the bookstore, tweeting about my new writing sisters' latest releases, and going to Ireland for ten days to help people unlock the beauty in their own writing while in an amazing and inspiring place. Saying yes opened a doorway to new avenues I never even considered possible before.
Giving back also lead to another way to build community. A call for writing mentors went out from the Associated Writing Program. As I was practicing saying yes already, I applied to be a mentor to a new writer. Every cliché about volunteering held true for me; I received as much if not more than I gave. Often, we teach what we need to learn. By connecting with a new author, I remembered my own eagerness and desire to succeed as a writer. Talking with her about how to structure her life to be able to work and write prompted me to examine my own work-life balance to include more time and space for creating more and connecting with others. Because of these discussions, 2015 is going to be my Year of Balance.
While this is my blueprint for a Year of Awesome and yours may vary, I recommend the backbone of talking to strangers, saying yes, and giving back to others. Think about places to volunteer, new places to visit, or people you want to meet. You never know who you might find or what interesting opportunities will come your way.
I'd love to hear about your own plans for making 2015 more awesome; please check in within the comments section or catch up with me Facebook. Or you know, you could join me in Ireland, and maybe we could have lunch?
REAL LIFE. REAL NEWS. REAL VOICES.
Help us tell more of the stories that matter from voices that too often remain unheard.