I visited Thailand for the first time back in 2008 and quickly fell in love with the friendly people, the fresh, flavourful food and the frenetic energy that sweeps through the streets of Bangkok. I just returned from my second visit -- and fell in love all over again. Here are some of the highlights:
Flying Cathay Pacific
My journey began in a comfy business class seat aboard Cathay Pacific, making the 15-hour flight as smooth and easy as can be. While I had hoped to sleep for most of the flight, I was too excited for shuteye. Between the amazing meal service and all the movie options (I caught up on three new releases I'd wanted to see), I whiled away most of the flight wide-eyed and well-entertained.
I flew economy home but by a stroke of luck, when I logged on to the Cathay Pacific website to check in 24 hours before my flight, there was an exit row seat available, which made all the difference. Plus, the two seats beside me were vacant. Shocking. I couldn't believe that no one else had snapped up those seats. I had as much legroom in economy as I had had in business class. Just saying.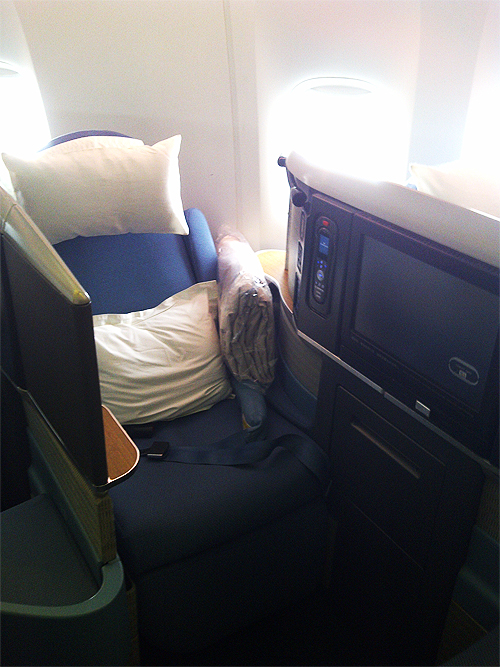 Business class seats on Cathay Pacific are spacious and comfortable (natch!). Loads of movie and television options make a 15-hour flight seem... well, less long. The lie-flat seats mean a good night's sleep.
Bangkok
I flew Cathay from Toronto to Hong Kong to Bangkok to meet my boyfriend, John, who was already there. He was waiting for me at the Marriott Executive Apartments, Sukhumvit Park (MEA). I didn't know that Marriott had these hotel-slash-apartment buildings around the world but there are currently 20 worldwide, with expansion plans that'll see nine new properties open in the next four years. Opened in 2009, the 300-unit MEA Sukhumvit Park, Bangkok, where we stayed, was a welcome surprise.
The fully-furnished one-bedroom apartment boasted all the amenities you could ask for: a luxury bedroom, a spacious bathroom with both a big soaker tub and a rainhead shower, a fully equipped kitchen and a stylish, comfy living room. All were tastefully decorated. Most exciting: A washer/dryer. Call me lame, but being able to do laundry when I'm traveling makes moi a happy girl. At about $120 a night or about $1,800 a month, these apartments are enough to make you think about moving to Bangkok. The MEA Sukhumvit Park offers luxury at affordable prices but most importantly, it was really just nice to feel so at home -- especially when I was so far from home.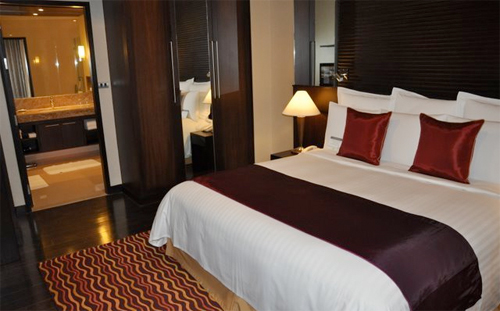 Exhausted from my long travel day, I enjoyed sweet dreams in the one-bedroom apartment at the Marriott Executive Apartments, Sukhumvit Park in Bangkok.
A visit to the tailor
Everyone I know who's traveled to Thailand insisted that I visit a local tailor to get custom-made clothes at a fraction of the price I'd pay at home. Shopping? Clothes? Custom-made? Sign me up.
Based on a recommendation, John and I walked a handful of blocks from the MEA Sukhumvit Park to Manhattan Custom Tailors to check things out. John was looking to get a new suit made and I was hoping to get the same, plus maybe a dress or two. The shop we entered was large, the walls lined with hundreds of colourful fabric bolts -- and more upstairs. We were ushered in by the friendly staff and offered a seat and bottled water. Good start!
Travel expert Peter Greenberg had told me that the best thing to do is take in clothes that already fit me well and that I love, and to have the tailor copy them, using any of the beautiful fabric in the store. He recommended the tailor he always goes to and now I wish we'd been able to try him out but unfortunately we were unable to connect with him. But based on Peter's sage advice, I took a dress that I loved with me to the tailor and chose a lovely black silk fabric with a black damask print on it. But I also wanted to have something custom-made just for me -- not copied.
I flipped through the many catalogues and found a fantastic suit with simple, clean lines. The pants were really slim-legged and the jacket was perfectly fitted. I showed them to the owner, who agreed it was a fantastic suit and yes, yes, yes, he could make the exact same one for me. Aside: I have to admit that while the entire experience was pleasant and fun, I had this nagging feeling at the back of my mind that this guy was double-talking me. My suspicions were confirmed when somehow, I ended up handing my Visa over to pay the $350 bill that the suit and dress ended up costing me. Not exactly a bargain. I could have gotten a nice suit at Banana Republic for that price.
Here's the long and short of it: While the clothes only took 24 hours to make, they felt generic, not custom. Admittedly, everything fit perfectly but the suit ended up looking like any old suit. The pants were too baggy. It was not the suit in the catalogue. The dress was perfect when I picked it up, but after a few hours of wear, the fabric started to come apart, threads hanging helplessly off of it.
Overall, it was a disappointing experience but maybe we just ended up at the wrong tailor. The streets of Bangkok are lined with tailor shops so there are plenty of options for next time.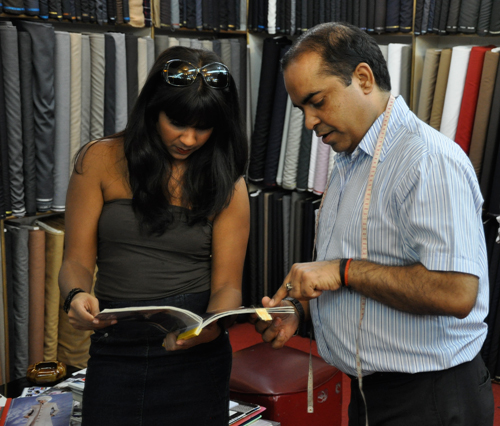 Perusing one of the many catalogues at Manhattan Custom Tailors, looking for the perfect suit.

Massages in Bangkok
Just like tailors, it seems like there's a massage parlour on every street corner in Bangkok. And who doesn't love a good massage? An hour-long foot massage cost about $8, while an hour-long head and neck massage was about $6.50. We frequented Nuch, a massage parlour near our hotel.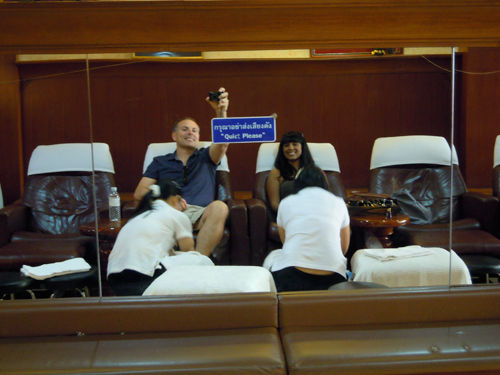 $8 for an hour-long foot massage? I could stay here all day.
Street food
I love Thai food and eat a lot of it here at home. But nothing can beat the real deal, eating on the streets of Bangkok, my senses on high alert as I took in the sights, smells and cacophony of sounds that surrounded me. We ate at a local street food market and enjoyed some tasty Khao Man Gai (Thai rice steamed with chicken), but there are lots of choices. And everywhere you go, there are stalls selling freshly squeezed fruit juices -- some of the tastiest, most delicious juice I've ever had. Nothing beats a glass of fresh and frosty watermelon juice.
While I can be pretty adventurous when it comes to trying new foods, I'm usually pretty particular about where my food comes from and sometimes those food stalls on the street look a little sketchy. Intimidating, even. You know, like, what exactly IS that they're cooking and how clean ARE those utensils? The last thing I wanted was to get sick from street food and ruin my trip. But that never happened. Most of the food is cooked on high heat and will kill off any bacteria you need to worry about. Just make sure that the food hasn't been sitting out for a long time -- it's best if the food is being cooked right in front of you. I have read about ice being made with contaminated water, so I figured it was best to avoid ice altogether and bought bottled water for drinking. But mostly, we used our discretion and took the advice of locals who always know the best places to eat. Good food in Thailand is really inexpensive -- I enjoyed many a meal that cost less than a coffee at Starbucks.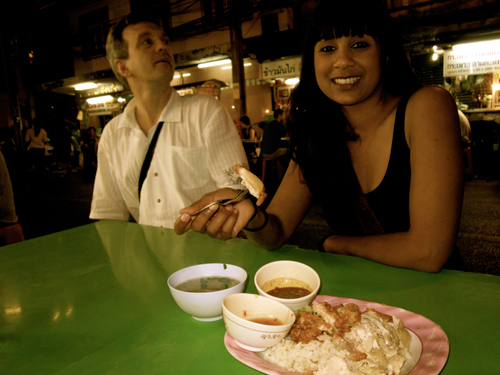 Enjoying dinner with friends on the streets of Bangkok.
I love Thailand -- it's inexpensive to live and eat well there (see xe.com for current conversion rates) and that makes it so much easier to enjoy your vacation when it doesn't cost a small fortune to enjoy all that this bustling city has to offer.
Related