Three protestors from Occupy Miami and Occupy West Palm Beach were arrested Monday evening in Boca Raton after laying in the Camino Real Bridge roadway, blocking traffic at rush hour in protest of nearby hedge fund industry conference.
Don Carter, 24, of Longwood, Ana Rodriguez, 30, and Kevin Young, 27, of Miami, were taken into custody and charged with resisting arrest without violence, obstructing a highway, and a municipal ordinance violation. The trio linked themselves together with 'lockdown devices' scrawled with anti-greed slogans and lay down on the bridge, snarling traffic from roughly 5 p.m. to 6:30 p.m. before police were able to unlink and remove them.
The protest was "an attempt to disrupt the cocktail hour and to bring public attention to the list of 'corporate criminals' gathered in Boca" at the 2012 GAIM conference, Occupy Palm Beach said in a statement. GAIM, held at the Waldorf Astoria-owned Boca Resort on Camino Real, bills itself as one of the most important conferences of the hedge fund industry, with "over 75 percent of attendees...at the managing director level and above" and "investors who have discretion over $215 billion and over $8 trillion under advisement" -- in other words, a lot of people squarely in the one percent.
One conference organizer even took the protest as a compliment, according to the Wall Street Journal's Deal Journal blog: "It's clear they recognize the importance of GAIM," said Daniel Strachman of the Institute for International Research. "It's great that they are able to protest."
Occupy members said fraudulent bank foreclosures and the building of private prison and immigrant detention facilities were high on their list of concerns at the protest.
"Every day we see corporate power destroying our communities," Ana Rodriguez said before being arrested, according to an Occupy Palm Beach release. "From environmental disasters to private prisons, corporations are operating with impunity. While the bank leaders drink cocktails and toast to increased profits, people across the globe are being hurt by corporate greed."
Carter, Rodriguez, and Young are expected to appear before a Palm Beach County judge Tuesday morning, at which point bail will be set.
Though other demonstrators were present outside the event, Occupy members say the only other casualty was a banner reading, "What Would Robin Hood Do?" According to a statement, it was taken from a tree by a fire truck and confiscated by Boca police.
UPDATE, 1/24 6 p.m.: HuffPost Miami spoke with Ana Rodriguez, who was released from jail about 2:30 p.m. She said arresting officers "did their job very professionally."
"They have to do what they have to do," she said. "I got a really good sense that we got our message across and had a really good dialogue with police and residents of the community...I think people can see the issues really clearly."
Rodriguez said the group was aware their blockade would likely end in arrest, but felt the point needed to be made.
"We'd tried everything else, all the legal routes, to have a say in legislation. We do petition, demonstrations, and go to commission hearings, and a lot of it seems very futile," she said. "The main idea about the lockdown was that we were trying to let [GAIM attendees] know that they're not welcome here or anywhere. It was an attempt to shut down and disrupt their cocktail party and their lifestyle, which is founded on everyone else's misery."
Rodriguez said the Occupy message is beginning to sink in: "I'm seeing more and more people who are middle class and upper middle class who are getting involved."
View Mug Shots, images, and video from the GAIM protest:
Before You Go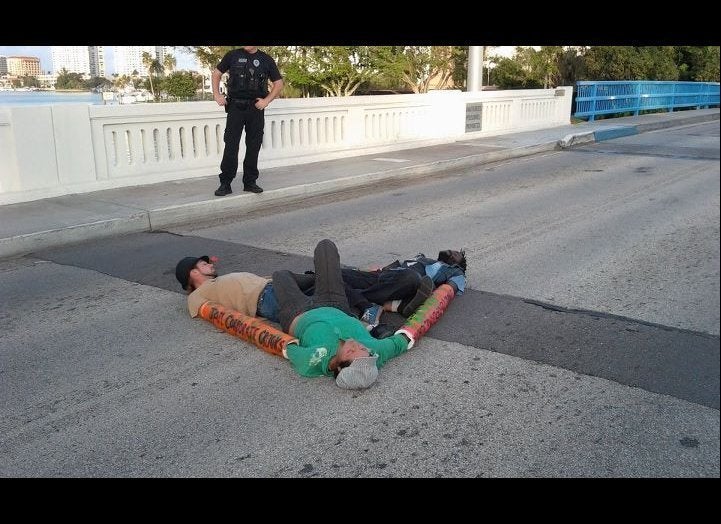 Occupy GAIM
Popular in the Community