Amidst headlines of death, quarantine and abandoned hospitals, it is hard to feel anything but despair about West Africa's fight against Ebola. The epidemic is the worst in history. In a few months, the virus has infected over 2500 people and claimed over 1400 lives.
But despair doesn't end epidemics - only leaders with solutions do. Every other Ebola outbreak in history has been wiped out; this epidemic will be stopped too. Here are three on-the-ground leaders in Liberia whose solutions show us how the war against Ebola will be won, not lost.
Moses Massaquoi: Training health workers to provide care and save lives
When Liberia's civil war broke out in the 1990s, Dr. Moses Massaquoi's medical training came to an abrupt halt. Like thousands, Moses fled. He finished his training in Belgium and wound up as a physician providing care to patients with HIV/AIDS in rural Malawi. In 2008, Moses returned to Liberia to lead the Clinton Health Access Initiative. A few months ago, when the first Ebola patients were found in northern Liberia, Moses sounded the alarm. He quickly recognized Liberia's hospitals, suffering from decades of neglect, lacked the equipment needed to prevent the spread of infections. He knew local nurses and doctors, most of whom had not seen Ebola, lacked the training to stop it.
Moses has been on a crusade ever since. "We just cannot accept any more patients dying and any more health workers getting infected," he told us last week in Monrovia. Working 16-hour days with Liberian Ministry of Health officials, Moses has helped set up several Ebola treatment units, trained over 50 nurses and doctors to staff them, and helped recruit key international partners like Doctors Without Borders. He's personally treated dozens of Ebola patients and several have survived. Moses teaches us that the key to stopping Ebola starts with care.
Lorenzo Dorr: Fighting Ebola with an army of rural community health workers
While hospitals treat Ebola patients, the war against Ebola starts at home. If we recognize Ebola patients quickly in their homes, we can isolate them, get them into care more quickly and protect their loved ones from becoming infected. This is public heath 101. The problem is the poor - especially in remote villages - have for too long lacked access to modern health care. They live in rainforest communities, often days from the nearest clinic. Ebola has exposed the reality facing thousands of rural Liberians: illness is universal, but access to care is not.
With many others at our organization, Last Mile Health, Lorenzo Dorr, a Harvard-trained Liberian outreach health worker, is training and equipping hundreds of rural Liberians as community health workers to bring care into rural villages. Lorenz has helped create armies of trusted Liberian village health workers with deep understanding of local beliefs who: educate their communities about Ebola and demystify it; survey their own villages daily for people with symptoms; get patients to the hospital; and remain in the village to monitor the symptoms of "contact persons" exposed to the disease. "I am convinced that this will be over soon if we are joined in our efforts in the fight against this invisible enemy," he said. If Lorenzo's armies of village health workers were deployed in every village of every corner of Liberia, this epidemic would end much sooner than we think.
Carielle Doe: The journalist dispelling Ebola's myths
The response to Ebola can't stop with health workers alone. Carielle Doe, a Liberian-American journalist producing stories for ABC News, has focused more on solutions to fight Ebola than most. Last week, Carielle reported the moving story of Dr. Philip Ireland, a Liberian doctor struck down with Ebola only to live to tell the tale after getting medical care early in a local Ebola treatment unit. This story tells the truth about Ebola: if you seek care early you have a better chance to survive. If images like those of Dr. Ireland's revival go viral more patients would seek care, not hide in fear.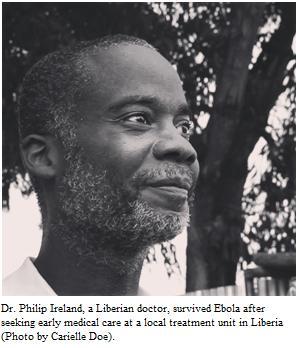 To be sure, we have still have much to do if we are to control Ebola. Frontline heroes like Moses, Lorenzo, and Carielle offer hope it can be done. Their work give us examples of three of the most effective strategies to fight Ebola: train health workers to care for the sick, stop the spread of infections in the community, and demystify the disease. If we do more to back leaders like them and the strategies their using, we might just win this war sooner than we all imagine.
Dr. Raj Panjabi is a Liberian-born physician and CEO of Last Mile Health, a Boston and Liberia based non-profit organization creating a new workforce to save lives in the world's most remote villages. Follow Raj on twitter at @rajpanjabi.
Currently based in Liberia, Josh Albert and Tracy Slagle are, respectively, Country Director and Deputy Country Director of Policy & Partnerships at Last Mile Health (known in Liberia as Tiyatien Health). Follow Last Mile Health on twitter at @LastMileHealth.
Support HuffPost
The Stakes Have Never Been Higher
Related
Popular in the Community