Three pictures line the walls of my office. The news of Muhammad Ali's death has me looking at them in a new light.
The first picture shows my childhood hero, Muhammad Ali, my son Corbin and me, taken nearly a decade ago when we launched Athletes for Hope--a nonprofit organization I run that educates professional, Olympic and college athletes about the importance of community service and connects them to causes about which they are passionate.
After growing up boxing and listening to Muhammad's fights on a transistor radio, I first had the opportunity to meet The Champ at Andre Agassi's school in 2004. A few years later, I asked him to take on the role of Founding Athlete of Athletes for Hope, joining a small group including Andre, Mia Hamm and Jackie Joyner-Kersee. Muhammad and his wife Lonnie told me they were too busy for new responsibilities, but that this cause was too important not to support.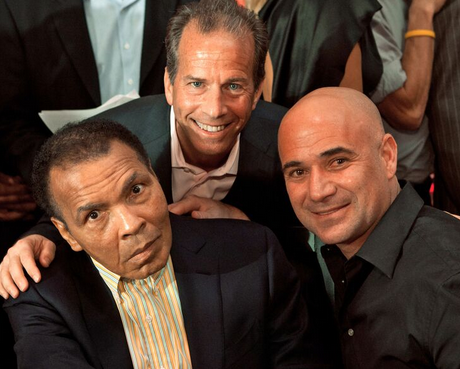 The Champ and I went on to hold countless athlete workshops in which Major League Baseball and NBA athletes learned they have a unique platform from which to make a difference in society. Time after time, I watched Muhammad enter a room and saw professional athletes stand and cry openly. In these workshops, The Champ didn't say a word, yet he spoke volumes. Those assembled knew he had paved the way for the opportunities they now enjoyed.
In 2009, in the privacy of Muhammad and Lonnie's home in Scottsdale, Ariz., I talked about future plans for Athletes for Hope. Muhammad pulled me close and whispered in my ear. "Just keep going," he said in his now quiet voice. "Don't stop."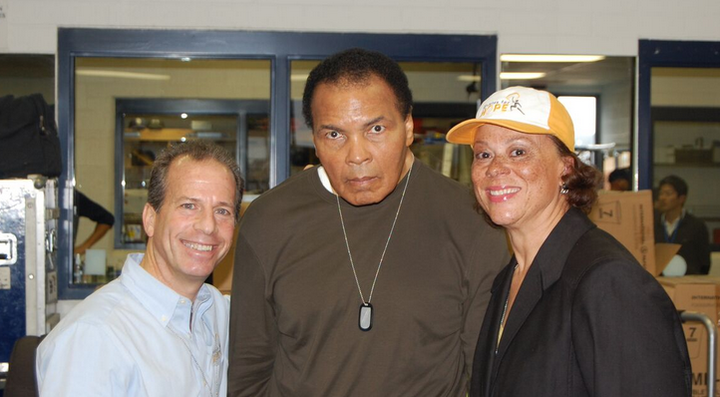 The second picture is a magazine cover hanging on my wall from December 1992--the Sports Illustrated issue that named my good friend and client Arthur Ashe Sportsman of the Year. Below the picture is a handwritten note that reads, "For the record, your efforts and enthusiasm are very, very much appreciated."
In 1992, I was one of few people who knew Arthur was HIV positive after contracting the disease from a blood transfusion. I received a call from a New York Times reporter who told me the paper intended to go to press with the news. Within two hours, Arthur had flown from New York to Washington and was standing in my office.
"This is a bummer," he said. "I am dying, and there is no known cure. But now that this will be public, we need to find a way to use what's happening to me to help those who are battling HIV." Chills ran down my spine. He was dying. Yet all he could think about was how he could help others.
Over the next three months, we collaborated with friends to create the first Arthur Ashe AIDS Awareness day at the 1992 US Open. Two days before the event, when I desperately needed to reach Arthur to review the details, he called me from a protest in New York, where he was advocating against apartheid in South Africa. He wanted me to know that he was about to be arrested and wouldn't be available for the rest of the day. Arthur reminded me that he was using his time wisely. He was fighting for his life, fighting to support the AIDS community and fighting the horrors of apartheid all at once. I was young and naïve, and I didn't understand. He reassured me that someday I would.
The day before the US Open began, the top players in the world played an exhibition match that had very little to do with tennis. It was about a gracious, humble and unselfish human—who happened to be a famous athlete—using personal tragedy for the greater good.
These days, most of the athletes who participate in our workshops don't know Arthur's name until I share anecdotes from his life. Through stories, I tell them about his life and his fight. I tell them he was my hero.
The third picture is a framed quote by Edmund Burke. It reads, "All that is necessary for the forces of evil to win in the world is for enough good men to do nothing." Burke's words remind me that every day, we have choices. We have the choice to watch injustices from the sidelines and take the path of least resistance; and we have the choice to engage and try to make the world a better place.
I framed this quote 35 years ago, yet it wasn't until Muhammad's death that I began to connect the three pictures. Silly me. Now I see they might as well be woven as one. Muhammad Ali and Arthur Ashe were different: Arthur was quiet and unassuming, Muhammad was loud and often boisterous. But the end of the day they both--perhaps more than any other public figures in several generations--stood up mightily for what they believed, regardless of personal consequences. The "good men" to whom Burke refers are those who do the right thing while facing seemingly insurmountable obstacles. They are Muhammad and Arthur. They could have been star athletes and done nothing with their platforms. Instead, they did everything.
In 1997 Muhammad Ali won the Arthur Ashe Courage Award. Nearly a decade later, I now look at their photos on my wall and think about the similarities between these men. I think about what they taught me, and I'm overwhelmed with gratitude that they were part of my life.
The loss of Muhammad and Arthur is immeasurable. But what they both lived for, fought for and sacrificed for should live on forever. For my part, I will heed Muhammad's advice. Athletes for Hope will continue doing good, and in that spirit, these two champion men will live on, inspiring generations to come.
Related
Popular in the Community