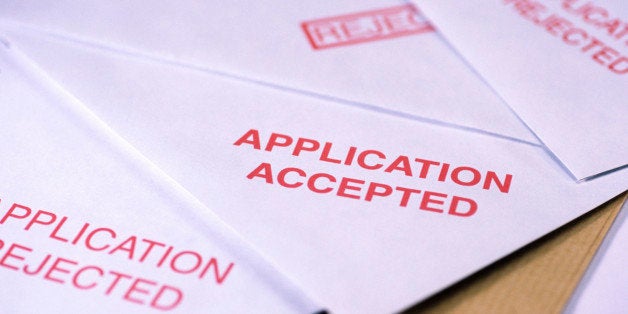 If you are a high school senior in the United States, or one's parent, the next few months will be a whirlwind as you wind down your high school career and begin receiving acceptance letters from the colleges and universities to which you applied.
These letters represent the culmination of years of planning and preparation: working to get good grades, studying for SAT and ACT tests, researching colleges and completing applications that will make you stand out among your peers.
They also represent one of the most important decisions of your life.
As acceptance letters come in, this should signal a shift in your entire perspective. As you applied to colleges, you sought to differentiate yourself from your peers so as to prove why you should be accepted or offered a scholarship. With acceptance letters in hand, you now become the decision-maker --with input from your parents and other trusted advisers, of course.
This is a key point not to miss: With acceptance letters in hand, you are now in control, and the responsibility rests with the university to explain why you should choose it. This mindset can also be helpful for younger students who are looking ahead to their own college applications.
Asking an educational institution to differentiate itself can equip you with the information to make the best decision for your future. In talking with students, educators and employers all across the United States through my work with Project Lead The Way -- and advising my four sons through the college-decision process -- I have identified a few questions worth considering.
According to one recent study, as many as 50 percent of students enter college without deciding on a major. An estimated 75 percent will change their major during their studies.
If you don't know what you want to pursue as a career, you are not alone, but as you decide, ask yourself these questions: Are there jobs available in that field? Will the money you make in that field enable you to have the standard of living you desire?
These may be hard questions to answer, but knowing what you want to study will help you identify which college will give you the best education, or if college is even the best path for you.
What is the best financial investment for me?
What you choose to study can help determine if the financial investment of college is your best decision.
If you're uncertain of your major, a community college may be the best first step. For a much lower tuition, you can earn your core credits and transfer them to a four-year institution once you've decided on a major.
For certain career paths, a two-year degree or technical certification may be a better investment, especially if you want to go into a field that requires specific skills. Keep in mind, however, that the rapid pace of technological development is rendering many once reliable and high-paying trade jobs obsolete. A four-year degree, while more expensive, is more likely to equip you with the skills and expertise to adapt to an evolving job market over the long term.
Which of my choices will give me the best chance of employment in my field of study?
If you know what you want to study and that a four-year college is the right path, the next question to ask is which college or university will give you the best chance at success.
For some majors and career goals, the choice will be obvious, thanks to clear market signals. Top companies, such as Google, recruit at top technology schools, such as Stanford and MIT. Many big-name companies rely on schools to filter top talent and, like it or not, having Princeton or Yale on your resume will give you an advantage in the job market.
For most students, however, the market signals are much less clear. To help determine which institution is best for you, ask your prospective schools how many of their graduates are employed in their major fields of study within three, six and 12 months of graduation. Don't settle for the percentage of all graduates - you want to know your chances of getting a job in the major you are investing your time and money in.
Check out the federal government's new College Scorecard - it can be a helpful tool in determining which of your options gives you the best chance at success.
Choosing a college is one of the most important decisions you will ever make, because it will have an enormous impact on your career options for the rest of your life. The best decision you can make is an informed one, and you can empower yourself with information by asking the right questions at the right time.
Vince Bertram is president and CEO of Project Lead The Way and the author of the New York Times best-selling "One Nation Under Taught: Solving America's Science, Technology, Engineering and Math Crisis.
Calling all HuffPost superfans!
Sign up for membership to become a founding member and help shape HuffPost's next chapter