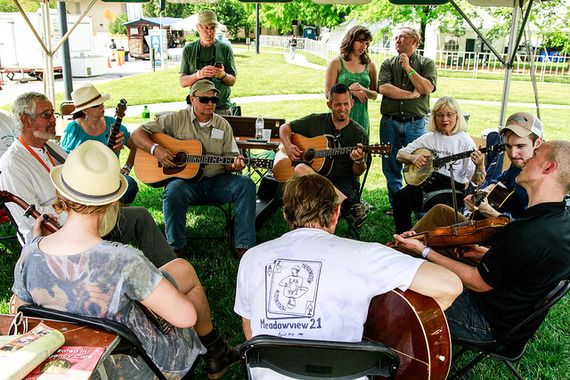 If you are a frequent reader of my posts, you may have noticed I mention MerleFest quite a bit. For the uninitiated, the Americana music festival -- the second-largest tourist draw to North Carolina, which is struggling in that area of late -- has nothing to do with Merle Haggard, although the festival was blessed to have him grace the stage two years ago for the first -- and unfortunately last -- time.
Instead, 28 years ago this weekend, this now stalwart of the festival circus, I mean circuit, that for many musicians and fans alike kicks off the "official" music festival season, began with a few bands playing on flat-bed trailers on the rolling (emphasis on the rolling) campus of Wilkes Community College -- in its humble beginnings a tribute to the late, great legendary Doc Watson's son and fellow musician Eddy Merle Watson, who died in a farming accident.
This weekend that tribute continues as a fundraiser for the college that will bring in an estimated 75,000 fans of bluegrass, new grass, folk, alt country, Americana, and any other genre that Doc explains as "traditional-plus."
"When Merle and I started out we called our music 'traditional plus,' meaning the traditional music of the Appalachian region plus whatever other styles we were in the mood to play," he's quoted on the website. "Since the beginning, the people of the college and I have agreed that the music of MerleFest is 'traditional plus.'"
The 100 artists began performing on 13 stages Thursday night after a thunderstorm blew through because, as anyone who has ever attended MerleFest can attest, it wouldn't be MerleFest if a little (or a lot depending on Mother Nature's mood) of rain didn't fall at some point over the four days.
Thanks to my dear friend Lynn Holt, I discovered many moons ago at the Telluride Bluegrass Festival there are few things I love more in life than sitting on the side of a mountain and listening to live Americana music. If you're still reading this, I am guessing you must feel the same way.
If so and you're in the area, and even if you're not, tickets are still available. Make an effort to make your way over to the Blue Ridge Mountain foothills to hear some amazing music and hang out with some wonderful people through Sunday. You won't be disappointed.
Don't have anyone to go with? Don't worry. You won't be alone for long. They may be strangers when you get here, but you will leave with a fistful of new friends. Music provides a connection to a point in time that can't be broken. And MerleFest provides myriad moments that cannot be recreated, which leads me to the first reason that for me, at the least, this MerleFest is already the best one yet.
No. 1 -- Merlefest Moments. Merlefest's tagline line is: "Music. Moments. Memories." And for good reason. Those who were lucky enough to be in the audience for John Prine's amazing headline performance opening night on the Watson Stage experienced one when the venerable Jim Lauderdale joined Prine. Artist mashups at MerleFest are the norm, but this is where it got interesting. Prine then also invited a young man (I didn't catch his name, unfortunately) to join in on guitar and sing. Now this may not seem that unusual except the man in question had previously been running around on stage throughout the performance swapping out instruments for the band. As he stood among the well-dressed band in a T-shirt, his work keys hanging from his cargo shorts, and his sweet voice rang out, I thought to myself: "Doc would love this." Which leads me to ...
No. 2 -- New Talent. It's no secret Doc Watson loved to discover and help promote new musical talent, and you won't find more undiscovered talent in one place than at MerleFest. I am looking forward hearing today's Chris Austin Songwriting Contest winners and tomorrow's lineup for the second annual MerleFest Band Contest Competition. I know most people attend the festival to hear the impressive headliners, including John Prine, John Oates, Old Crow Medicine Show, Jason Isbell, Dave Rawlings Machine, Brandi Carlile, The Wood Brothers, Steep Canyon Rangers, Tim O'Brien, Tommy Emmanuel, Jerry Douglas, Sam Bush, Peter Rowan, Alison Brown and Donna the Buffalo. But it's the artists you discover -- the ones you head over to the merch tent to buy the CDs that you listen to on the drive home -- that you will find yourself enjoying for years to come. And speaking of enjoying ...
No. 3 -- The People. Jerry Douglas, who I believe has yet to miss a MerleFest and is scheduled to headline the Watson Stage this evening, told me in an interview at the festival a few years ago that MerleFest is a homecoming of sorts for musicians as they emerge from their winter cocoons to kickoff the summer festival tours. MerleFest allows them to reunite with people they haven't seen or performed with for months -- even years -- as well as with their beloved fans. Over the years -- I failed to mention this is my 14th year covering the festival -- it has become the same sort of homecoming for me. On Thursday I was reunited with dear friends, whom I might not see any other time of the year, but can always count on seeing at the festival. Shoulder to shoulder we got to share that "MerleFest Moment" I mentioned earlier, a moment that (along with several thousand of our closest friends) can never be taken from us. As Prine so eloquently put it as he sang last night in "Souvenirs": "Memories they can't be boughten They can't be won at carnivals for free Well it took me years To get those souvenirs."
I'm looking forward to re-connecting with more old friends, making new ones and experiencing additional magical, musical moments during the course of this weekend. If you can't make it out to this year's festival, I hope you'll make plans to make it to the next one. I have a feeling it'll be even better.