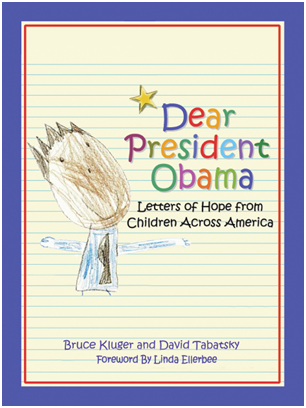 On April 14th, I was thrilled to witness the publication of my new book, Dear President Obama: Letters of Hope from Children Across America (Beckham). Conceived, compiled and released in just four months, the book was the brainchild of my friend and co-author, writer-educator David Tabatsky. On the morning after the November election, David showed me a copy of an exquisite, hand-written letter his 12-year-old daughter, Stella, had written to the president-elect the evening before.
"I am so honored to be alive to witness the history you have made," Stella's letter began. "Our country needs you."
David and I got to talking. "Wouldn't it be interesting," he suggested, "to collect letters like this from children all across the country? Don't you think that there are hundreds of thousands--maybe even millions--of kids who feel the same way?"
We began testing the waters, emailing friends and relatives, asking if their children had something they wanted to say to America's 44th president. The responses were predictably enthusiastic. What we hadn't counted on, however, was that these same friends then forwarded our email to their friends. Within four weeks, David and I were in possession of more than 1000 letters and drawings. The final book includes 200 of those submissions, created by kids from 29 states and every region of the country--from the 7th grader in a Manhattan private school, to a schoolhouse of kids in the poorest community in Lincoln, Nebraska.
Like any authors, David and I would love the book to be a hit (who wouldn't want a bestseller?!), but there are three other reasons we'd like you to consider picking up a copy of Dear President Obama--reasons that became apparent only when the letters started pouring in.
1. KIDS GET IT
In her Foreword to the book, veteran journalist and longtime host of Nickelodeon's Emmy-winning Nick News series, Linda Ellerbee, makes a strong case on behalf of the often overlooked wisdom of our nation's youngest citizens.
"Kids get it. And, after getting it, they often want to change it. They believe they can change their world. They understand that citizenship doesn't start when you're 18; it starts the day you're born. They are passionate and they want to participate...Reading these letters to President Obama, I consider what wonders we may see if the kids of today can hang onto this hope, this wanting to do the right thing; if they can come together to make change for the good, and never, ever stop caring about their country, its citizens and our beautiful, spectacular, inspiring, all-American differences. Pay attention to their letters. They are the future speaking to us."
If you doubt for even a moment the accuracy of Ellerbee's assessment, consider this from 14-year-old Virginian, Chris Negiz, in his letter in Dear President Obama.
"When I look up into space at night, I feel a sense of content, because I know this liberty might not be enjoyed in other countries. It is an honor to live in the greatest nation in the world. Your winning the election turned a new page in history and filled our hearts with great hope."
2. ENOUGH WITH THE NEGATIVITY
By my count, Barack Obama had about a 48-hour honeymoon before the dire predictions came raining down: His economic plan was doomed to fail; he was transforming a democratic nation into a socialist state; and he'd never, ever, win over Republicans bent on his destruction.
Forget for a moment that Obama was saddled with a nation buckling under eight years of near ruin, and a Congress that was chronically incapable of taking the higher road; according to Obama's critics, the guy was already a loser. Indeed, the only thing that's been amusing about this absurd assault is the cartoonish transparency of the President's detractors. Having failed to wound (or even scrape) the Obama candidacy during the campaign, Fox News' Sean Hannity has now become so desperate in his sad attempts to undermine the president, he's even gone after the man's laugh. Fox colleague Bill O'Reilly, meanwhile, has clearly become so rattled by the looming and lardlike shadow Rush Limbaugh has cast over his own blowhard turf that he's now taken to citing erroneous numbers to suggest that Obama's popularity is "slipping," all the while wondering out loud if the president is "selling out America."
And, of course, it all makes Glenn Beck cry.
Thank God, then, that America's children are more grown up than the grown-ups. In her letter in Dear President Obama, five-year-old Rukiya Holland-Thomas from Montclair, New Jersey, captures in 24 words what the shameful pundit posse has been unable to grasp in thousands of hours of empty prime-time ranting.
"Dear President Obama," Rukiya writes. "Help us be nice. Get everyone in the circle, and then you can tell them to listen to you. Love, Rukiya."
3. REMEMBERING WHAT MATTERS
Although children played a large part in the 2008 election--canvassing for their favorite candidates, and touting them on Facebook--now that it's time to govern, their voices are rarely acknowledged. After all, sub-prime mortgages and deficit projections are hardly kids' stuff. And yet, in Dear President Obama, it is America's children who remind us how a community organizer from Chicago captured the imagination of an electorate, and instilled promise in our future leaders. For example:
--Tasha Slavin, 11, of St. Louis, MO, implores the president to not to forget the tragedy of Darfur.
--Eight-year-old Anna Goolsby of Green Bay, WI, raises the all-but-forgotten issue of homelessness in America, pointedly reminding the president that "a lot of homeless people used to be soldiers."
--And in a letter that is nothing short of heartbreaking, Casey Mack, 14, of Trumbull, CT, offers perhaps the most potent description I've ever read of our ongoing responsibility to care for our nation's children. Casey and his brother both suffer from serious medical illnesses, and their mother had to move the family from Florida in order to be eligible for health insurance and prescription drugs. Without the proper medication, Casey writes, his brother would die. This is how Casey ends his letter:
"I really miss Florida because I miss my family and friends. However, I realize that it is better to have insurance. Maybe, someday we can have insurance and live anywhere we want to live. I believe this is possible because you are president. As you said before, we do need change."
Do these kids know how to cut to the chase, or what?
Oh, I almost forgot--there's a fourth reason my co-author and I want you to buy Dear President Obama: It's a pretty cool book.
[For more information, visit: www.obamakids.us]

Calling all HuffPost superfans!
Sign up for membership to become a founding member and help shape HuffPost's next chapter